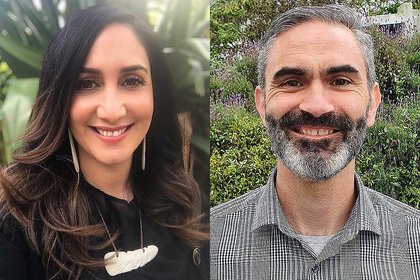 Last updated: Thursday 31 March 2022
Three academics from Massey University have been named as successful recipients to receive Career Development Awards from the Health Research Council of New Zealand.  
The council's annual career development awards help foster and sustain New Zealand's health research workforce. This year more than $13.38 million was announced for researchers across three categories – general, Māori health, and Pacific health.
Massey recipients are: 
Dr Collin Brooks: Research Centre for Hauora and Health 
"The benefits of biodiversity: a novel approach to preventing asthma and allergy?"
Dr Pikihuia Pomare: School of Psychology  
"Mauri tau: Indigenous psychological and therapeutic approaches to mental health"
"Faith to bounce back! Pacific youth wellbeing and resilience
Dr Brooks receives the Sir Charles Hercus Fellowship, which he says is an honour, as it is relatively rare for a public health researcher to receive one. 
It is the third time in history that a Massey academic has received the prestigious award with a previous winner being Dr Brooks's mentor Professor Jeroen Douwes, Director – Centre for Public Health Research, which has recently merged with the Research Centre for Māori Health and Development to form the Research Centre for Hauora and Health.
Helen Fitzsimons from the School of Fundamental Sciences was also awarded a Sir Charles Hercus Fellowship in 2012.
The fellowship awards him $491,000 which he will use over the next four years to develop a strong programme of research looking at the interplay between biodiversity, microbiota, immunity and human health – initially in asthma and allergies, but also in a range of other non-communicable diseases. 
The prevalence of asthma and allergies has increased over the last 50 years and Aotearoa/New Zealand has one of the highest asthma rates in the world. Whilst asthma can be successfully managed in many cases, there is currently no effective cure or prevention strategy.
He says since his undergraduate degree in medical microbiology he has always been interested in how microorganisms can interact with the immune system and affect health in both beneficial and detrimental ways.
"The research programme proposed will be one of the first comprehensively assessing, in children in an urban setting, the complex relationship between biodiversity, environmental and human resident microbiota, immune regulation, and the risk of allergy and asthma."
Dr Brooks says the research will increase  current understanding of the causes and protective factors of asthma and allergies and help lead to the development of better and more cost-effective and innovative interventions.
"Most importantly, if this research confirms that biodiversity protects against asthma and allergies, and improves our understanding of the mechanisms involved, it will provide a robust evidence-base that can be used by councils, urban planners, and central government to develop and enable increased access to biodiverse green space for everyone."
The Fellowship will provide dedicated time for him to focus on these issues, write publications and develop new grant applications for future studies. It will also provide further opportunities to attract high calibre post-graduate students and collaborators to his research programme.
Dr Pomare receives the Erihapeti Rehu-Murchie Postdoctoral Fellowship and research funding close to $380,000, which will allow her to carry out her research over the next three years to identify a broad range of Mātauranga Māori practices to create necessary hauora/health services to address the high levels of psychological distress and promote positive Māori mental health outcomes. 
She says she will be building on her completed work around the understanding Mauri and the concept of Mauri Tau, a state that can help one feel more settled again after being stressed. From her work she collated some interesting data and she was interested in researching it more in the wake of COVID. 
"What I saw happen throughout New Zealand is that a lot of Māori were going back into our own knowledge systems and ways of looking at mental health and wellbeing and some of the strategies and tools we might use to help bring us back into a more settled state or to help navigate all the uncertainty that was happening." 
From her experience as a clinical psychologist working in mental health and teaching psychology, she says a lot of methods from te ao Māori are overlooked  for more clinical western perspectives and she  is hoping to make this shift. 
"I'm not saying they're not helpful, but they have limitations with certain groups, so for me it's about finding what actually resonates with Māori and to be able to develop a framework of understanding that can then be used in different settings like mental health and also for clinicians to integrate into their practice as well."
She says these methods still resonate with Māori who do not live back in their iwi or do not necessarily speak Māori. 
"There's something intrinsic about these practices that really speaks to them or they really feel connected to naturally as it's come through in their family for many generations.
"We've had the Government Inquiry into Mental Health and Addictions and hearings are still happening around Waitangi tribunal hearings on health and hauroua and the Crown's failing to provide adequate health care to Māori, so this is quite a serious issue and our people need to have effective and responsive interventions so I'm just excited to really look at this."
Her work will include travelling back to Hokianga and Auckland, to understand their knowledge systems, combine them and then develop resources such as an app or something online that will be accessible for everyone. 
"I'm hoping practitioners can use it as validation that these methods do work and it can be beneficial." 
Miss Tauveli receives the Pacific Health PhD Scholarship and funding of close to $80,000 for her research that will examine the impact religious faith has on Pacific youth through different aspects of their lives.
She says in New Zealand, Pacific youth are still largely connected to church as communities are grounded in faith. 
Statistically and nationally, seven out of ten Pacific peoples have some Christian affiliation. This serves as a foundation to suggest faith matters for Pacific youth especially in dealing with life's challenges. 
"Anecdotally, for many Pacific youth, faith is encouraged through prayer, bible reading and youth programmes. It is often referred to as a means for overcoming difficult and challenging situations, such as mental distress, anxiety and depression."
Miss Tauveli will examine the impact of this faith through talanoa, Pacific cultural-dialogue with youth in Tongan-indigenous churches, analysing data through videography and questionnaires of innovative-cultural interventions and Young Free & Pasifika and Young Pacific Warriors developed by Affirming Works Pacific youth agency.