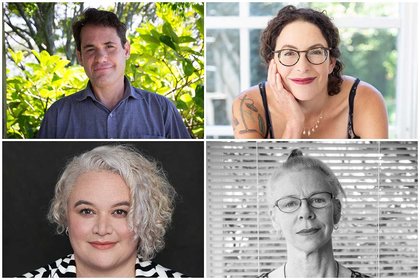 Last updated: Tuesday 13 September 2022
Massey novelists make up three quarters of finalists shortlisted for the $60,000 Jann Medlicott Acorn Prize for Fiction. They are Professor Bryan Walpert for Entanglement (Makaro Press), Dr Gigi Fenster for A Good Winter (Text Publishing), and Whiti Hereaka for Kurangaituku (Huia Publishers). Poet Anne Kennedy is shortlisted for the Mary and Peter Biggs Award for Poetry, for The Sea Walks into a Wall (Auckland University Press).
Listed in the New Zealand Listener's Best Books of 2021, Entanglement has been described as an "ingenious meditation on time, memory and decay," and lauded for its ambitious scope in exploring tragedy and loss – with a dose of quantum physics.
Professor Walpert, a doctoral mentor and supervisor who teaches undergraduate and post-graduate creative writing papers, says, "I'm delighted and honoured that the judges thought Entanglement worthy of being among the finalists. It's a particular honour given the very high calibre of the other writers on the long list. I'm really happy people are reading the work and finding something to appreciate in it."
His novella Late Sonata won the 2020 Seizure Viva La Novella Prize, and he's also written a short story collection, four books of poetry, and two of literary criticism.
Dr Fenster, who teaches fiction, creative non-fiction, and writing for children, says she is "surprised, blown away, excited and a little bit terrified," at being shortlisted for her psychological thriller about two older women looking after a baby while the mother recovers from postnatal depression.
"There were so many brilliant books on the longlist, and the shortlist is exceptional. It can be hard to see the merit in one's own work, particularly when one spends much of one's working life reading masterpieces," she says. "I think all writers are critical of their own work, and that self-criticism doesn't go away once one starts publishing. The critical voice in my head has, over the years, grown all the more strident. Being shortlisted has muted the silence - for now - and that is no small thing."
A Good Winter is her second novel following the publication of The Intentions Book in 2013, a finalist in the New Zealand Post Book Awards at the time.
Anne Kennedy is a novelist, screenwriter, and multiple-award-winning author of 10 works of poetry and fiction who received the Prime Minister's Award for Literary Achievement in Poetry last year. She says it's a huge honour to be shortlisted, especially alongside such fine writers. "I feel very lucky. It means someone has read the work, and along with most writers, I like to be read."
"What excites me about the Ockham process is that it brings contemporary Aotearoa literature to the fore for a few weeks a year. The list, and, importantly, books that aren't on the list too, get talked about in a whole range of ways – for their content and technique, who they represent, what changes are happening in literature. All good stuff."
Whiti Hereaka, Ngāti Tūwharetoa, Te Arawa, an award-winning playwright who has written three previous novels, recently joined Massey's creative writing teaching staff. Her novel Kurangaituku is a clever re-imagining of the bird-woman ogress from Māori myth Hutupatu and the Bird-Woman.
She says she is thrilled and a little bit overwhelmed at being a finalist. "There's a part of me that still thinks of myself as a playwright hack pretending to be a novelist, so to be amongst some very fine novelists is humbling indeed. Also, I never think it's a given that my work will be published let alone it being celebrated, so it's encouraging that there are people out there that resonate with my work. Also, I think it has given me licence to experiment even more in my mahi — so stay tuned for extra strangeness."
Professor Kerry Taylor, head of the School of Humanities, Media, and Creative Communication, says he is incredibly proud that so many Massey-connected writers are on the Ockham shortlist.
The creative writing programme celebrated its 20th anniversary last year. Professor Taylor says, "As well as continuing to expand and consolidate strengths with the addition of new staff, we are also opening up new conversations for creative writing in Aotearoa in the 21st century."
As well as a Master of Creative Writing, the programme offers undergraduate papers in life writing, poetry, travel, scriptwriting, creative non-fiction and eco-fiction, writing for children and more. Many are taught by academics who are also published and award-winning authors.
For more information on creative writing at Massey, click here.
More information about the awards can be found here.