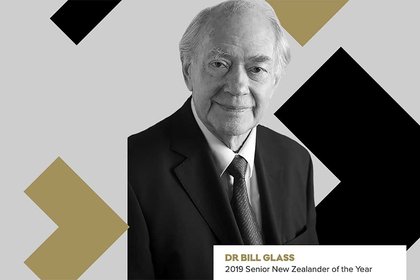 Last updated: Tuesday 30 August 2022
Professor Bill Glass from the Centre for Public Health Research has been named Metlifecare Senior New Zealander of the Year in the 2019 Kiwibank New Zealanders of the Year awards.
Professor Glass has, throughout his long and distinguished career, considerably advanced occupational medicine, workers' health, and policy development in New Zealand, through original research, his work as an occupational physician, and his long involvement with WorkSafe.
One of the major successes of his career was the creation of the Asbestos Exposure Register. His efforts have resulted in better health outcomes for countless workers by not only highlighting the dangers posed by substances like asbestos, lead and silica, but also by offering solutions to reduce exposure.
College of Health Pro Vice-Chancellor Professor Jane Mills congratulated Professor Glass.
"Congratulations Bill on receiving this well-deserved recognition of your major contribution to New Zealand in the field of occupational health. We are very proud that you have chosen to continue your research in the Centre for Public Health Research. Your leadership and mentoring is much appreciated by all at Massey and we thank you for your local contribution to our research culture."
The awards recognise those aged 67 and over who are making a positive contribution to New Zealand. Mental health advocate, comedian and TV personality Mike King was named New Zealander of the Year for shining a light on the effects and impacts of mental health, particularly among Māori and young people.