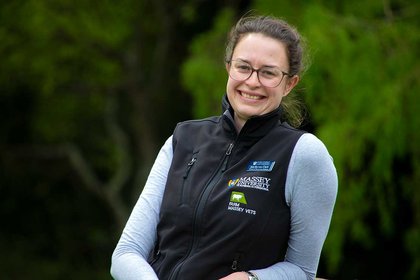 Last updated: Wednesday 4 May 2022
Massey University's Jess Byrnes-Clark has been named the New Zealand Veterinary Nursing Association and Hill's Veterinary Nurse of the Year.
As a senior large animal veterinary technician at Massey's Farm Services clinic, Miss Byrnes-Clark, 26, is the first large animal technician to receive the award.
"I wouldn't have received this award without support and encouragement from my team to run with my own initiatives and the inspiration to learn as much as I could from the talented nurses/techs and veterinarians I have worked with over the years. I am the first large animal technician to win, which is quite special, as a profession it isn't as often recognised for achievements in nursing as it is a very different field technically, compared to traditional small animal nursing.
"In the future, I just aim to be better than I am today."
Originally from Whangarei, she graduated in 2016 with a Bachelor of Veterinary Technology and a Bachelor of Science. In a short amount of time she has become an indispensable part of the clinic and School of Veterinary Sciences.
Massey practice manager for large animal services, Jennifer Taylor, says Miss Byrnes-Clark goes beyond the expectations of her role and her profession every day.
"I can't think of anyone who is a better example of her profession," Miss Taylor says. "Jess is very well thought of across the School of Veterinary Sciences due to her dedication to not only her craft, but also the care of students and her colleagues. In the last year she has undertaken an expanded teaching workload, contributed invaluably to the two production animal build projects and she has found new ways to improve processes within the clinic."
Miss Byrnes-Clark oversees two junior veterinary technicians in a team that provides on-farm support to production animal veterinarians. She also provides practical tuition to Bachelor of Veterinary Sciences and Bachelor of Veterinary Technology students.
Miss Taylor says she receives "constant positive feedback from students on her teaching and care of them. They take away from Massey not only an education but also an understanding of what it is to lead and work in a team, an excellent work ethic, and the importance of a strong client-vet relationship."
Miss Byrnes-Clark has recently returned from a trip to Ludwig-Maximilians-Universität München in Munich, Germany, working in the clinic for ruminants.
She is also a member of the volunteer Massey Veterinary Emergency Response Team, which rescues and cares for animals that are victims of misfortune or disasters. The team is comprised of about 10 specialists who train in rescue work to assist in rescuing and caring for animals. She was recognised with an SPCA award for her contribution to animal rescue in the Edgecumbe floods in 2017.
NZVNA Executive Committee member Amy Ross says 17 nominations were received for Vet Nurse of the Year 2019.
"All of the judges were impressed at the level of dedication that members of our community show to their patients and colleagues on a daily basis," Mrs Ross says. "This year's judging was not easy and a re-vote was required for the three finalists to determine placement. We are proud to call Jess the NZVNA and Hill's Vet Nurse of the Year 2019."