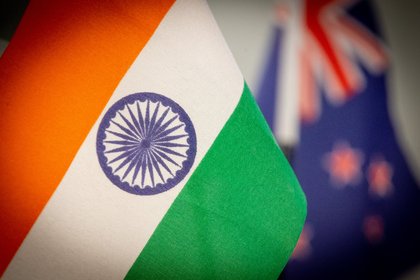 The virtual signing took place recently and is the first international collaboration agreement between Massey and an Indian institution in the subjects of business and information sciences. The partnership provides the opportunity for collaboration for students, staff and joint research ventures, and aligns with Massey's goal of expansion and diversification in India.
As part of the agreement, students from Christ University who are studying business or computer sciences will travel to New Zealand to study the Bachelor of Business or Bachelor of Information Sciences on campus at Massey.
"The New Zealand Government's recent announcement on the early reopening of our borders will help to bring back the vibrancy and diversity our international students add to our campuses," says Massey University's Vice-Chancellor Professor Jan Thomas.
"We really look forward to welcoming the students from Christ University onto our Massey campuses and helping them achieve their goals of an international study experience in New Zealand."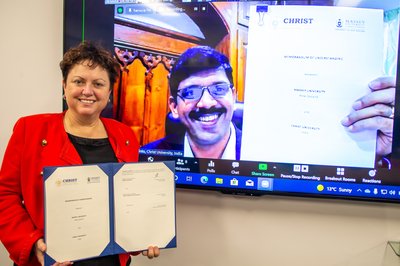 Christ University is a higher education institution based in Bangalore, Karnataka, India with five campuses, more than 28,000 students and around 1000 faculty members. It is ranked among the top private universities in India and offers internationally recognised undergraduate, postgraduate and research programmes across architecture, business, education, engineering, humanities, law, sciences, and social sciences.
Massey University's Deputy Head of School of Food and Advanced Technology Professor Gourab Sen Gupta presented a guest lecture at Christ University in 2019 on the topic of sensors, robotics and automation. Discussions have since evolved amongst the international relations offices, Massey Business School and College of Sciences, despite COVID-19 restrictions in place in both countries. This work will now come to fruition with the opening of the New Zealand border, and Massey will welcome the first Christ University students to New Zealand in February 2023.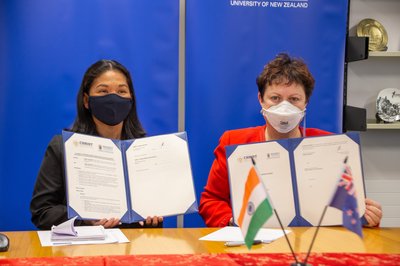 Wednesday 27 April 2022
Massey has four MLC's in China including Hebei University of Technology (HEBUT), Canvard College, Beijing Technology and Business University (Canvard College, BTBU) Hainan University and Nanjing University of Finance and Economics (NUFE).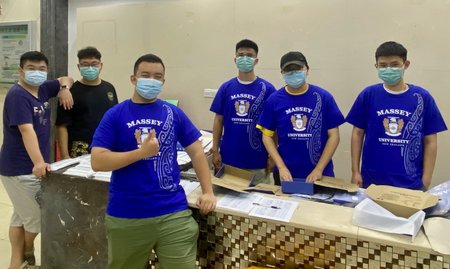 Tuesday 5 April 2022
Massey University has renewed its Strategic Cooperation Agreement with Wageningen University & Research in a virtual signing ceremony.