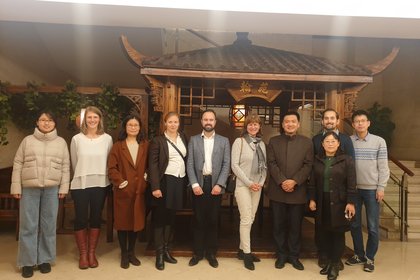 Last updated: Friday 10 March 2023
The programme brings together Massey University's One Health researchers with international partners, government scientists and the Aotearoa New Zealand One Health research community to identify research priorities that address global One Health issues.

The One Health approach works towards improving health outcomes by recognising, understanding and managing the relationship between people, animals and their shared environment. It is not a human-centric or environment-centered focus, but rather a collective approach.

The programme comes at a critical time for global health, with the COVID-19 pandemic, global warming, antimicrobial resistance, food safety and security and many other important health issues having an impact.

The Global One Health Research Partners, Massey University, Wageningen University and Research, University of California Davis and Nanjing Agricultural University are working together to leverage their respective expertise, relationships and geographic distribution to implement collaborative research that addresses global One Health issues.

The first day of the programme will be held at Te Papa Tongarewa Museum of New Zealand in Wellington, where attendees will hear from a range of keynote speakers including visiting scientists and researchers, the Office of the Prime Minister's Chief Science Advisor, senior scientists from the Ministry of Health, Ministry for Primary Industries, and the Ministry of Environment and leading One Health researchers. The first day will lay a platform for the remainder of the event.

Provost Professor Giselle Byrnes, who will be opening the symposium, says the priority of the four-day programme is to work collaboratively with our research partners.

"During the programme we hope to share ideas and develop research proposals that will help address some of the global health issues we are facing."

From 15 – 17 March, the programme will continue with a symposium at Massey University's Manawatū campus in Palmerston North, where Massey researchers and international visitors will share their research work, showcase their expertise, exchange ideas and identify opportunities for joint research projects.