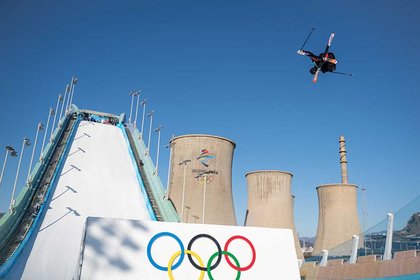 Last updated: Wednesday 16 March 2022
Six freeskiing and snowboarding athletes with Massey connections recently took part in the 2022 Winter Olympics in Beijing.
Bachelor of Business student Chloe McMillan, Ngāpuhi, represented New Zealand in the women's freeski halfpipe. She says the atmosphere was amazing despite daily COVID-19 testing.
"It was a dream come true and being able to be one of a select group of Kiwis who gets to wear the fern as an Olympian was a feeling I'll never forget."
The ability to study as a distance student was exactly what Chloe needed as a full-time athlete.
"From what I had heard, Massey had the best distance programmes in the country. Flexibility and help for someone who is also training in high performance sport was the top of the priority list for me, and before even starting my first ever semester I have had bucketloads of help.
"I got onto things prior to the Games, met my lecturers via email, figured out my timetables, ordered stationery and got all the e-books I needed. The day I got off the plane from China I went straight into studying, so being ultra-prepared was a must. I have also had a tonne of support from Tamara from the Academy of Sport, who has made doing all of the above a breeze."
Chloe says her family have been her biggest supporters throughout her Olympics journey.
"Being a completely self-funded athlete, I wouldn't have been able to make my dreams possible without them."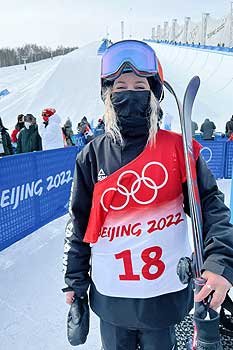 Freeskier Ben Barclay is studying towards a Bachelor of Business and is a 2022 Massey University Elite Sports Bursary recipient. He says being in the finals during his first Olympic Games was incredible.
"The Olympic Games was like nothing else I've experienced before. It wasn't until we walked into the opening ceremony that I realised the true magnitude of the event and how much it can bring people together. Being in the start-gate with so many of my childhood idols and wearing the Olympic rings on my bib was something I will cherish forever." 
Ben gives credits to Massey for giving him the support and flexibility to juggle both study and a professional sport career.
"I just fit study in whenever I have free time, whether that's in the afternoons post-training, or on a plane to the next event. It means you have to make a conscious effort to manage your time to fit in both aspects of student-athlete life.
"Massey has been great in helping me keep sport a top priority while still planning for a future post-sport. Their flexibility has allowed me to focus solely on skiing when I need to and then shift to focusing on study. 
"I have a very long-list of people I would like to thank. Without so many wonderful and supportive people in my life I would not be able to achieve these childhood dreams."
Bachelor of Science student Cool Wakushima also represented New Zealand in the women's snowboard slopestyle.
High Performance Coordinator Tamara Scott-Valath says it was amazing watching Massey student-athletes compete at such a large international event.
"I'm fully aware of the efforts they put in to balancing their academic study and their sporting commitments, and seeing them achieve a major life-time goal of competing at an Olympic Games shows just how dedicated they are.
"It's really nice to know that Massey has been able to play a part in ensuring these athletes are able to work towards a qualification while still competing at the highest level in their sport."
Massey University also wishes past student Corey Peters who is heading off to the 2022 Paralympic Winter Games in Beijing all the best.