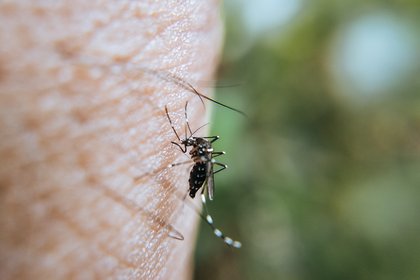 These insects, which include exotic disease-carrying mosquitoes, were intercepted at sea and air ports around New Zealand as part of a surveillance programme to protect New Zealand's health.
Data from the 2021 interceptions was included in a new factsheet recently published by Massey's Environmental Health Intelligence New Zealand (EHINZ) to keep Government, public health units and District Health Boards up-to-date with public health risks at New Zealand's international ports.
"Exotic mosquitoes are considered high-risk insects in New Zealand due to their ability to spread serious infectious diseases such as Dengue Fever and Malaria," EHINZ Intelligence Analyst Liam Kelly says.
"The knowledge of which species are arriving at our border, where they are coming from, and how they are getting here helps maintain New Zealand's public health by ensuring tight border controls prevent these disease-carrying pests from establishing in New Zealand."
Over a five-year period from 2017 to 2021, there were 107 high-risk insect interceptions, with the majority originating from Asia (42 interceptions) and the Pacific (28 interceptions).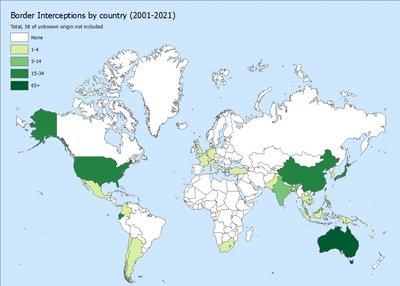 "It is interesting that the number of interceptions in 2021 was similar to previous years, despite COVID-19 travel restrictions," Mr Kelly says.
Airport-based interceptions are consistently highest in Auckland, while Christchurch had the most seaport-based interceptions in 2020 and 2021. Auckland and Christchurch also recorded the most seaport interceptions in 2017–2021, despite Tauranga and Whangarei being the busiest seaports in the country.
Of the 107 insects intercepted in the last five years, 41 per cent of the insects have been caught alive. Living specimens that arrive in New Zealand are the highest concern because of the risk they pose to public health. These interceptions have survived decontamination procedures at the port they came from, and have the potential to escape into the environment .
Once caught, the insects are sent to the NZBioSecure Entomology Laboratory to identify the species and whether it was carrying any diseases.
View the factsheet here.
Wednesday 2 March 2022
New research indicates anthropogenic climate change will result in a quarter of Aotearoa New Zealand's alpine grasshopper species becoming extinct.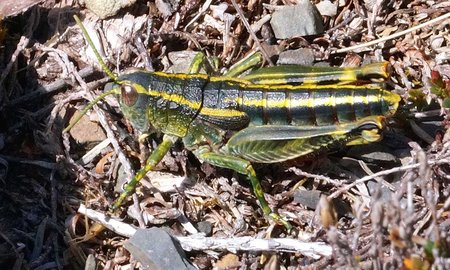 Wednesday 15 June 2022
New research into the behaviour of tree wētā will enable better monitoring of the species without the need to kill them.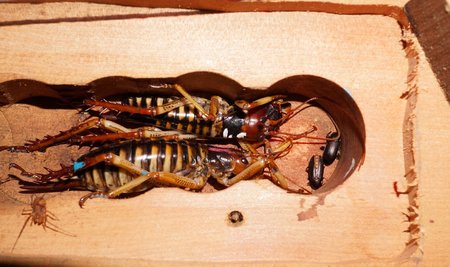 Wednesday 10 February 2021
Dr Laura Jean McKay's novel about a viral pandemic has just taken out Australia's most valuable literary prize.