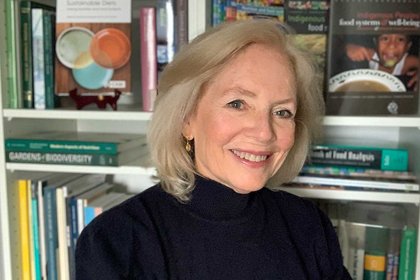 Last updated: Tuesday 22 March 2022
This appointment is a continuation of her role at Massey University, moving from her adjunct professorship with the School of Health Sciences to the Riddet Institute. Her expertise in sustainable diets, food security and nutrition will be of great benefit to the research programmes at the institute, particularly the Sustainable Nutrition InitiativeTM.
Distinguished Professor Harjinder Singh, Director of the Riddet Institute, says Professor Burlingame brings her strong connections and expert knowledge on nutrition and sustainability.
"Her appointment will further strengthen the institute's ability to collaborate across the world. Her strategic advice into the Riddet Institute and its Sustainable Nutrition InitiativeTM will be invaluable."
Professor Burlingame is a nutrition scientist, an independent consultant and advisor to several international bodies. She has a PhD from Massey University and undergraduate degrees from University of California, Davis (nutrition science and environmental toxicology).
Professor Burlingame is a member of the High-Level Panel of Experts Steering Committee on World Food Security, chair of the International Union of Nutritional Sciences Task Force on Sustainable Diets and specialty chief editor of Frontiers in Nutrition. She was the recipient of the 2021 Ancel and Margaret Keys award for her work on sustainable diets and biodiversity for food and nutrition.
Professor Burlingame says her interests and international activities align well with the Riddet Institute, particularly in the area of sustainable nutrition. 
"While chief of nutrition at Food and Agriculture Organization of the United Nations (FAO), I had the occasion to invite Riddet personnel to be involved in important international expert consultations on several critical nutrition topics. Their involvement was always highly valued."
From her work in the late 1980s through to 1998 as a scientist in one of the Crown Research Institutes, to her current international work with FAO and other UN bodies, her interactions with Riddet Institute staff has been a constant feature, she adds.
Professor Burlingame's work with the Riddet Institute will focus on sustainable diets and sustainable food systems.