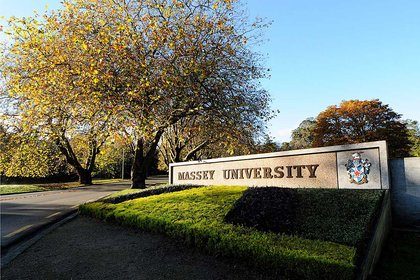 Last updated: Friday 18 March 2022
Dr William Hoverd is the new Director of the Centre for Defence and Security Studies (CDSS), after Professor Rouben Azizian stepped down following five years in the role.
Dr Hoverd is a social scientist with a specific interest in New Zealand security issues and religious diversity and has been at CDSS for eight years.
Although it's been a time of change for the Centre, which became part of the School of People, Environment and Planning in 2020, one of Dr Hoverd's main areas of focus as director will be on developing its existing strengths.
"The Centre is doing great things and our staff are working on amazing research," Dr Hoverd says. "We are looking at how we develop CDSS while continuing to focus and highlight our existing strengths and advantages – including our research, our strong teaching reputation and delivering professional Masters programmes to the Government.
"We remain focused on research excellence," Dr Hoverd says. "Many of our staff are mid-career researchers and the range and depth of their research is now becoming significant."
Examples of the research includes:
Dr Rhys Ball, Dr John Battersby, Dr Damien Rogers and Nick Nelson working on the response to the Royal Commission of Enquiry into the Christchurch mosque attacks.
Dr Anna Powles whose research on New Zealand international relations and the Pacific is internationally recognised. Dr Powles has also been nominated to be a non-residential fellow of the National Bureau of Asian Research, an independent research institute based in Seattle and Washington. Anna will be contributing to Pacific discussions.
Dr Negar Partow who is involved with research on human security, the United Nations, and women in security.
Dr Germana Nicklin, whose research includes Antarctica and border security.
Dr John Moremon and Terry Johanson whose research covers a range of historical and contemporary defence issues.
Professor Rouben Azizian who has produced special issues of the National Security Journal with the University of Stockholm on nuclear deterrents in the modern world.
As well as research, the CDSS offers hugely successful postgraduate intelligence and counter-terrorism programmes, and has the only university undergraduate programmes in defence studies, security studies and biosecurity in Aotearoa New Zealand.  
"Other previous initiatives which the CDSS will continue to build on are the National Security Conference (a joint initiative with the New Zealand Government), and the National Security Journal, which is having a tangible impact by framing and responding to Government policy," Dr Hoverd says.
Professor Glenn Banks, Head of School of People, Environment and Planning notes that one of the strengths of CDSS is the strong stakeholder relationships that have been developed over time – with the New Zealand Defence Force (NZDF), the Ministry of Primary Industries, and the New Zealand Police. "The successful management of these relationships and others through the Centre's Strategic Advisory Board is one of Professor Azizian's achievements that has cemented the place of CDSS in the New Zealand security environment. The Centre and its staff have huge potential to extend these further, and I'm really looking forward to working on developing these with Dr Hoverd."
Dr Hoverd says while he's still learning the ropes, he does have some definite plans for the next year. "These include working with staff on creating a new vision for CDSS and how the unit can position itself for the future security environment. I also want to promote CDSS to its stakeholders, create new opportunities, and develop teaching excellence."
"I really want to acknowledge Professor Azizian. Everyone at CDSS is proud of the initiatives he developed, including the NZDF Defence Attaché course which we will continue to develop, and the Pacific Security Dynamics training which is an annual one-week course with 35 students."