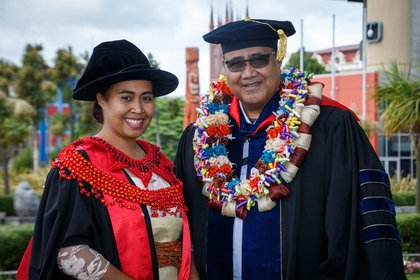 Last updated: Thursday 24 November 2022
Sulu's childhood was an adventurous one, moving between Fiji, Papua New Guinea and the Philippines. By age 15, she had travelled extensively with her family across the Pacific and Asia, including Australia, England and the United States. Then, a one-week transit in Auckland led to a permanent relocation to New Zealand.
Sulu says on arrival to New Zealand, her family faced a multitude of unexpected challenges. "We had no stable employment and our settlement prospects were unclear. Immigration processed our residency applications while we worked seasonal jobs. My schooling ended after grade 10. It was agonising, but essential for my academic development."
Sulu's father was a massive inspiration in her desire to further her education. He dropped out of school in grade 10 to look after his mother, sister and younger brother, putting off school for 11 years to provide for the family. After returning to study, he went on to obtain a diploma, then a Bachelor of Arts, a Master of Arts, and finally a PhD from the Adventist International Institute of Advanced Studies in the Philippines.
"My dad taught me there is no success without sacrifice and sacrifice often requires huge leaps of faith, long hours in the library, sleepless nights, making yourself uncomfortable, stepping into difficult, unknown, challenging areas of academic learning and having faith and trust in God."
In 2011, Sulu completed the UCOL Business Administration Certificate level three, which enabled her to enrol in a Bachelor of Business Studies (BBS) at Massey, which she completed in 2015. She went on to obtain a Master of Business Studies in 2018 and was the first recipient of the Vice-Chancellor's Pasifika Doctoral Scholarship at the end of 2018.
She submitted her thesis in November 2021. Since completing her studies, Sulu has worked in the Office of the Ombudsman in Wellington, and recently began a new role as a business analyst at the Ministry of Business, Innovation and Employment.
At Manawatū graduation this week, Sulu gave the Massey Business School valedictory speech. She says a number of people have contributed to her academic success.
"In the midst of the COVID-19 pandemic, writing my dissertation was gruelling, I also got married and had to adjust to married life quickly. In my bedroom, I learned to write, multi-task and think while watching my nieces and nephews or doing school runs amidst the distracting scent on my mother's kitchen and noise from the television.
"The saying is true – there is no shame in hard work. No matter how difficult the task, if you persist, you can succeed. Put God at the centre of your life. He can accomplish the impossible through you despite your limitations. If someone like me, a grade 10 dropout, can must it through university, you can too. Stay focused. Aim high. Put your trust in God and do your part. And allow him to do the rest."
Wednesday 23 November 2022
For most people, completing their first degree is hard enough as it is, but Suraya Goss, Te Ātihaunui-a-Pāpārangi, took on the added challenge of completing her entire qualification in te reo Māori.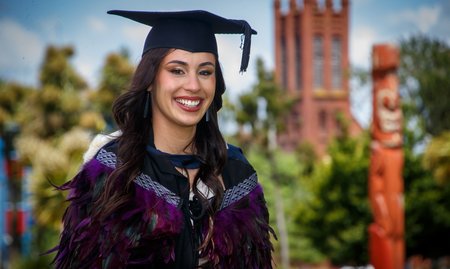 Monday 21 November 2022
More than 1100 students will cross the stage at The Regent this week at graduation ceremonies in Palmerston North.