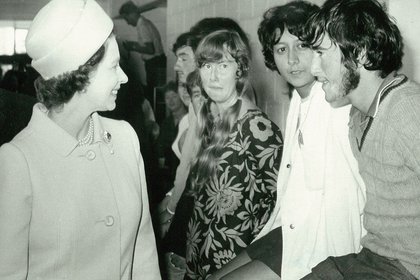 Last updated: Friday 9 September 2022
Paying tribute to Her Majesty, Vice-Chancellor Professor Jan Thomas, says her lifelong devotion to the monarchy, the Commonwealth and her family was remarkable.
"Her 70-year reign was extraordinary, serving her people with such grace and dignity. Our thoughts are very much with her family."
Her Majesty was Patron of the Association of Commonwealth Universities, which champions higher education as a force for good and the role of universities in addressing global challenges and improving people's lives. The Queen Elizabeth Commonwealth Scholarships were named after her in 2019, as a fitting tribute to her immense contribution as Head of the Commonwealth and her longstanding dedication to education and youth. 
"I had the honour of meeting Her Majesty in 2013 as then Chair of the Managing Council of the Association of Commonwealth Universities. She took real interest in our work and deeply understood the role universities play as civic institutions, building nations," Professor Thomas adds.
Her Majesty and her late husband Prince Philip visited our Manawatū campus in 1970. The royal couple were visiting Aotearoa New Zealand as part of the James Cook bicentenary celebrations, with children Prince Charles and Princess Anne. On their visit, Her Majesty took the time to meet students in our Student Centre and see our vet teaching facilities.
Professor Emeritus Robert Anderson was Student President at the time and went on to have a career spanning nearly 50 years at Massey. One of his duties was chaperoning Queen Elizabeth II on the visit, which he remembers fondly.
"I was informed by the Vice-Chancellor, Dr Alan Stewart in 1969 that there was to be a royal visit. I couldn't speak to anyone about it, so for several months I knew that there was going to be a royal visit and I knew I was going to be part of it."
A visit by the Queen was a special event at a time that Professor Anderson says was a "coming of age" for Massey as a university.
"The Vice-Chancellor wanted the Queen to interact with students, not just come and be hosted by the university itself. My role was to conduct her around the student union building, point out various aspects, and host her with the students. There were students from all over, and many people from the general public came as well.
"I'm very pleased to have had the opportunity to meet her and do what I could to assist with the visit. You might say it was a grand royal occasion."