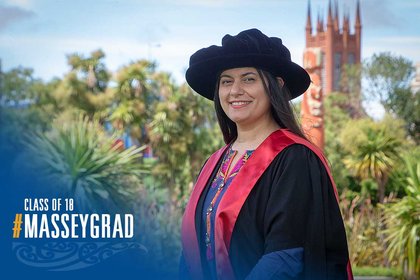 Last updated: Friday 19 August 2022
Very few New Zealanders understand what it's like to live under the constant threat of terrorism. But Massey Business School lecturer Dr Fatima Junaid knows only too well – through both personal experience and her PhD research.
Dr Junaid, who received her doctoral degree from Massey University this morning, researched the impact of terrorism on employee outcomes. Using data largely from Pakistan, her home country, she found the trauma level of respondents was on par with that of war veterans.
"But people don't always realise the effect it is having," she says. "When I asked them about their job stress, they rated it higher than the stress caused by terrorism."
She believes this is because people in Pakistan have become "habituated" to the daily threat of terror attacks. She found that many people were able to function at work, but the underlying stress can lead to "resource depletion".
"So, they are working and their productivity and job satisfaction levels are similar to what you might find in other countries, which is surprising, considering the circumstances," she says."But the combination of terrorism, or post-traumatic stress disorder, with job stresses has a more dire effect than each of these things separately."
Producing her PhD thesis was both a challenging and cathartic experience for Dr Junaid. As a university lecturer at the Institute of Management Sciences in Peshawar, one of the most volatile regions in Pakistan, she saw first-hand the impact of terrorism on the daily lives of her family, friends and students, including a devastating bomb blast in a student hostel.
A very personal PhD
She knew she wanted to research the stress of employees living under ongoing terrorism threats, and what organisations could do to provide support. After deciding to pursue her PhD overseas, Dr Junaid chose Massey because it was the only university that was supportive of her chosen topic.
"My father kept saying, 'You're going away to a beautiful country and you will research the saddest topic.' And I said, 'Yes, because I have to.'"
Tragically, four months after arriving in New Zealand, Dr Junaid's father was killed by a suicide bomber while praying at his local mosque.
"I took a month-and-a-half off, I spent a bit of time back home, and I learnt a different type of pain that I had never experienced," she says. "I have not visited home since then. For two years we just dealt with each day as it came, and my husband and supervisors were kind enough to not ask questions regarding the future.
"And, then, I decided that maybe we should think about settling in New Zealand because I didn't want to fear for my daughter when she went to school."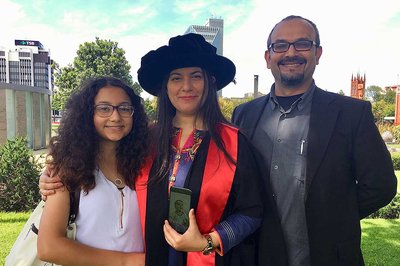 Looking to the future
When she looks back now, Dr Junaid says it was the support of her family, her colleagues at Massey and a "brilliant counsellor" supplied by the university that got her through this period. She had many discussions about how to ensure her personal circumstances did not jeopardise either her research or her wellbeing. 
"I decided to focus more on my quantitative research so the qualitative component [which relies on in-depth interviews with participants] is quite small. My qualitative research is so hard to process, even now, but I think it also helped that I could relate to the experiences being described."
Since completing her thesis, Dr Junaid's plans to settle in New Zealand are starting to take shape. In the past year, she has moved to Palmerston North to take up a permanent role as a lecturer with the School of Management and has also given birth to her second child.
"I feel blessed, grateful, overwhelmed, welcomed, happy," she says. "The university, in a lot of ways, has been like a home."
Comparing the impact of trauma in Pakistan and New Zealand
As well as teaching, Dr Junaid now plans to share her research findings and to further develop her theories around job stress and trauma. While her thesis focused on the experiences of people in Pakistan, she believes there are implications for organisations everywhere, including in New Zealand.
"Peaceful countries like New Zealand don't realise the burden that many migrants bring with them," she says. "Skilled migrants, like me, move to New Zealand and start working. We come with this hidden burden and there is no mechanism for identifying that and providing support in the workplace because we are not refugees."
In the future, Dr Junaid hopes to collaborate with researchers in countries with a high migrant influx.
She has also received funding from Massey to compare the outcomes for the employees in her thesis to New Zealanders who survived the Canterbury earthquakes.
"I want to see if research findings from each group could help the other in terms of developing support mechanisms for employees who have experienced trauma. One is a man-made disaster and the other is a natural disaster, but the uncertainty, fear and loss is common to both situations."