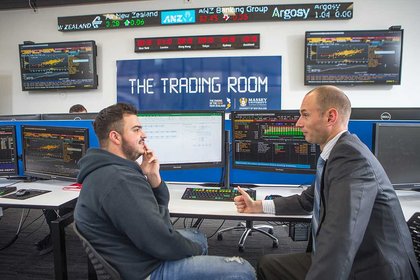 Last updated: Friday 25 November 2022
Massey Business School (MBS) is continuing the premium financial planning qualification Certificate in Financial Advice following its successful launch late last year. The purpose-built programme is delivered in partnership with Kaplan Professional, Australia's largest provider of financial services education.
The qualification is equivalent to the New Zealand Certificate in Financial Services (Level 5) [Version 2], the benchmark qualification advisers need to complete to meet new requirements that came into force in March 2021.
MBS International and Strategic Partnerships Director Dr Jeff Stangl says it provides New Zealand advisers with a unique opportunity to gain their qualification from a leading education institution like Massey.
"We are committed to delivering a new way of learning to advisers that combines Massey University's academic prestige and rigour with Kaplan Professional's commercial and online expertise.
"The New Zealand-centric curriculum has been designed by a hand-picked team of industry practitioners and subject matter experts to bring to the market a cutting-edge online learning experience like no other."
After completing the qualification, advisers can continue their learning with a tailored 12-month continuing professional development (CPD) subscription to Ontrack, Kaplan Professional's market-leading continuing education platform.
The programme also includes access to up to eight financial services-focused short courses (depending on specialisation) for advisers to deepen their technical knowledge and enhance their skill set.
Kaplan Professional Chief Executive Officer Brian Knight says the aim is to encourage advisers to develop their capabilities.
"We really believe in helping advisers to feel empowered to extend their capabilities beyond their initial qualification and keep up-to-date with the continually-evolving industry trends relevant to various roles throughout their career.
"Advisers maintaining their CPD is a fundamental requirement of the Code of Professional Conduct for Financial Advice Services. Their Ontrack subscription will provide them with in-depth, timely and topical content delivered monthly through innovative and engaging digital modules.
"Each digital module has a rigorous assessment piece grounded within an educational framework attached to it, enabling advisers to reinforce their learning. Advisers will be able to follow a personalised learning plan specific to their role and licensee requirements."
Advisers have 12 months from their initial enrolment date to complete the certificate. This includes one compulsory subject and one elective subject from one of four specialisations: Life Disability and Health Insurance, General Insurance, and Residential Property Lending. They will then be eligible for entry to the Bachelor of Business (Financial Planning and Advice) – the only qualification of its kind in New Zealand.
Dr Stangl says the qualification and CPD offering has generated significant interest throughout New Zealand's licensee and adviser community.
"Advisers have a transitional period of two years to meet the education requirements. Those who have already enrolled have expressed their desire to be early adopters, so they can move forward and set a positive example for their peers to follow.
"With advisers required to complete one compulsory subject and one elective subject within 12 months of enrolment, many of them are aiming to complete their qualification as soon as possible and then focus on completing the CPD and short courses.
"We are working hard to leverage extensive industry relationships and Kaplan Professional's expertise to promote this significant opportunity to raise the bar of financial services education in New Zealand for the betterment of advisers, consumers and the market as a whole."
The fee for the complete programme is $1,800. This includes:
Certificate in Financial Advice qualification
12-month Ontrack CPD subscription
Up to eight financial services-focused short courses depending on specialisation Additional elective subjects can be added for $900 each.
Advisers are encouraged to join their peers and enrol in the final intake for 2021 commencing in November. This will ensure advisers can build their confidence and momentum in the final months of the year.