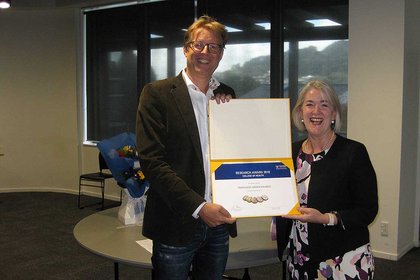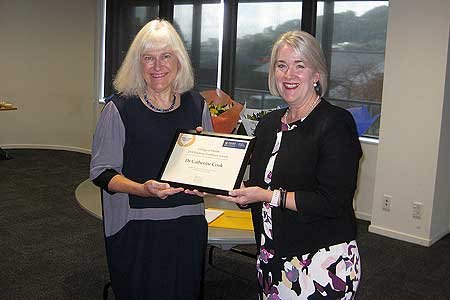 Professor Jeroen Douwes, director of the Centre for Public Health Research, has been awarded the 2018 College of Health Research Award for his outstanding contribution to health research within the College and the University.
A ceremony was held in Wellington last week, where Professor Douwes was given the award by College of Health Pro Vice-Chancellor Professor Jane Mills.
The College of Health Research Committee selected Professor Douwes, saying he is a world-leading researcher who has achieved excellence and made an outstanding contribution to his specialist areas of research.
Professor Douwes has worked at Massey since 2000. He serves on the board of the Health Research Council of New Zealand and is the chair of the Council's Public Health Research Committee. He also serves on the board of the Environmental Protection Authority.
The College of Health Teaching Excellence Award was presented to Dr Catherine Cook from the School of Nursing.
This award aims to encourage staff to value their teaching and raise the profile of their teaching portfolio within the college. It also allows the college to highlight and reward staff for excellence in their approach to teaching and the development of an inclusive, engaging and innovative learning environment.  
Dr Cook is a senior lecturer involved in several research teams. She also supervises research and teaches both postgraduate and undergraduate students. Dr Cook's teaching areas include health law and ethics; clinical teaching; research; leadership; older people's health; and the supervision of research and practicum projects.
Professor Mills says Professor Douwes and Dr Cook are both very worthy recipients. "It was lovely to hear from both Jeroen and Catherine at the awards ceremony – they both spoke with such passion for their work, and how they are supported by their co-workers to achieve success.
"Catherine's speech on the value of teaching in our University, and the centrality of reflection to her practice, was very inspiring, while Jeroen spoke to the importance of research teams and the shared endeavour that is his practice. It was wonderful to see so many early career academics at the celebration to listen to their wise words," Professor Mills says.