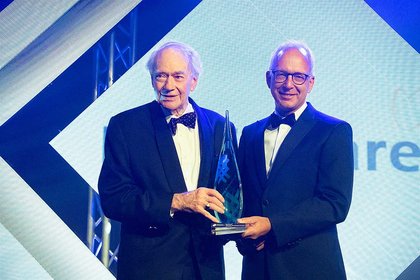 Last updated: Monday 23 May 2022
In January 1958, 26-year-old Bill Glass signed on as ship's doctor for the Port Hobart - a cargo vessel with 12 passengers bound for London.
He was inexperienced, had no job to go to and nowhere to stay. He knew he had to get away from New Zealand to visit the "old world"- the world his father referred to as home.
In a public lecture later this month, Professor Glass will reflect on the past 60 years, and his work in the field of occupational medicine. The 2019 Senior New Zealander of the Year will refer to the influences, the individuals, the ideas and attitudes that helped mould him into an occupational physician, and how he came to be known as the godfather of occupational health in New Zealand.
"The evening will be a mixture of music, photographs and stories about some of the amazing people who, when I look back, were pivotal to my career and personal life," he says.
"I got to London, no job, hardly any money and nowhere to live. We arrived at the docklands, it was winter - cold, grey and miserable, but we found some dump to stay in for the first few nights. I called an English friend living in London, and he invited us to stay in a room in the basement.
"So I tried to get work, but no one wanted to know a Kiwi who had only one year working as a house surgeon at Wellington Hospital. For weeks I had no luck, then my friend eventually said 'Bill, have you ever thought about occupational medicine?' Well of course I hadn't, but it was a lifeline," he says.
Professor Glass has, throughout his long and distinguished career, considerably advanced occupational medicine, workers' health, and policy development in New Zealand, through original research, his work as an occupational physician, and his long involvement with WorkSafe.
He has been a passionate practitioner, educator and researcher, and has mentored, trained and inspired many New Zealanders working in the field of occupational medicine. At 88-years-old, he continues to work part-time at Massey's Centre for Public Health Research in Wellington.
One of the major successes of his career was the creation of the Asbestos Exposure Register. His efforts have resulted in better health outcomes for countless workers by not only highlighting the dangers posed by substances like asbestos, lead and silica, but also by offering solutions to reduce exposure.
Event details
Time: 5.00pm – 7.00pm (networking with drinks and nibbles from 5.00pm-5.30pm)
Date: Wednesday August 21
Location: Te Ara Hihiko – The Pit, Block 12, Room B09, Level B/C, Entrance E, Tasman Street, Massey University Wellington
Click here to register.