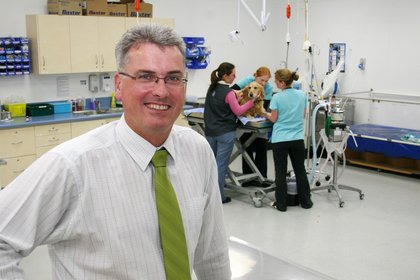 Professor Allan was a much-loved and respected member of the School of Veterinary Science for 20 years. He held various roles during his time there, including six years as Head of the Institute of Veterinary, Animal and Biomedical Sciences, when he helped establish its reputation as among the best in the world.
Following his time at Massey, Professor Allan took on leadership positions at Victoria University in Wellington and at the Sydney School of Veterinary Science. Over the course of his career, he worked to bridge the gap between veterinary education and private practice for the betterment of both disciplines.
As a lasting tribute to Professor Allan on the first anniversary of his death, Rebecca Allan and children: Sophie, Fergus and Phoebe, have established the Frazer Allan Scholarship Fund.
Along with the Massey University Foundation, they are proud to invite Massey staff, alumni and the wider Massey and veterinary science communities to contribute to the fund.
Professor Allan was a passionate advocate of veterinary education, Rebecca says. "He loved engaging with and seeing students flourish as they progressed through their degree towards becoming part of the veterinary profession."
Foundation director Mitch Murdoch says he touched the lives of many at Massey, and the fund means he will continue to make a positive difference to students pursuing a career in the field he was so passionate about.
The fund will support scholarships for year-two Bachelor of Veterinary Science students who have already completed tertiary level study before gaining entry to the programme. Applicants will be assessed on their academic achievement, financial need and community involvement.
If you wish to donate to the Frazer Allan Scholarship Fund you can visit the Massey University Foundation's website. Under the designation on the drop-down menu select the Frazer Allan Fund.