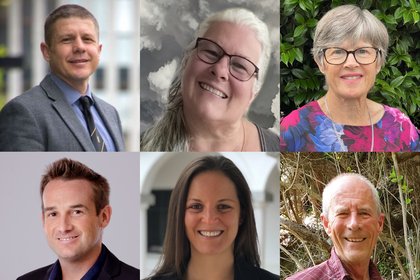 Last updated: Friday 3 February 2023
The Individual Research Medal and Early Career Research Medal for 2022 have been awarded to two staff members each, to Professor Paul Kenyon and Professor Julieanna Preston, and Dr Matt Williams and Dr Claire Badenhorst respectively.
Other individual recipients include Associate Professor Jenny Poskitt, who has been awarded the Supervisor Research Medal and Professor John Cockrem, who has been awarded the Exceptional Research Citizenship Medal.
The Team Research Medal has been awarded to Associate Professor Jodie Hunter, Professor Bobbie Hunter and other members of the Developing Mathematical Inquiry Communities (DMIC) team for their outstanding work in this research and evidence-based comprehensive professional learning and development project.
University Research Medals are the highest awards for research bestowed by the university. Each year the university recognises the outstanding achievements of staff in the categories of: individual, early career, supervisor, team and exceptional research citizenship.
Massey University Provost Professor Giselle Byrnes says the university community is hugely proud of the 2022 winners.
"Our new university strategy prioritises research excellence and research that is relevant to the communities we serve, as well as speaking to global metrics and quality research standards. It is clear that, across all nominations our committee received, as a university we are continuing to speak to these changing expectations of research excellence. Warm congratulations to all this year's medal winners."
Nominations are considered by the University Awards Selection Committee, a subcommittee of the University Research Committee. The award winners will be honoured at an in-person ceremony in the coming months.
Individual Research Medal winner – Professor Paul Kenyon
Head of the School of Agriculture and Environment Professor Paul Kenyon has a scientific reputation that reaches far beyond the New Zealand borders. Nationally, he has been invited by the primary industry and farmers groups on numerous occasions to present his research findings, many of which are now normal on-farm practices. Professor Kenyon has been successful in obtaining research funding over the years, with over $13 million both as the primary investigator or as a team member. He has produced 529 scientific outputs and supervised 27 PhD and 13 master's students.
Individual Research Medal winner – Professor Julieanna Preston
Professor Julieanna Preston from Toi Rauwhārangi College of Creative Arts has a research record that exemplifies a high-level of engagement centred on the production of artistic research and associated scholarly publications. Her work is poised as live performance, site-responsive installations and exhibitions, then contextualised in essays, articles, chapters and keynote lecturers. Professor Preston takes every opportunity to challenge the norms of academic discourse and make her work accessible to a general audience, as well as collaborate with other artists, postgraduate students and industry partners. In addition, she has shown consistent generosity and support to emerging and established students, colleagues and researchers.
Supervisor Research Medal winner – Associate Professor Jenny Poskitt
Associate Professor Jenny Poskitt from the Institute of Education has made sustained and significant contributions to educational assessment research with impacts on policy and practice, both nationally and internationally. She has a demonstrated breadth and depth of support for postgraduate researchers in the field through direct supervision, co-authorship and dissemination of research. Dr Poskitt has supervised over 70 postgraduate master's and doctoral research students' theses, chaired over 70 confirmation doctoral orals, convened more than 30 doctoral examinations for Massey and examined multiple national and international master's and doctoral research theses. She has taught innumerable undergraduate and postgraduate students in courses on assessment, educational leadership, adolescent learning and qualitative research.
Early Career Research Medal winner – Dr Matt Williams
Dr Matt Williams from the School of Psychology has a strong record of impactful research, especially in the areas of metascience and conspiracy theories. He has published 35 articles, many of which have been in high-impact journals. Dr Williams has attracted significant research funding, including two Strategic Research Excellence Fund awards and a Marsden Fund Fast-Start Grant for his two-year longitudinal project investigating what drives people to change their beliefs about conspiracy theories. His research has had influence in scholarly literature, as well as attracted media coverage in various news outlets.
Early Career Research Medal winner – Dr Claire Badenhorst
Dr Claire Badenhorst from the School of Sport, Exercise and Nutrition has a research focus on driving health equity for females. Her research has been recognised by the Health Research Council and external stakeholders nationally and internationally. Dr Badenhorst has developed an independent research programme that has published extensively, generating around $1.5 million and supervising 21 higher degree students. Her career and work to date reflect her enthusiasm and commitment to being a leader and expert in female health while representing Massey University.
Exceptional Research Citizenship Whaowhia Ngā Kete o te Wānanga Medal winner – Professor John Cockrem
After working in the academic field of comparative endocrinology, the last few years has seen Professor John Cockrem's research focus shift to penguin biology, with field studies of kororā (little blue penguins). His work has a strong emphasis on applying his kororā experience and communication skills to fulfil the critic and conscience of society role of university academics. From 2019 onwards, Professor Cockrem's work has received over 101 news and social media mentions, many of which relate to public debate about the adverse effects of coastal development on kororā. References from MPs, CEOs, managers and other high-profile leaders provide compelling support and identify the value of Professor Cockrem's expert advice and commentary, public statements, advocacy for kororā and contributions to public debate.
Team Research Medal – Developing Mathematical Inquiry Communities (DMIC)
Associate Professor Jodie Hunter and Professor Bobbie Hunter from the Institute of Education lead a team focusing on re-inventing mathematics teaching and learning in Aotearoa New Zealand. The work is multi-dimensional and makes active contributions to educational knowledge, research, policy and practice. This team has a track record of significant research funding, publications, research collaborations and awards, including over $18 million from the Ministry of Education. The research programme has received a range of national and international awards, including the 2021 New Zealand Association for Research in Education Group award and the 2018 Mathematics Education Research Group of Australasia Research Team award. Team members include Professor Emeritus Glenda Anthony, Louise Fitzgerald, Dr Generosa Leach and Dr Alexandra Bowmar.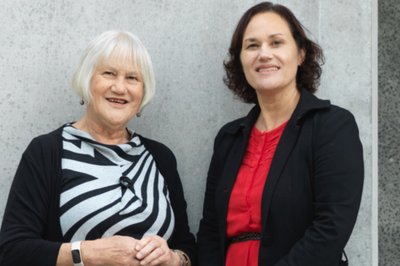 Thursday 9 December 2021
Te Kāhui Toi, the team behind the recently opened Te Rau Karamu Marae are among this year's winners of the University Research Medals.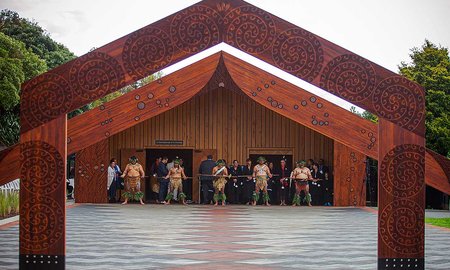 Friday 13 December 2019
Massey University's Joint Centre for Disaster Research team are among the winners of the Massey Medals this year for their diverse work on disaster risk management, from developing resilient communities to providing insights on the recent Whakaari/White Island eruption.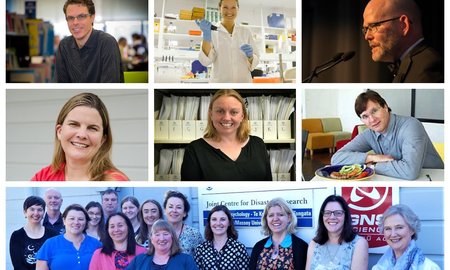 Friday 2 February 2018
Professor Velmurugu (Ravi) Ravindran of the School of Veterinary Sciences has been named the individual winner of this year's Massey University Research Medal.