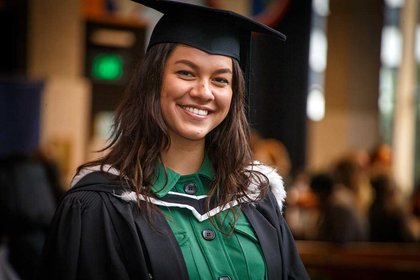 Last updated: Friday 25 November 2022
Raquel Abolins-Reid, aka rising indie-pop artist RIIKI, has packed a lot in since finishing her music degree at Massey University.
Her new single In The Moment was released on 14 May – the same day as her first headline concert at Whammy Bar in Auckland, which was followed by a show in Wellington a week later.
The single was written while in Los Angeles just before New Zealand's borders closed due to Covid-19 and was written and produced alongside California-based producers Alex Wilke and Jared Khan. The song "delves into the world of melancholic sentiment and R&B-infused pop" according to NZ Musician magazine.
The 21-year-old recently graduated with a Bachelor of Commercial Music (BCM) from Toi Rauwhārangi College of Creative Arts in Wellington and has been releasing music as RIIKI since 2019.
She is a recipient of the Massey University Vice-Chancellor's High Achiever (Art) Scholarship, received the Massey University Vice-Chancellor's High Achiever with Distinction Scholarship - Art in 2018 and was the valedictorian for her graduation ceremony.
A performer in talent shows as a child, Ms Abolins-Reid got her first taste of musical success as a teenager when her Smokefree Rockquest band Retrospect made it to the finals in Auckland in 2016.
Her second single High Heights, co-produced by Simon Gooding (who has produced artists such as P!nk, Dua Lipa and Migos), topped the Official New Zealand Music Chart and gained international attention. The track also made it on Apple Music's A-list Pop and New Music Daily playlists and featured on Spotify's New Music Friday playlists in New Zealand/Australia, Sweden, Denmark, Iceland, and Norway, and also became the cover of the popular Spotify playlist Pop Edge. Her follow-up singles Share Your Luv and Good Times both gained the #1 spot on the Hot NZ Singles Chart.
She credits her experience at Massey with helping her achieve success. "I absolutely loved my experience studying Commercial Music. One of the best parts about the degree was that every day I got to have one-on-one relationships with people who were already a part of the New Zealand music industry.
"Our lecturers were all very established and talented musicians within and outside of New Zealand – as well as teaching students, they were all working on their own projects outside of university, which made me feel super humbled to be learning from them and in such an inspiring environment. Being surrounded by a room full of creatives that were as passionately invested in music as I was made me feel 100 per cent that I was in the right place. I have made lifelong friendships from this experience, as well as connections that have guided me to end up where I am in the industry now. I'm very grateful for the experience I had studying a BCM."
As the valedictorian of her graduation ceremony, Ms Abolins-Reid said graduation was a special moment for a cohort of students who studied their final year during a global pandemic. "It was a very special event for us all and of massive significance for myself and a lot of the students I think, considering how our final year of Massey wrapped up around COVID times, so it was awesome that we got to celebrate our achievements with all our family and friends."
She recently signed with global artist agency WME, the the world's longest-running talent agency, and will release an EP featuring In The Moment later this year. 
Since graduating, she has been busy making, promoting and performing her music around New Zealand. "I have been travelling the country working with different music producers and engineers which has been a dream. I performed at a bunch of NZ music festivals over summer too, which I felt so lucky to take some of my friends who also studied my degree with me to play in my live band. I've been teaming up with some NZ radio stations to work on podcasts and live studio recordings to promote female industry creatives in music which is awesome.
"I feel super proud to be a Massey College of Creative Arts graduate. The past three years really flew by, but I feel so lucky to be have been a part of such an inspiring and positive environment. I will remember my time here forever."