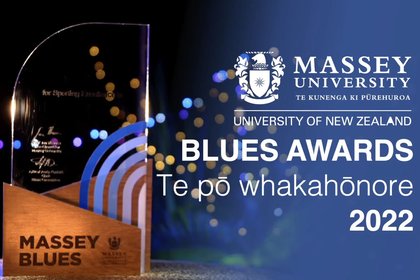 Last updated: Friday 21 October 2022
After the success of last year's online ceremony, student athletes from across the motu and internationally once again attended the awards virtually, with 140 Blues Awards bestowed.
The four major award winners were also announced on the night, with Aimee Fisher winning both the Distance Sportswoman of the Year and the overall Supreme Award.
Aimee is a 2021 World Champion, winning a gold medal at the 2021 International Canoe Federation Canoe Sprint World Championships in Denmark in the K1 500 metre. She also placed first in the Open Women's K1 500 metre at the 2022 Canoe Sprint National Championships, where she edged out fellow Massey whānau member Dame Lisa Carrington by .08 of a second.
In her acceptance speech, Aimee acknowledged the great year she's had in her athletic pursuits, and the support she's received to help her achieve both her sport and study goals as she works towards a Bachelor of Arts.
"It's a real privilege to receive these awards. It's been an epic journey so far and I couldn't have done it without my team supporting me, or without Massey. It's been a juggle with sport and study but the team at Massey – especially my lecturers and tutors – have been incredibly supportive and helped me through. Thank you for creating the opportunity for me to be able to pursue both of those things, to find balance, and to equip me for the next part of my life after my athletic career."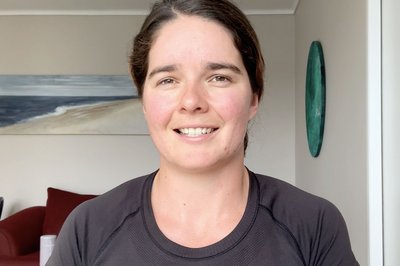 Rowing athlete and Master of Management graduate Tom Mackintosh accepted the award for Distance Sportsman of the Year for the second year running, following a gold medal win in the Men's Pair at the 2022 World Rowing Cup regatta. He gave a shout out to all the evening's nominees and winners, highlighting the effort it takes to excel in both sides of the student athlete journey.
"Congratulations everyone, you have all done such an amazing job to balance sport and study. It's an honour to receive this award and a truly awesome experience to be able to represent my country while studying at Massey."
Canoe Polo athlete and Campus Sportswoman of the Year winner Georgia Wheeler was appropriately accessorised when accepting her award, proudly wearing Aotearoa New Zealand's first World Games Canoe Polo medal during her speech. Georgia represented the New Zealand Senior Paddle Ferns, defeating Italy 4-2 in the bronze medal match. Georgia has also successfully completed a Bachelor of Animal Science.
"It is such an honour to be named Massey University's Sportswoman of the Year for 2022 – a massive thank you to my teammates, coach, manager, friends, and family – especially mum! Your support has been incredible. And thank you to Massey for supporting your students representing the country and especially thank you for supporting such a small sport like Canoe Polo."
For 2022 Oceania Men's Singles Badminton Champion Edward Lau, the win rounded out his time with Massey, after graduating in May with a Bachelor of Sport Management. Edward has won a major Sportsman of the Year award every year he's been eligible for a Blue, making this his fourth consecutive year as a major award winner.
"I feel very fortunate to win this award as Massey has many talented athletes. I'm grateful for all the support Massey has given me throughout my time at university," Edward said in his speech as he accepted the Campus Sportsman of the Year award.
The evening also saw rugby athlete Ashleigh Knight be awarded a Blues Award posthumously, having passed away following an accident last year. Ashleigh's rugby career included being part of the Manawatū team crowned Farah Palmer Cup Champions in 2021 and playing five seasons and 19 games for the Manawatū.
On the presentation of her award, the Blues Committee acknowledged Ashleigh's achievement and passion not only in her rugby, but also in her contributions to Massey and the wider community. She was an involved member of the Massey University Young Farmers' Club and had successfully completed a Diploma in Science and Technology.
Ashleigh's coach Fusi Feaunati of Manawatū Rugby Union spoke on the night to congratulate her.
"Ashleigh was a super intelligent young lady that possessed great leadership skills. She was somebody who had great work ethic and was committed to what she wanted to achieve in her sport. She was an awesome, wonderful human being off the field as well, who was so supportive of others around her. She's a much-missed member of our Manawatū rugby whānau."
The night included an interview with the Blues Awards guest speakers, conducted by Sport Advancement Manager Jacob Oram. He spoke to 3x3 Tall Fern Gabriella (Ella) Fotu and White Ferns cricketer Amelia (Melie) Kerr, who both represented Aotearoa New Zealand in Birmingham this year.
Both athletes are well-established in their careers and were able to share their thoughts on what it's like to represent the country on an international level, their own journeys balancing sport and study, and the importance of finding motivation and having other pursuits outside of being an athlete.
When asked what advice they would share to other aspiring student athletes, Melie and Ella emphasised the importance of "finding your passion, finding a balance, being nice to yourself, and looking at everything as an opportunity".
Next year will see Ella working towards qualifying for the 2023 FIBA World Cup and the 2024 Olympics, while Melie has a summer of cricket ahead of her that includes the Super Smash where she'll play for Wellington, and the 2023 International Cricket Council Women's T20 World Cup in South Africa.
Whakamihi and congratulations to all our Massey Blues recipients for continuing to go the distance and demonstrate your commitment, dedication, and passion on the sporting field and academic stage alike.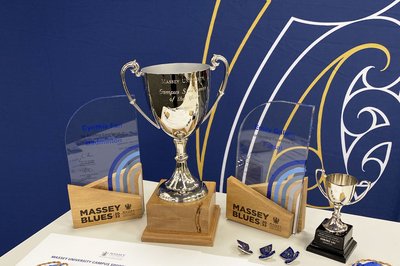 2022 MASSEY UNIVERSITY BLUES SPORTS AWARDS MAJOR AWARD WINNERS
Massey University Blues Sports Award - Supreme Award
Aimee Fisher – Canoe Sprint
Massey University Campus Sportswoman of the Year
Georgia Wheeler – Canoe Polo
Massey University Campus Sportsman of the Year
Edward Lau – Badminton
Massey University Distance Sportswoman of the Year
Aimee Fisher – Canoe Sprint
Massey University Distance Sportsman of the Year
Tom Mackintosh – Rowing
2022 MASSEY UNIVERSITY BLUES SPORTS AWARDS RECIPIENTS:
Artistic Roller Skating: Claudia McLean, Aspen Fell, Phoenix Reid; Athletics: Angus Lyver, Courtney Trow, Maddison-Lee Wesche, Georgia Hulls, Alexandra Hyland, Kara Macdermid, Olivia McTaggart, Alice Taylor; Badminton: Cynthia Fan, Edward Lau, Catelyn Rozario; Basketball: Ella Fotu; Canoe Polo: Kate Blincoe, Alyssa Shepherd, Casey Hales, Georgia Wheeler; Canoe Slalom: Finn Butcher; Canoe Sprint: Michael Esterhuizen, Scarlett Old, Aimee Fisher, Alicia Hoskin; Climbing: Erica Gatland; Cricket: Jamie Gibson, Liam Hall, Curtis Heaphy, Caitlin King, Ashtuti Kumar, Bayley Latter, Sam Mackinder, Bella Armstrong, Georgia Atkinson, Ma'ara Ave, Jack Boyle, Sarah Calkin, Ben Lister, Gemma Sims; Cycling: Niamh Fisher-Black, Emma Cumming, Matias Anthony Fitzwater, Regan Gough, Ella Harris, Nicholas Kergozou De La Boessiere, Stella Nightingale, James Oram, Emily Shearman; Diving: Luke Sipkes; Equestrian: Samantha Megchelse, Ella Rae-Wood, Kate Tobin, Tayla Mason, Alexandra Mitchell, Jenna-Lee Rose; Fencing: Wai Ling Chan; Football: Brooke Bennett, Victoria Esson, Kate Mori, Charlotte Noakes, Sam Sutton, Callan Elliot, Meikayla Moore, Emma Rolston, Paige Satchell, Ben Waine; Futsal: Emily Gillion; Golf: Juliana Hung, Kazuma Kobori; Gymnastics: Mathieu Clatin; Hockey: Robbie Capizzi, Kelly Carline, Kaitlin Cotter, Katie Doar, Madison Doar, Connor Greentree, Hayden Phillips, Olivia Shannon, Charl Ulrich, Nic Woods, Aimee Mitchell; Ice Hockey: Hannah Cross; Indoor Cricket: Bayley Latter; Mountain Biking: Caleb Bottcher; Netball: Anna Harrison, Zalika Clarke, Erikana Pedersen, Maia Wilson; Powerlifting: Amy-Lee Owen; Rowing: Sophie Egnot-Johnson, Kathryn Glen, Kate Haines, Brooke Kilmister, Tom Mackintosh, Charlotte Spence, Flynn Watson, Phillip Wilson, Davina Waddy, Luca Kirwan; Rugby: Bryn Gordon, Elinor King, Matt Masoe, Tyla Nathan-Wong, Lucy Brown, Michael Curry, Joseph Gavigan, Julian Goerke, Simon Hickey, Ashleigh Knight, Benet Kumeroa, Paige Lush, Caterina Poletti, Ben Strang, Annemieke van Vliet, Te Rangatira Waitokia, Alesha Williams, Sydnee Wilkins; Rugby Sevens: Tenika Willison, Tyla Nathan-Wong; Skiing:Chloe McMillan, Ben Barclay; Snowboarding: Cool Wakushima; Squash: Amanda Landers-Murphy, Leonie Marshall; Surf Life Saving: Louis Clark, Olivia Corrin, Sasha Reid; Swimming: Louis Clark, Wilrich Coetzee, Eve Thomas, George Williams; Target Shooting: Jessica Burgess-Smith, Tennis: Connor Jackson McMaster Heap; Touch: Kiera Fisher, Zoe Sosich; Triathlon: Simone Ackermann; Volleyball: Brittany Allison-Carnie; Water Polo: Clodagh Weir, Brandon Matthews; Yachting: Alexandra Maloney; Sporting Excellence Award (Coaching) – Canoe Polo: Kate Blincoe; Sporting Excellence Award (Coaching) – Triathlon: Cameron Lamont; Sporting Excellence Award (Coaching) – Yachting: Sara Winther.
Thursday 6 October 2022
The finalists have been announced for the annual Blues Sports Awards , with athletes qualifying across a range of disciplines including artistic roller skating, canoe slalom, and surf lifesaving.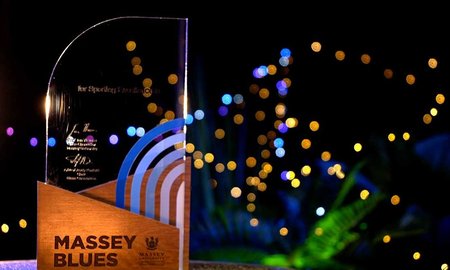 Thursday 25 August 2022
Striking a balance between life as a student and life as an athlete can be difficult, but the Massey Academy of Sport programme is here to help.