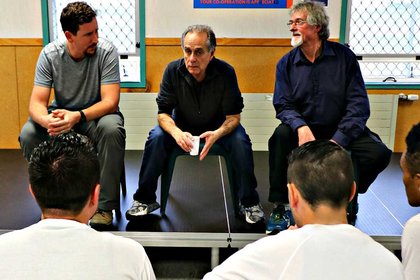 Last updated: Tuesday 7 June 2022
A two-day workshop with an internationally renowned exponent of theatre that promotes social change has given a group of prisoners at Auckland Prison at Paremoremo a unique forum to share their stories.
The men performed short plays to a select audience, exploring solutions to the challenges they face in prison, from personal safety to mental health.
Ten prisoners took part in the project last week in a partnership between Auckland Prison and Massey University, and led by guest theatre practitioner David Diamond, founder and artistic director of the Vancouver-based Theatre for Living. His approach uses theatrical techniques as a vehicle for individuals and groups to explore controversial or sensitive issues. These are shaped into plays and presented to audiences in an interactive event that encourages new insights and understanding.
The workshop participants addressed issues such as gossip, intimidation and safety with fellow prisoners and staff, privacy and respect between prisoners and Corrections Officers, and isolation and mental health challenges. Under the directorship of Diamond – who is currently in New Zealand as a guest of Massey University to host workshops and as a keynote conference speaker – the men produced three short plays and performed these to 40 invited guests, including prison staff.
Dr Rand Hazou, who lectures in theatre studies at Massey's Auckland campus in Albany and who spearheaded the partnership with the prison and Diamond's visit, says the prisoners were "very committed to the process, responsive to the theatre exercises, and were very generous in sharing aspects of their experience with a lot of integrity".
Mr Diamond says Theatre for Living is about people being the experts in their own lives and being able to use theatre to make change. In workshops, participants get the chance "to experience theatre in a different way – not as something mysterious and inaccessible that is outside their lives, but as a natural language".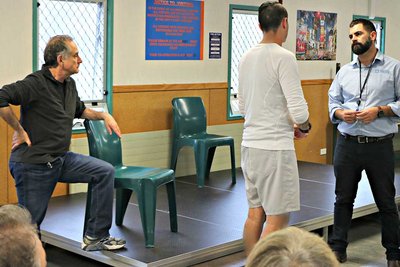 Theatre to rehearse behavioural change
He says the theatre is "a great place to rehearse behavioural change" due to the symbolic nature of its power.
During the workshops, he helped the prisoners to develop "a language of theatre" through group building games, as well as Image Theatre techniques, where participants are asked to create frozen images (tableaux) using their bodies. Through a deeper exploration of what their images represented and the crises they expressed, he worked with them to produce three short plays.
"The men were very flexible and took direction, some of them like seasoned professional actors. This comes, in part, from knowing the material of the plays so deeply," Diamond says.
He was struck by the power of the plays the men made, rehearsed and performed in a short period of time. "My hope is that the recommendations that came from the Forum [plays] will create at least some movement in the prison."
One prisoner who took part said: "Participating in the workshop has been so different. Things like these keep my brain alive."
"Doing the theatre was very 'outside the box' for the prison," says Diamond, "so a big thank you to Rand Hazou who pushed and also the people at the prison who risked accepting the project – and of course the men who engaged so deeply."
Life changing experience
Diamond was also "very moved" by the haka performed in his honour by the prisoners. "Leaving was difficult after our time together. Their words about carrying this experience with them for the rest of their lives, and my knowledge that I will do the same, remain."
Dr Hazou says the aims of the workshop were to:
Support the on-going engagement in theatre and creativity at Auckland Prison.
Provide a creative opportunity for prisoners to learn from a leading international theatre practitioner and cultivate their performance skills.
Use theatre to highlight particular issues relevant to the prison community.
Andy Langley, Prison Director of Auckland Prison, said: "Auckland Prison has been honoured to have someone of the stature of David Diamond giving his time to work with a group of prisoners in a thought-provoking way. This kind of creative collaboration contributes to Corrections' rehabilitative programmes for prisoners to reduce re-offending, and supports prisoners to address their offending behaviour and other challenges they face."
David Diamond is a keynote at the 2017 Australasian Association for Theatre, Drama and Performance Studies (ADSA) Conference: 'Performing Belonging in the 21st Century' this week.