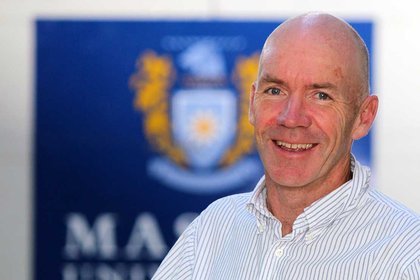 Last updated: Friday 25 November 2022
Professor in Sport and Physical Education, Andy Martin has been named a principal fellow of the prestigious Higher Education Academy in the United Kingdom.
Dr Martin is the second Massey academic to be accepted into the small international group of principal fellows, following Professor Lisa Emerson's appointment in 2019.
The fellowships are awarded by Advance HE, a British organisation dedicated to improving the quality of higher education worldwide. Principal fellowship is the highest strategic level attainable and is granted when a sustained record of local, national and international strategic impact on teaching and student learning has been sufficiently demonstrated.
Dr Martin's award is in recognition of his teaching, scholarship and leadership in the field of work-integrated learning, specifically related to the development and coordination of the sport practicum at Massey University.
Acting Pro Vice-Chancellor for the College of Health Jill McCutcheon says the attainment of principal fellow is an outstanding achievement and recognises Dr Martin's significant contribution to leadership in work-integrated learning within Massey University and in the broader tertiary sector.
"Professor Martin is passionate in his commitment to student learning and so it is pleasing to see his leadership and excellence in teaching acknowledged by his peers with this prestigious award."
In 2018, Dr Martin won a National Tertiary Teaching Excellence Award. He noted it was important to continue his professional development as a reflective practitioner; "The HEA award provided an international context to critically analyse my teaching, scholarship and leadership to further enhance students' learning experiences.
"This award also acknowledges, Massey University's international commitment to excellence in work-integrated learning, which was formalised by the signing of a global charter promoting the area in 2019. Becoming a principal fellow allows me to mentor this community of academics who are committed to excellence in this practice."
Director of Learning and Teaching Duncan O'Hara says Dr Martin's achievement underscores the world-class teachers at Massey University.
He says although gaining the principal fellow credential is difficult, the journey of reflection on one's commitment to teaching, learning and the student experience is well worth it.
"I know that Massey has a huge number of committed and engaged educators whose influence on the tertiary landscape is considerable, and I would encourage staff to follow in the footsteps of our two principal fellows."
He pays tribute to Professor Lisa Emerson (principal fellow) and Professor Andy Martin as well as the growing number of Associate Fellows, Fellows and Senior Fellows in gaining recognition for their dedication to teaching and learning.