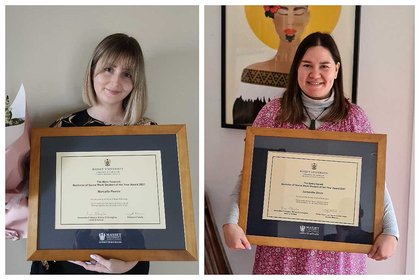 Last updated: Friday 25 November 2022
Marcalla Pearce and Sam Davis have been named as the recipients of two significant prizes for fourth-year Bachelor of Social Work students.
The Ephra Garrett and Merv Hancock Awards are named in honour of two social work pioneers who established Massey's social work degree – the first at a New Zealand university. Recipients are nominated by their peers and School of Social Work staff, and recognised for their leadership.
Marcalla Pearce, who received the Merv Hancock Award, says she is honoured to receive the award, and chose to study social work after witnessing significant gaps within the aged care sector.
"In future practice, I hope to specialise in gerontological social work to support the wellbeing of older people and their whānau as well as ensuring their human rights are upheld and respected. As our older population is projected to grow significantly, I hope to be part of making Aotearoa a better place for older New Zealanders."
Marcalla's award citation noted that she has numerous qualities that will be beneficial in social work; patience, perseverance, advocacy, respectfulness and cultural sensitivity.
Sam Davis, Ngāpuhi, Ngāti Kahu ki Whangaroa, Ngāti Kauwhata, Ngāti Raukawa, who has received this year's Ephra Garrett Award, says she chose social work because she wants to challenge systems and empower the dreams and aspirations that people and whānau have for their lives.
"This degree has been life-changing. It has helped me to re-indigenise my mind and reclaim my identity as wāhine Māori. It hasn't been easy. In fact, this has been one of the most challenging journeys I've been on, but it has been worth every late night and every tear."
Sams adds that being recognised by her peers for the award is humbling, and she feels honoured to have received the award.
Sam's citation noted that she is described by both her peers and her lecturers as wāhine toa, embodying mana wāhine. Her nominees all mentioned her having strong leadership qualities, a voice for tangata whenua in class discussions, and is a key support to her peers, willing to share her knowledge and, at times, her own vulnerability.
A statement on behalf of the Manawatū campus Bachelor of Social Work programme coordinators says the awards are special because the students are nominated by both staff and their peers, and they are named after the founders of the social work programme.
"Sam and Marcalla exemplify the values of Merva and Ephra and this was recognised with numerous nominations highlighting the care and support they offered others. This is particularly significant as COVID-19 has impacted many of our social work students' study progress and their health and wellbeing. We are excited to see them graduate and their contribution to social work flourish."
Marcalla and Sam both received a certificate, flowers and $500 scholarship.