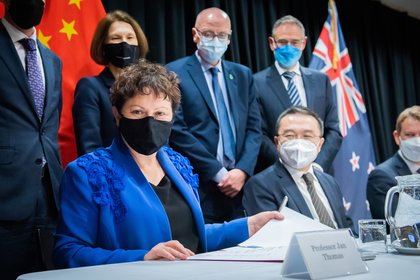 Established in 2007, the New Zealand Centre at Peking University promotes the study of New Zealand in China and contributes to strengthening New Zealand–China ties by promoting mutual understanding and cooperation across diverse fields of academic and other sector engagement.
The centre was initially a partnership with University of Auckland, with the other seven New Zealand universities all joining by 2014 and the first MOU signed in 2016.
Massey University joined in 2014. The late Deputy Vice-Chancellor Global Engagement Stuart Morriss was Chair of the New Zealand Centre Advisory Board from 2018 until his death in Palmerston North in 2020.
"Stuart was always very passionate about the centre and the impact it was having. I will always remember how his face would light up with enthusiasm when he spoke of it," Professor Thomas says.
His contribution to the centre will be remembered as an important part of Massey's history with China, she adds.
"Massey University has had decades-long, broad ranging relationships with several leading Chinese universities across a range of disciplines from Science to Language learning. International teaching partnerships and research collaboration on the global stage strengthens our work and our impact globally."
The event, hosted at the Beehive by Education Minister Chris Hipkins, marked 15 years of successful international education collaboration through the New Zealand Centre at Peking University. Many former New Zealand ambassadors to China and representatives from across New Zealand's universities were among guests at the ceremony.
In her speech on Wednesday night, Professor Thomas acknowledged how hard the past two years of pandemic-related border restrictions had been on international education. During the periods of border closures, Massey University was able to provide supported online education to international students stranded in their home countries.
"From Monday, New Zealand's visa processing will be fully open again for Chinese and other international students and we look forward to welcoming them back into our communities – both on campus and off. We have missed the vibrancy and diversity they add to those communities, the mixing and mingling of ideas and viewpoints that come when you bring people together from different backgrounds, cultures and experiences.
"Maintaining such international relationships during the pandemic has not been easy, but they have continued thanks to the solid foundations on which they are built and the commitment to them from partners on all sides. Now we look forward to them resuming – and growing – in ways not permitted by emails and Zoom meetings alone."
Recently, Dr Michael Li from the School of Humanities, Media and Creative Communication obtained Prime Minister's Scholarships for Asia funding for the fourth time to take a group of 10-15 Massey students to Peking University at the end of the year to study Chinese language and culture.