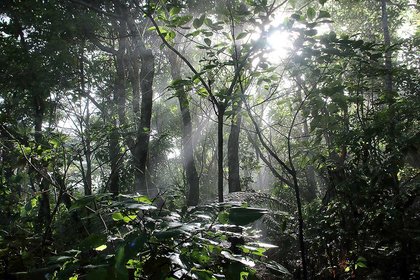 Last updated: Tuesday 22 March 2022
Zealandia Te Māra a Tāne, Headland literary journal, and Massey University's School of Humanities, Media, and Creative Communication have today announced the winners of one of the country's most substantial awards for short form nonfiction, the Zealandia Te Māra a Tāne Essay Prize.
Massey's Dr Thom Conroy, Editor-in-Chief of Headland and chair of the judging panel, acknowledged "the bittersweet challenge of selecting winners from a wide and deep pool of absolute all-stars. The ones that rose to the surface were able to illuminate the theme of radical connectivity in ways that were socially engaged, intensely personal, and profoundly unexpected."
The first prize of $750 was awarded to University of Otago social anthropologist Dr Susan Wardell for Red Zone Pie, which draws on her research on memory and memorialisation, wellbeing and trauma. Dr Conroy praised Dr Wardell's winning entry, which "takes us on a foraging journey through Christchurch's red zone and beyond, foraying into a cross-cultural and repurposed future that reconnects us with a past that refuses to be erased."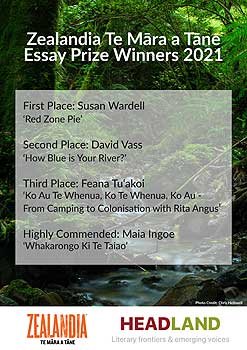 Dr Conroy also announced David Vass' How blue is your river? as the second place winner  of $250. Described as "a poetic but clear-eyed rumination on the tragic ecological degradation of the Clutha River from someone whose connection to the place is as sustained as it is radical."
Feana Tu'akoi's Ko Au Te Whenua, Ko Te Whenua, Ko Au: From Camping to Colonisation with Rita Angus, placed third. Judges said it was "a deftly woven and brilliantly observed critique of the environmental, moral, and artistic legacy of colonisation in Aotearoa New Zealand."
The panel highly commended Maia Ingoe for Whakarongo Ki Te Taiao. In tackling the theme of 'Radical Connections', writers were asked to align with Zealandia's vision of connecting people with nature and restoring and protecting Aotearoa New Zealand's native taonga.
Gini Letham, Lead Ranger Science Communication for Zealandia, congratulated all writers and noted that the winning piece, Red Zone Pie was a "beautiful read about how people can interact and have a relationship with nature in varying ways in an urban environment, which speaks to Zealandia's mission of restoring nature in the capital city."
The three winning entries will be published in full in Issue 16 of Headland and will be  available to read on the Headland website: www.headland.org.nz