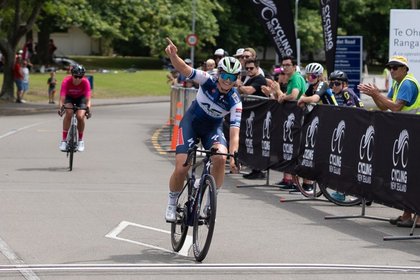 Last updated: Friday 27 January 2023
Ms Wollaston dominated the sprint finish, beating Commonwealth Games gold medallist Bryony Botha on a fast and challenging circuit around Massey University's Manawatū campus.
There was plenty for the locals to cheer about, with local Manawatū professional Luke Mudgway adding his name to a prestigious list of previous national champions when he claimed the elite men's honours.
Ms Wollaston, who won the criterium at the WorldTour race at Tour Down Under in Adelaide last week, showed her sprinting qualities to pip Ms Botha after dominating a small field in the elite women's race.
There were 120 riders competing over six age groups for the National Criterium Championships, sponsored by the Professionals, staged on a unique course inside the university campus that included longer-than-usual straights and a challenging small hill.
National mountain bike cross country champion Sammi Maxwell pushed off the front early with Ms Wollaston and Ms Botha, who quickly put time on the rest of the field.
From there, the two training mates from Cycling New Zealand's national track squad pushed clear to open a one minute gap on the chasers. While Ms Botha turned up the heat, Wollaston had too many wheels in the sprint finish.
Ms Wollaston says she wanted to race aggressively.
"There were not too many of us out there so I wanted it to be a well-deserved win, so I'm happy. Bryony was riding so strong today. If I wanted to be out the front with someone, it would be B. I was definitely relieved to hear the time gaps get bigger and bigger. We were able to play around and try to out-think each other which made the race fun."
The men's race was dominated by riders from the Bolton Equities Black Spoke team, who provided some early speed before the experienced James Fouche pushed clear.
"James ripped it up the final climb before Paul Wright and George Jackson took over and lead me out. I just had to open up at the end. The course suited a strong lead-out and I was lucky to have a team that was so strong and ripped it," Luke Mudgway says.
"I had heaps of family and friends there which was good. I don't get to race in front of them very much, so it was nice."
It is part of a back-to-the-future role for the former track rider, who has turned back to sprinting for the Black Spoke team.
"We didn't really have a sprinter last year and our coaches suggested I consider it. I've worked so hard and it's starting to pay dividends."
Mr Mudgway joins his Black Spoke team in Australia this week when they compete in a WorldTour race for the first time at the Cadel Evans Ocean Race.
Earlier on in the day, Cambridge rider Maui Morrison edged his rivals to claim the under-19 title from Wilson Hannon and Marshall Erwood in a sprint finish, with the trio receiving the same time.
"I am pretty happy with that result. I was not expecting it as the legs weren't feeling that great before it," Mr Morrison says.
"We were all panicking when James Gardner went off the front so fast, so I thought I just have to go now or he's gone. I'm pretty happy with that result. I was not expecting it as the legs weren't feeling that great beforehand."
Wanaka's Muireann Green also had to dig deep to hold off Auckland's Ruby Spring and Rangiora's Kirsty Watts who were awarded the same time in the sprint finish of the under-19 women's race.
Ms Green says she's stoked with the result.
"The course was amazing and the girls gave me such support. I'm now looking forward to riding with the team in nationals and then off to Occies."
In other racing, Josh parsons from Christchurch won the under-17 men and Paraparaumu's Millie Donald prevailed in the under-17 women.
Massey University Sport Advancement Manager Jacob Oram says it's a privilege to be able to host a world-class sporting event on the Manawatū campus.
"It was great for us to be able to highlight our fantastic facilities and showcase the commitment to sport and recreation that is built into the Massey ethos. There was an excellent turnout of riders for the event, and to have Manawatū rider Luke Mudgway take out the elite men's division was particularly special for locals who came out to spectate and support. A huge thanks to the University Services team for all the work they put in behind the scenes with facilities, grounds, traffic, security and equipment to ensure the event ran smoothly."
Results
Male:
Under-17: Josh Parsons (Christchurch) 21:33, 1; Harry Shannon (Auckland) same time, 2; David Kwon (Auckland) st, 3.
Under-19: Maui Morrison (Cambridge) 35:17, 1; Wilson Hannon (Palmerston North) same time, 2; Marshall Erwood (Invercargill) st, 3.
Elite: Luke Mudgway (Palmerston North) 54:09, 1; George Jackson (Cambridge) same time, 2; Kiaan Watts (Taupo) st, 3.
Female:
Under-17: Millie Donald (Paraparaumu) 25:33, 1; Hayley Cornwall (Palmerston North, same time, 2; Nina Worrall (Auckland) st, 3.
Under-19: Muireann Green (Wanaka) 36:38, 1; Ruby Spring (Auckland) same time, 2; Kirsty Watts (Rangiora) 1s, 3.
Elite: Ally Wollaston (Tamahere) 57:06, 1; Bryony Botha (Hamilton) at 1s, 2; Sammi Maxwell (Taupo) at 1.03s, 3.
Article first published on Cycling New Zealand.
Monday 31 October 2022
Cycling New Zealand's high profile national championships for criterium and road cycling will move north in 2023.