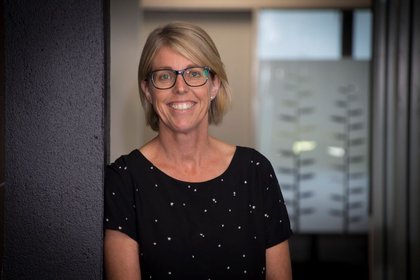 Last updated: Wednesday 4 May 2022
A Massey University senior lecturer has been recognised with the Australia New Zealand Social Work and Welfare Education and Research Field Placement Recognition Award.
School of Social Work director of field education Dr Kathryn Hay was presented the award in Perth earlier this month for her significant contribution to fieldwork learning, including introducing innovations to fieldwork placements.
There is one recipient for the award annually and Dr Hay is just the second New Zealander to receive it.
Her leadership and teaching in the area of work-integrated learning was acknowledged last year with a National Tertiary Teaching Award for sustained excellence. Her recent research has received an Ako Aotearoa Best Practice Publication Grant and National Project Fund Award. Her current cross-institutional research project is focused on risks in placement-based work-integrated learning for New Zealand universities.
The Tertiary Education Commission has highlighted the need for universities to have a stronger focus on work-integrated learning across a broader range of disciplines to enhance employability and support life-long learning. Dr Hay and Professor Andy Martin, of the School of Sport, Exercise and Nutrition, have been Massey's representatives on the Universities New Zealand committee this year that has been developing a national strategy for work-integrated learning.
Professor Martin says Dr Hay's award is further recognition of her leadership in the field nationally and internationally "both in terms of her research and implementation of successful work-integrated learning fieldwork programmes that enhance student learning and future employability".
Both Professor Martin and Dr Hay have been invited to present at the Ako Aotearoa Colloquium in Palmerston North on their work and experiences developing award-winning portfolios of their long-term work-integrated learning student supervision.