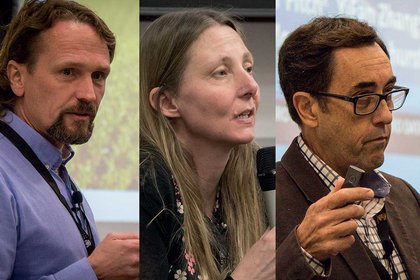 As the world's attention turns increasingly towards both feeding the world and improving waterways, Massey University is once again hosting its annual workshop focusing on water quality and soils both here and abroad.

The 32nd Fertilizer and Lime Research Centre annual workshop, nutrient loss mitigations for compliance in agriculture, aims to facilitate information transfer amongst industry, science, policy and regulatory personnel concerned with primary production in New Zealand. More than 85 submissions were received for this Workshop, which has been hosted at Massey since 1987.
Fertilizer and Lime Research Centre acting director Professor Chris Anderson says the Annual FLRC workshop is a major event in the NZ agriculture and horticulture calendar. 
"Agriculture and Horticulture are key sectors for New Zealand's economy but their impacts on the environment have never been more scrutinised than today. Primary producers are being increasingly challenged to comply with social expectations for 'healthy food, healthy environment'. Regional councils are working on regulations guided by science which target the balance been production and environmental protection.

"The workshop has provided over the last 30+ years a platform for science, policy and farm advisors to jointly review the state of this balance, with input from international experts. Compliance is a key theme of this year's workshop. Compliance is not only about meeting the expectations of regulators but is also about meeting the public's expectation for clean rivers, affordable housing and safe food. Massey and FLRC has a key role to play in supporting the agricultural and horticultural sectors comply with public and regulator expectations, through forums such as the FLRC Workshop.
"We are on forefront of providing education and teaching, in delivering professional short courses which support capability development, and in finding innovative solutions through research and development for increasing primary productivity with reduced environmental impacts."

The first session of the three-day workshop focused on what other countries are facing and their current management.

Jenny Deakin – Ireland Environmental Protection Agency - The Key Water Quality Issues in Ireland and the Irish Epas River Basin Management Plan.

Dr Deakin spoke about Ireland's challenges with excess phosphorous in rivers and lakes and excess nitrogen in estuaries, as well as the implications and impacts of the end of the milk quota's abolition in 2015.

She outlined the work to improve water quality under the River Basin Management Plan, which Ireland must produce a river basin management plan under the Water Framework Directive (WFD). It sets out the actions that Ireland will take to improve water quality and achieve good qualitative and quantitative status of all water bodies by 2027.

"It has to work," Dr Deakin said. "The stars are aligning in agriculture; the evidence base is strong. We had the dairy quotas lifted, which led to opportunities for expansion, but there are concerns about the environment."

"We are making good steps forward in public sector and public engagement programmes. Lots of collaboration, lots of investment in engagement and we are starting to see the fruits of that, but it is still
early days."

She ended the session with the Irish phrase "Ní neart go cur le chéile – By working together we will achieve more." Dr Deakin has come to the country accompanied by other key players involved in the delivery of the Irish River Basin Management Plan, who will be liaising with key players in NZ water quality management.

Flemming Gertz of Denmark's Seges, Denmark Engaging Farmers in Environmental Management in Denmark.

Dr Gertz focused on farmer engagement in Denmark and their focus on reducing nitrate levels and the difference between Denmark's approach and neighbouring countries in terms of focus nutrients. A key issue being the nitrogen contribution to coastal water bodies, with a large coastline.

One key mitigation technique he spoke of was the countries focus on restoring and constructing wetlands. As well as increased farmer engagement through the use of catchment officers, who are working closely with farmers to deliver technical advice based on local needs, a new concept in Denmark which has traditionally used legalisation to enact change.

CSIRO Agriculture and Food (Australia) Peter Thorburn, Digital Agriculture, Helping Farmers Reduce impacts of cropping on the Great Barrier Reef.

Dr Thorburn spoke about the technical and cultural challenges around reducing the impact of cropping, through dissolved nitrogen, on the Great Barrier Reef. With a large body of work underway to protect the Australian asset.

He spoke about the work being done through incentives, possible market based-approaches such as a water quality credit system, and regulation. As well as engagement with farmers around nitrogen and the development of several applications to guide their decision-making. CSIRO aim to roll out these apps and improve upon them through public engagement.

The whole picture

Other sessions over the three-days include: environmental challenges for agriculture; regional policy initiatives; reducing agricultural emissions; reducing nutrient loss to water; managing critical pathways; developments with overseer; challenges for irrigated agriculture; measurements and tools. Where participants will hear from council staff, organisations and other scientists.

Catalyst Water Quality Workshop

After the conclusion of the workshop, the group will be running the Catalyst Water Quality Workshop will run on Friday, focusing on targeted and effective water quality management, sharing and advancing science and policy tools to manage nutrient flow pathways and attenuation in sensitive agricultural catchments.
 This workshop will include world-leading researchers and policy managers from Denmark, Ireland, USA and New Zealand, sharing learnings and new initiatives from around the world.