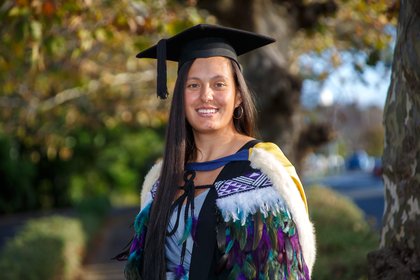 Last updated: Wednesday 24 May 2023
Gold medal Olympic athlete Tyla Nathan-Wong, Ngā Puhi, graduated with a Bachelor of Sport and Exercise after 10 years of juggling study while also being a high-profile sportswoman competing as part of the New Zealand Black Ferns.
Originally from Auckland but now residing in Tauranga with her fiancé, Tyla first embarked on her study journey at Auckland University of Technology, but made the transition to Te Kunenga ki Pūrehuroa Massey University in 2015 which allowed her to continue to study by distance.
"After making the move to Massey, I never looked back!
"There were times when I was overseas and completing assignments and the distance option allowed me to continue competing and doing what I love while still working towards my qualification," Tyla says.
During her tenure of study, Tyla achieved highly both academically and in her sporting career. She was named the New Zealand Black Ferns player of the year in 2019 which she says was a very proud moment after being part of the winning team that won consecutive world titles. Also in 2019, Tyla was named in the HSBC World Sevens Series Dream Team and was a World Rugby Women's Sevens player of the year nominee.
In 2020, Tyla was named Massey's Distance Sportswoman of the year.
Playing with the Black Ferns for almost 12 years, Tyla was the first New Zealand Black Fern player to reach 1000 career points and the second-ever female rugby sevens player in the world to reach that milestone of 1000 career points.
She says competing as an elite athlete and studying hasn't come without its struggles. There have been times that have been challenging and where Tyla admits she could have stopped at any point, but says she is pleased she stuck at it.
When asked what motivated her or gave her the strength to keep going, she credited it to her whānau. In particular her fiancé, Tupuria King, who is also a high performing athlete who has studied throughout his career.
"My family has supported my journey in the sporting world but always encouraged me to grow myself outside of the field.
"And then my partner who sees everything I go through with juggling sport, study and travel. He is my rock and number one support system. He too is an athlete and has juggled study in order to complete his master's. It gives me hope that I can do it too."
Sport, Tyla's first love, is entangled in everything she does and has helped her navigate her study pathway.
"I love anything to do with sport. If I'm not playing it then I want to be involved somehow."
Deputy Head of the School of Sport, Exercise and Nutrition, Associate Professor Matthew Barnes has cheered Tyla on from the sidelines in both her academic and sporting careers.
"It's been incredible to watch what Tyla has achieved while studying towards her Bachelor of Sport and Exercise.
"To complete a degree as an athlete is a difficult balance already, but to complete a degree with excellent grades while playing elite level international sport shows incredible determination, focus and commitment towards both her sporting and academic careers.
"These characteristics will stand her in good stead as she follows her passion for sport and exercise into the next stage of her academic journey; a Master of Health Science," Dr Barnes says.
The 28-year-old's mantra of 'deeds not words' has inspired her journey and when asked what advice she would give to others she has said determination and being happy is key to success.
"Find something that makes you happy and go for it. If it's not a viable career path find a way to make it one.
"In other words, there are always going to be obstacles in your way, but don't let them stop you. Deeds not words."
Tyla has mapped out her next few years and they are set to be equally as busy. She will be studying towards her Masters of Health Science, competing at the next Olympic games in Paris and marrying her fiancé in 2024.
"I'm excited to see what the next decade will bring."
Interested in studying Sport and Exercise?
Thursday 2 June 2022
Alumna Jamie Middleton discovered an unexpected career path that aligns with her passion for sports through Massey's sports programme.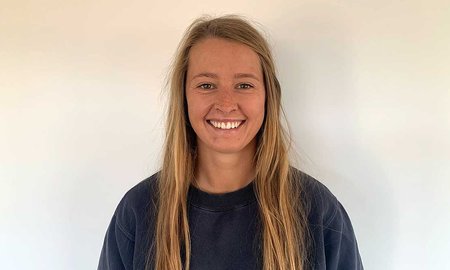 Wednesday 13 October 2021
New Zealand's most successful Olympian and Canoe Sprint champion Lisa Carrington has been named the inaugural winner of the Massey University Blues Sports Awards Supreme Award for 2021.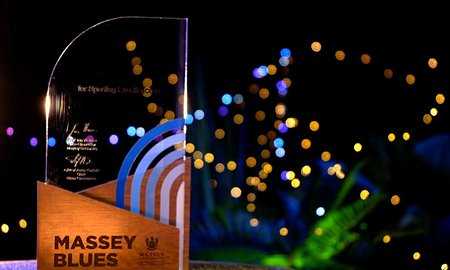 Thursday 12 August 2021
World champion canoe sprinter and Massey University student Lisa Carrington became New Zealand's most decorated Olympic athlete after winning three gold medals at the Tokyo Olympic Games 2021.