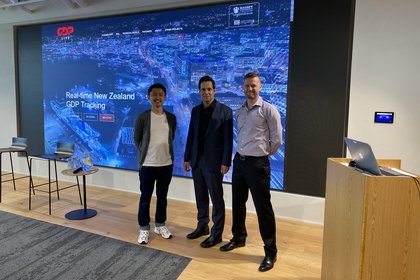 Last updated: Friday 3 March 2023
The Inflation Tracker is the brainchild of Professor Christoph Schumacher from the School of Economics and Finance, and Senior Lecturer Dr Teo Susnjak from the School of Mathematical and Computational Sciences. It was developed at Massey's Knowledge Exchange Hub with the assistance of master's student Peter Hwang.
It provides accurate, live data that shows inflation levels around New Zealand, and how these levels are tracking. The tracker also shows a Taylor-Rule-based optimal Official Cash Rate (OCR) value for New Zealand, and tracks the gap between the current OCR and optimal OCR.
The new tracker is an add-on to the artificial intelligence (AI)-powered Gross Domestic Product (GDP) tracker GDPLive, which was launched by Professor Schumacher and Dr Susnjak in 2018. Since its launch in December 2018, GDPLive has had 5,375,148 page views.
Professor Schumacher says there is a real interest and need to estimate how the economy is performing right now.
"What we know about national GDP and inflation levels are never current or up-to-date, because the Government releases their data with a three to six month delay. Our aims are to embrace the seismic shifts our societies are undergoing in respect to the availability of new and rich data sources that can be mined and converted into valuable insights."
He says that as the project matures with more data and improved prediction accuracies, it has the potential to be an indispensable tool for government and industry.
"We believe that this project can serve government, businesses, media, and other institutions in providing a useful estimate of inflation and economic activity that can complement and augment currently used data."
Independent Adviser Stuart Henderson has spent 30 years advising government and corporate entities on treasury risk management, and says GDP and inflation drive behaviour and strategic decision making for regulators and organisations.
"GDPLive has been an inspirational tool that gives me a feel for the current 'real time' mood of New Zealand economic activity nationally, regionally and by sector. It means that planning conversations can be in the present and not constantly based off lagged historical data."
Mr Henderson says the inflation tracker is exciting and will make a difference to monetary policy decision making.
"Real time inflation data and analytics surely is a must-have tool for any central banker, board director, business manager, and public and private sector strategic planner."
Executive Director of The New Zealand Initiative, Dr Oliver Hartwich, says economic policy needs data because you need to know where you stand to know what you must do next.
"This is what makes GDPLive such a valuable tool. Instead of waiting for months to find out what happened in the past, GDPLive tells us what is happening right now. Everyone working in economic policy should use GDPLive."
Professor Schumacher says GDPLive is the only AI-powered GDP tracker in the world, and adding a live inflation and optimal OCR tracker for New Zealand makes the tool even more powerful.
"Knowing which way inflation is heading and what the OCR should be will allow users to anticipate interest rate changes which are also closely linked to the strength of our dollar. Together with GDP values, this provides a good snapshot of the health of our economy."
The Inflation Tracker was launched in Auckland yesterday at an event hosted by the Bank of New Zealand and is now publicly available on http://gdplive.net.
Massey University provided funding for GDPLive, and a number of key New Zealand organisations from a variety of industry sectors have partnered with the project to make the trackers possible. A list of partners and data sources can be found here.
Thursday 23 May 2019
Massey University has launched its Shared Prosperity Index, an index that calculates how well, or poorly, different segments of society benefit from New Zealand's growing economy.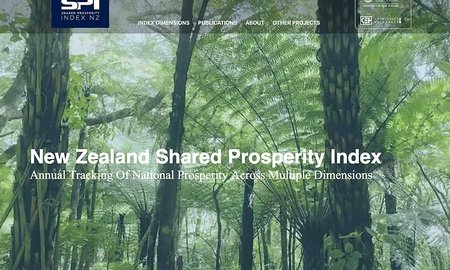 Monday 10 December 2018
Massey University has launched a real-time GDP tracker, which is believed to be the first of its kind in the world.