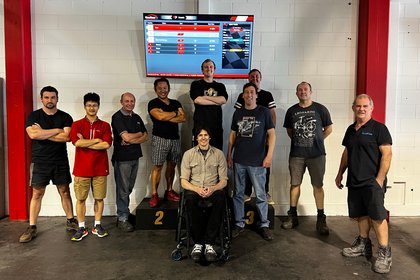 Anthony Wade is an Electronics Technician within the Engineering Teaching and Research Workshops, who wanted to join his colleagues for their end-of-year team building session. Mr Wade is in a wheelchair, and when the team investigated local go kart tracks, they discovered that there weren't any readily-available karts adapted for disabled drivers.
His team set about utilising their technical skills to change that, and when students heard about the project, they wanted to help. X Karts, a local business in Palmerston North, were intrigued and wanted to make adapted karts available for everyone who might need one. As a result, a six-week-long project was born that involved the Massey Engineering Technical Team, second-year student engineers and X Karts, who supplied a kart for the team to work on.
To adapt the kart for Mr Wade, who was injured in a motorcycle accident in his 20s, the team needed to add hand controls to the kart's driving system. Second-year student engineers helped design the specifications using computer-based design skills they were learning, which resulted in a prototype that was built and tested.
Mr Wade found the controls easy to use, but said it was difficult to maintain the hand controls for an entire race. The team is now trying to adapt the design to make this easier. Once the final testing stage has been completed, the kart will be tested and certified by WorkSafe to ensure that it comes up to standard.
X Karts were thrilled with the result and allowed the team to test the kart on the track during the design and build stages. Mr Wade says he enjoyed being able to race again.
"I really enjoyed working with the team to get this up and running. Track day was alot of fun and I cannot wait for this to be available for others to enjoy."
The Team enjoyed serving the disabled community this way and encourage others to enjoy a go kart ride once the kart has been certified.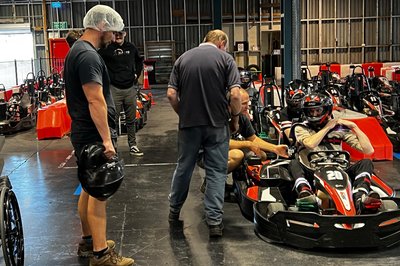 Engineering Teaching Workshop Coordinator Dr Morio Fukuoka says he was delighted that the team were able to enjoy the activity together.
"It was great to be able to get out onto the track with Anthony at the wheel. Of course, we all enjoyed the race, but knowing that we might be able to roll out these karts with X Karts in the future means others will be given the chance to enjoy this thrilling activity once again. We are really proud and privileged to have done this and thank X Karts sincerely for their support and encouragement. We hope to continue this work in an ongoing relationship with them."
The team are now looking to improve the system next year by adding a purpose-built platform or lift to make it easier for the disabled driver to access the kart.
"This type of activity often occurs in our engineering programme at Massey, where student engineers get to help solve real world problems," Dr Fukuoka adds.
Wednesday 19 October 2022
Ben Orwin-Higgs is one step closer to his dream career of being a rocket engineer thanks to the Dick and Mary Earle Scholarship which will enable him to complete a Master of Engineering.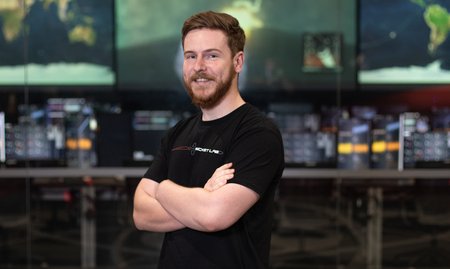 Monday 30 September 2019
A Massey University engineering team has won its category at a global competition in New York City for an air-quality project.