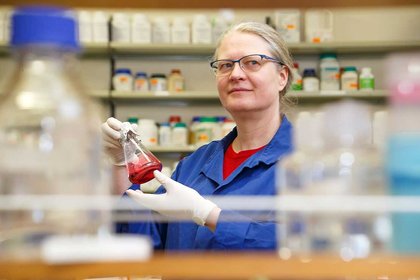 Last updated: Monday 21 March 2022
Massey researchers are a step closer to developing breakthrough cancer-starving drugs and have received a $30,000 funding injection for the research project.
The new funding from alumni Bryce and Anne Carmine is in addition to the $221,000 they have already donated to the project. The research could be used to develop drugs to fight all types of cancer.
Led by Associate Professor at the School of Fundamental Sciences Dr Evelyn Sattlegger, researchers have identified two molecule families that could potentially be used to deactivate an enzyme that cancer cells depend on to survive, develop blood vessels and grow aggressively.
Cancer cells make this enzyme more active to suit their needs. This enzyme, like many other enzymes, needs energy to work and has a docking site to bind energy molecules. Conventional anti-cancer drugs block the docking site but can have negative side-effects by also accidentally blocking the docking site of other enzymes in the cell. 
Dr Sattlegger's team aims to find molecules to switch off the enzyme without affecting other enzymes. 
New thinking is required to overcome drug resistance and increase the potency of cancer-fighting therapies, Dr Sattlegger says.
"We are looking for different weapons to fight cancer; we have to start thinking outside the box."
"If we are lucky, we will find something that leads to a new drug. If not, we will get great insight as to what else we can do."
Any drug resulting from the research could be used in combination with other drugs, effectively attacking the cancer cells on two different fronts at the same time and reducing their ability to develop resistance to either drug.
The six-strong research team is currently investigating the characteristics of the two molecule families that are crucial in enabling them to block the enzyme effectively. 
The team has so far been using Baker's yeast – rather than mammalian or human cells - as a model system for their research. Baker's yeast cells can be easily modified, allow for faster and more in-depth research, and – importantly - are very similar to human cells at the cellular and molecular level. Because of this, the team was able to make progress last year, despite disruptions and laboratory closures forced by Covid-19.
The $30,000 will fund master's scholarships, which are vital to the progress of the research, Dr Sattlegger says. The project has several different research streams, each led by a master's or PhD student. "Each is working on a different piece of the puzzle."
The scholarships will help master's students cover their living expenses and focus on the research. Dr Sattlegger is encouraging students interested in joining the project to come forward.
Because of their perceived risk, research projects taking an unconventional approach often struggle to get backing from the main funding agencies, she says.
This has made the Carmine's support even more crucial and has meant the project can progress faster than it would otherwise - if at all. Their generous funding has enabled Massey researchers to employ the best, rather than cheaper and less-appropriate, methods.
"We are so grateful to the Carmines for funding this project."
The Carmines, both of whose fathers attended Massey Agriculture College, have a special interest in biomedicine. Bryce Carmine had a very successful career in this field, becoming executive vice-president and president of United States bio-medicine giant Lilly Bio-Medicines and Company before he retired. He is now chairman and chief executive of Australian biotech firm HaemaLogiX. 
Anne Carmine (née Percival) worked in clinical drug research and government registration for the major pharmaceuticals firm Merck, and then as a medical writer and editor for Adis Press. She later specialised in pharmacology, gaining a master's degree in the subject from Butler University, Indianapolis.