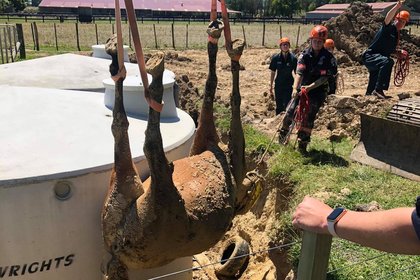 The Massey University Veterinary Emergency Response Team (MUVERT) is a team of volunteers who specialise in technical animal rescue. This can be anything from rescuing horses stuck in deep trenches or mud, farm animals who've fallen down banks, or cats stuck in trees.
MUVERT were formed in 2010, after a group of School of Veterinary Sciences staff recognised there was no such group looking out for the care and welfare of animals in disasters and rescues in New Zealand. Shortly after the group was formed, they provided on-site vet care to service dogs after the second Christchurch earthquake of 2011. MUVERT are the first veterinary emergency response team in Australasia.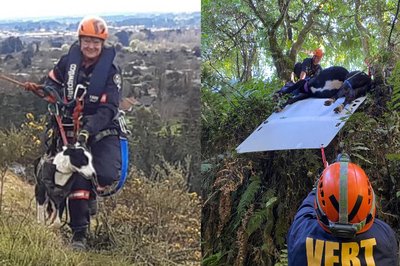 MUVERT member Noha Nasef says the group is made up of volunteers who are all Massey staff with different work backgrounds but one common thread – they're all animal lovers. "The capabilities of our team include technical rescue, in-field veterinary triage and emergency care, and animal welfare management during disasters," Ms Nasef says.
The team are alerted to requests for assistance by members of the public, local vets, and animal groups.
The group have a Memorandum of Understanding with the Ministry for Primary Industries (MPI) to assist with disaster response when requested, and to maintain a team trained to a high standard.
To raise funds for the important work they do, MUVERT are selling pet emergency first aid kits, which were designed by Massey University veterinarians with household pets in mind. The kits are waterproof and contain easy-to-follow instructions and all the essentials needed to provide first aid to a pet suffering from breaks, burns or cuts. Proceeds from the kits will go towards sending team members on a high-ropes training course needed to renew or gain a necessary qualification.
A kit includes: 2 x non-adherent dressing, 4 x sterile gauze swabs, 1 roll orthopaedic padding, 1 roll riprap, 2 x steri-gel sachets, 30 mL syringe, 2 x 30mL saline ampoules, cling film, metal scissors and tweezers, gloves, thermal blanket, instruction booklet and 2L dry bag.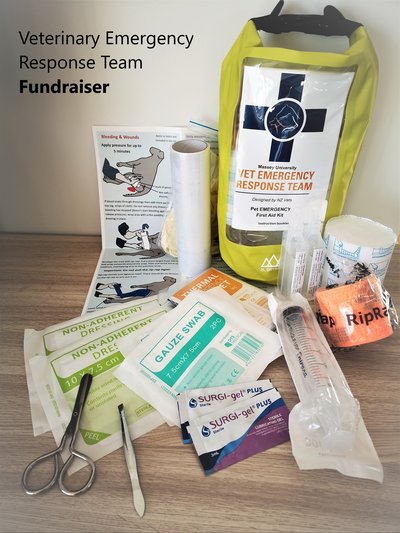 The pet emergency first aid kits are $34.95 each. If you would like to order a kit, send an email to Neroli Thomson at N.Thomson1@massey.ac.nz.
If you are interested in becoming a MUVERT member, friend or supporting the team in other ways, please contact Neroli Thomson N.Thomson1@massey.ac.nz.
MUVERT members include Chris Riley (team leader), Steve De Grey, Ivayla Yozova, Michelle Fremaux, Neroli Thomson, Tracie Poole, Martin Steer, Parthasarathi Subramanian, Hannah Phillips, Noha Nasef, and Patrice Palleson.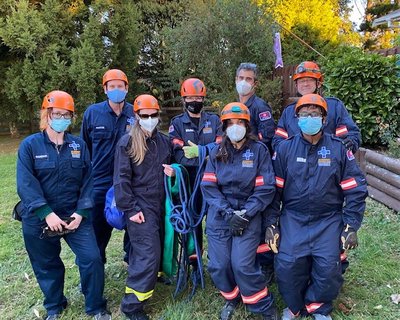 Thursday 24 March 2022
Massey's specialist veterinary response team recently came to the rescue of a seven-month-old heifer who had fallen down a riverbank in the aftermath of Cyclone Dovi.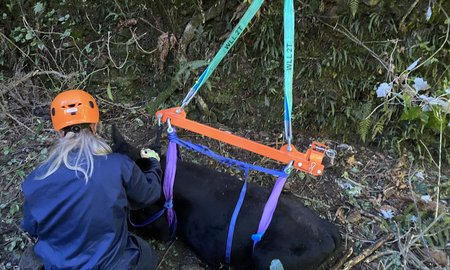 Monday 11 February 2019
Massey University Veterinary Emergency Response Team (VERT) has been assisting with animal welfare efforts at the ongoing forest fires south of Nelson.