Last updated: Thursday 24 November 2022
The nine Te Whetu Kairangi awardees were announced in late October where Dr Gates was the recipient of the 'Advancing approaches to, and the outcomes of, work-based learning' category award.
The Educator of the Year award was announced during the final moments of the virtual ceremony held on Wednesday night where Prime Minister Jacinda Ardern named Dr Gates as the recipient.
In her announcement, the Prime Minister praised Dr Gates' "strong record of innovation, hands on teaching, academic publishing and international leadership" and acknowledged her as a "strong supporter of students taking charge of their own education and reinforcing their learning through teaching their peers."
As part of her award, Dr Gates will receive a $10,000 grant and has the honour of wearing a specially created korowai that recognises the mana of the Educator of the Year award and the person who receives it. The korowai is passed on each year to the Educator of the Year awardee.
Dr Gates says the evening was hugely inspiring as she got to hear about the amazing contributions all the awardees have made to improving outcomes for their students.
"Our stories are really a testament to what can be achieved when we have the courage to break out of the box and transform the way we have traditionally delivered education."
Dr Gates is an Associate Professor in Veterinary Epidemiology and Education and has taught more than 24 courses across all course levels in the Bachelor of Veterinary Science, Bachelor of Veterinary Technology, Master of Veterinary Science, and Master of Veterinary Medicine degrees. Dr Gates also established the Massey-SPCA Desexing Clinic in 2017 which provides BVSc students with valuable, hands-on clinical and surgical training and performs over 1,000 low-cost cat desexing surgeries each year for cat owners and animal rescue organisations.
Watch Dr Gates speak on being a recipient of the 2022 Te Whatu Kairangi Awards below:
Wednesday 26 October 2022
Associate Professor Carolyn Gates has been named as a recipient of the Te Whatu Kairangi – Aotearoa Tertiary Educator Awards for 2022.
Sunday 10 April 2022
Exceptional teachers across Massey University were honoured at the virtual Vice-Chancellor's Teaching Excellence Awards ceremony in February 2022.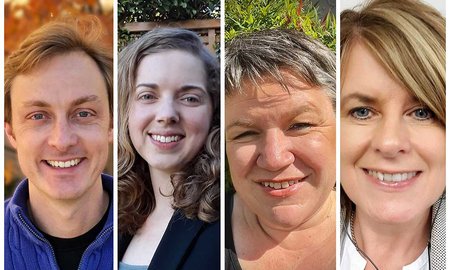 Wednesday 11 August 2021
A Massey University programme that provides highly subsidised desexing surgery for cats has reached a milestone: 2000 surgeries.