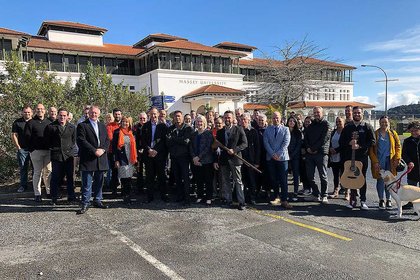 Last updated: Friday 20 May 2022
The site of the new Innovation Centre at the Auckland (Ōtehā) campus was blessed last Friday morning, preparing the way for construction to start.
Kaumātua Blackie Tohiariki officiated at the ceremony, representing the mana whenua, Ngāti Whātua and bringing the greetings of his wife Tui Hawke and her father Bob Hawke from Ngāti Whātua ki Orakei.
Mr Tohiariki told the gathered project leaders, construction teams and Massey staff and students that with the moon moving into a full phase meant the construction was starting at an auspicious time of high energy, which bodes well for the project.
Joined by principal Māori advisor Takuta Ferris and campus chaplaincy coordinator Ricky Waters, Mr Tohiariki conducted the ceremony to bless the site and the people who will come to build on it. Those gathered walked onto the site and, facing east, participated in a sequence of sacred karakia.
College of Sciences Pro Vice-Chancellor Professor Ray Geor spoke on behalf of the University, welcoming the start of construction of the science innovation and research centre, which will house teaching and research laboratories and a collaborative working space to connect the University with industry and the local community. The 9800 square metre complex is part of a $120 million development plan to meet the growth in student numbers at the Auckland campus.
The construction site, formerly a car park, has been fenced off for the past few weeks.