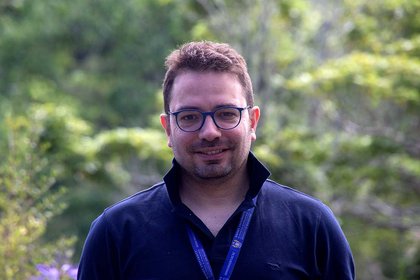 This is the first time the award has been received by a New Zealander. The Society of Fire Protection Engineering (SFPE) established the award to acknowledge five of the industry's rising innovators who demonstrate leadership and commitment in the fire protection engineering profession and whose work has had a significant impact within the field.
Dr Lovreglio says it's a huge privilege to receive the award, and it feels like coming full circle.
"I started my research studying fire engineering from the SFPE handbook, which is considered the bible of fire engineering, and now I'm one of the authors writing a chapter for the sixth edition of the handbook using data generated at Massey. It's touching to see my hard work recognised by SFPE and know it will help support the design of safer buildings."
Dr Lovreglio's passion for fire protection engineering and using digital technologies in emergencies came about when he attended a seminar by Dr Enrico Ronchi at his home university Politecnico di Bari in Italy 10 years ago. He says what he enjoys most about this field is the possibility to generate data and knowledge that can reduce accidents, and using new technologies to understand why people behave in specific ways during fire emergencies.
"I'm always looking to study new approaches to analysing human behaviour. There is so much we still don't know about how people behave in fire disasters, and we now have so many new technologies which can help us reveal how evacuees make decisions. Statistics is another tool I love using to get a deeper understanding of behaviour."
After living, working, and studying across Italy, the United Kingdom, Sweden, and the United States, Dr Lovreglio joined Massey in 2018. His time at the university has given him the opportunity to advance his research, and in 2020 he was awarded the Massey Early Career Research Medal for his research achievements.
He says his goal is to inspire students the way Dr Ronchi inspired him, and create the next generation of fire engineers. Already, Dr Lovreglio has helped facilitate an environment to grow the minds of his students by establishing the Digital Built Environment Lab.
Dr Lovreglio has also inspired his colleagues, who nominated him for the SFPE Five Under 35 award. Among them was Dr Ronchi, who says it is well-deserved.
"His academic track record is impressive and has had a great impact on our research community. His use of innovative technology is also a great step towards the future of the fire safety designs of buildings."
Professor Guillermo Rein from the Imperial College London echoes this sentiment, saying Dr Lovreglio is a rising star in the field of safety science.
"He has made fantastic contributions worldwide in different ways, contributing always to keeping people out of harm's way in case of emergencies like fires. The impact of his research is demonstrated by the number of citations to his work, more than 2,000 on Google Scholar, which is a large number for such an early career."
Fire safety is the key topic in Dr Lovreglio's current area of research, where he is generating data to explore people's behaviour and decision-making in a crowded situation like building evacuations. He says he's proud of his work as he knows it's making significant change to real world issues.
"I'm currently working with a number of New Zealand hospitals to analyse their evacuation training and generate the biggest database on times required to prepare patients before evacuating them. I'm developing a new virtual reality and augmented reality application to facilitate the training of building occupants. I'm also doing a lot of research on wildfire evacuation and planning."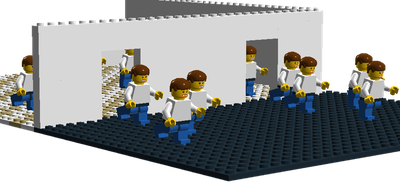 As much as Dr Lovreglio is passionate about his field and his work, he says it can come with big tolls.
"Research is an awesome job, but it's fundamental to have family and friends to help you through. I'd like to thank my wife Caroline and my relatives who are always there for me in the many good and challenging times."
Dr Lovreglio also extends his thanks to all the colleagues who have supported him, and to the organisations who have funded his research. These include Massey, Fire Research Group Limited, Evacuation Now, National Institute of Standards and Technology, the Ministry of Business, Innovation, and Employment (MBIE), and SFPE. He says he hopes to see the field gain more attention and funding in the coming years so that more fire engineering research can be put in motion before major disasters hit.
"I've been working with MBIE to review the existing New Zealand building code, and I would love to see the next generation of the code integrate numbers and results of the evacuation research we are doing right here in New Zealand."
While he already has plenty of accomplishments under his belt, Dr Lovreglio has his mind set on becoming an Associate Professor and then Professor in the coming years.
Thursday 25 March 2021
A virtual reality headset may not be the first thing that comes to mind when "fire evacuation" is mentioned, but that is exactly the technology being used to help understand human behaviour in emergencies.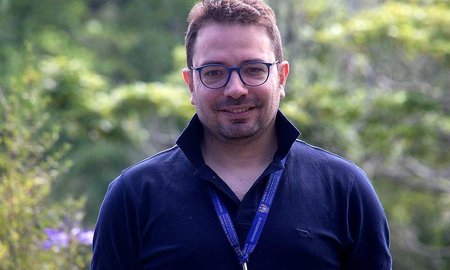 Wednesday 31 March 2021
The recipients of the 2019 and 2020 Massey University Teaching Awards and Research Awards were honoured at a cross-campus Zoom-enabled event on 26 March.