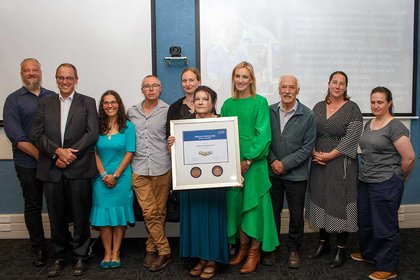 Last updated: Thursday 1 December 2022
The recipients of the 2019 and 2020 Massey University Teaching Awards and Research Medals were honoured at a cross-campus Zoom-enabled event on 26 March.
Massey University Provost Professor Giselle Byrnes, who is responsible for the awards and medals process, said the lockdown events of last year made the usual annual awards event impossible so this year it was important to acknowledge success in a manner appropriate to our changed circumstances.
The Massey University Teaching Awards honour innovation, commitment to reflective practice and enhancing student success and engagement in addition to demonstrating excellence in teaching practice.
Vice-Chancellor Professor Jan Thomas said that teaching was one of her favourite roles as an academic – "the stuff that gave me so much joy." She added that "Every time I come to one of these events I am immensely proud of what I see and what I hear and the work that is done by our colleagues."
Director of Learning and Teaching Duncan O'Hara says that despite the challenges presented in 2020, the calibre of applications that were received for the teaching awards were once again of extremely high quality. "Excellence, innovation and authentic student-centred practice were the hallmarks of the successful applications," Mr O'Hara said.  He noted that the teaching portfolios and case studies also demonstrated the commitment that Massey teachers and professional staff have to living the values of Paerangi in their practice.  
The Massey University Research Medals are the highest awards for research made by the university (excluding Honorary Degrees). Awarded on an annual basis, these acknowledge the most outstanding College Research Award winners in the categories of Early Career, Supervisor and Individual.
The medals honour exceptional research conducted over a number of years. Professor Byrnes says that for the past two years, the selection committee has had a particularly challenging task, given the strength of the fields. "This is evidence of the high quality of Massey researchers, across a broad range of disciplines and subject areas."
The choice of recipients strongly aligns with a key goal in Massey's research strategy, He Rautaki Rangahau, specifically a commitment to "ensuring that our high-quality productive researchers are valued and celebrated," she says. "Massey supports world-class research that has real-world impact and these awards make good on that commitment."
Vice-Chancellor's Teaching Excellence Award 2019 & 2020
Senior lecturer in the School of Veterinary Science Nicola Smith received the Vice-Chancellor's Award for Teaching Excellence in recognition of her dedication to nurturing a holistic and relevant learning environment.
In the 2020 round of teaching awards, the Vice-Chancellor's Teaching Excellence Award was presented to senior lecturer in the School of Management and co-director of the Te Au Rangahau research centre Dr Jason Mika. Dr Mika, Tūhoe, Ngāti Awa, Whakatōhea, and Ngāti Kahungunu, believes that student success is also our success, and said every day he aspires to emulate the good deeds of his kaumātua who were bearers of knowledge and support for the next generation.
Early Career Teaching Awards 2019 & 2020
Lecturer in linguistics in the School of Humanities, Media and Creative Communication Dr Victoria Kerry received the Early Career Teaching Award for 2019. This award is made on the basis of exceptional performance in teaching. Dr Kerry was recognised for her teaching philosophy which involves creating inclusive, safe and engaging teaching spaces for her diverse linguistic students, both in online and face-to-face teaching scenarios.
There were three recipients of the Early Career Teaching Awards for 2020. Senior lecturer in the School of Humanities, Media and Creative Communication Dr Claire Henry, was honoured for her innovation in curriculum redesign, effective teaching practice and the mentorship of junior colleagues.
Senior lecturer in School of Health Sciences Dr Blake Perry was recognised for his achievements and said that through professional development and personal experience he has learned insightful and pragmatic approaches to teaching that translate well to improved success in the classroom.
Senior lecturer in the School of People, Planning and the Environment Dr Cadey Korson was celebrated for her work in teaching-led research which combines geography education, digital storytelling and blended learning to create distinctive learning experiences.
Massey University Early Career Research Medal 2019
Dr Libby Liggins and Associate Professor Kathryn Beck were both awarded a 2019 Early Career Research Medal. This award acknowledges research excellence in an emerging or early career researcher.
Dr Liggins of the School of Natural and Computational Sciences is an evolutionary ecologist who primarily uses molecular genomic methods to address fundamental questions in biodiversity and ecosystem science and to support local communities. Her academic research contributions have been in the field of "seascape genetics", drawing on population genetics, spatial statistics, and marine ecology.
Dr Beck of the School of Sport, Exercise and Nutrition is a registered dietitian and teaches human nutrition and dietetics. Her research focusses on optimising health through nutrition, specifically iron deficiency, sports nutrition, dietary assessment, and dietary patterns and health outcomes.
Massey University Early Career Research Medals 2020
Dr Ruggiero Lovreglio from the School of Built Environment and Dr Linda Murray from the School of Health Sciences were awarded 2020 Early Career Research Medals.
Dr Lovreglio's area of expertise is fire and human simulation combined with building information modelling/virtual and augmented reality. ​​​​​​​He is engaged in advising the New Zealand Government in accelerating the implementation of building information modelling and reviewing codes in New Zealand as well as serving as a member of an expert panel advising the Italian Government on the development of new Italian Code for Crowded Events.
Dr Murray is a critical scholar and community researcher, dedicated to research that improves the health of disadvantaged communities and changes the lives of people. From 2015 to 2018 she was invited to be a chief investigator on two projects in Southern Australia, filling a significant gap in our understanding of how mental health and migrant settlement services can reach and support women experiencing violence.
Massey University Supervisor Medal 2019
Two senior Massey academics were jointly awarded the 2019 University Supervisor Medal which recognises excellence in research supervision and mentoring.
Professor Patrick Morel of the School of Agriculture and Environment is an international expert on pig growth and nutrition. His expertise in biological animal systems and statistics attracts researchers at both junior postdoctoral and doctoral research and as a project leader from governmental agencies, producer boards and commercial companies both in New Zealand and overseas. 
Distinguished Professor Nigel French of the School of Veterinary Science has supervised 41 PhD students and is dedicated to providing ongoing mentorship and career development for emerging scientists, many of whom have gone on to impressive careers in academia, international health and government bodies. Three of his previous PhD students are now full professors and three are associate professors.
Massey University Individual Research Medal 2019
Professor Murray Cox of the School of Fundamental Sciences was the winner of the 2019 Individual Massey University Research Medal. He is one of the world's foremost authorities on the genetic history of South East Asia and the Pacific. Professor Cox's landmark research has triggered major advances in our understanding of human prehistory across the Pacific region, particularly the effects of contact, interaction and adaptation; the nature and extent of genetic mixing between archaic and modern hominins; and the dynamics of social behaviour, language, kinship and genetics.
Massey University's Joint Centre for Disaster Research team, based at the School of Psychology, was honoured with the 2019 Research Team Medal for their diverse work on disaster risk management; from developing resilient communities to providing insights on the recent Whakaari/White Island eruption. The medal recognises the centre as "a multi-disciplinary team with an outstanding national and international reputation" and for its "commitment of all team members to research excellence that connects with the wider society."
The team comprises team leader Professor David Johnston, Associate Professor Christine Kenney, Dr Raj Prasanna, Dr Emma Hudson-Doyle, Dr Denise Blake, Dr Jane Rovins, Dr Julia Becker, Research Officers Mrs Lucy Kaiser, Ms Emily Lambie and Ms Emily Campbell, Associate Professor Carol Stewart and Dr Suzanne Phibbs.
Massey University Individual Research Medal 2020
Professor Jeroen Douwes of the Research Centre for Hauora and Health was named the winner of the 2020 Massey University Individual Research Medal.
Professor Douwes is a Professor of Public Health at Massey and leads an internationally recognised programme of research on asthma and occupational and environmental health. He has been awarded numerous competitive research grants and recently secured a prestigious Marsden Fund Council Award to investigate the links between asthma in young children in Aotearoa New Zealand and biodiversity. Professor Douwes serves on the Board of the Health Research Council and the Environmental Protection Authority, and is a member of various international advisory committees including the World Health Organization.
Exceptional Research Citizenship – Whaowhia Ngā Kete o Te Wānanga 2019
Professor Karen Stockin of the School of Natural and Computational Sciences has been awarded the 2019 Exceptional Research Citizenship – Whaowhia Ngā Kete o Te Wānanga. Professor Stockin has been recognised for her national and international engagement and capacity-building in emergency response and investigation with Project Jonah, the Department of Conservation, and the International Whaling Commission respectively, alongside her research impact and advocacy with Aotearoa Plastics Pollution Alliance. Her impact in marine mammal welfare and conservation has been felt across New Zealand the world.
Exceptional Research Citizenship – Whaowhia Ngā Kete o Te Wānanga 2020
Associate Professor Grant Duncan from the School of People, Environment and Planning was awarded the 2020 Exceptional Research Citizenship Medal – Whaowhia Ngā Kete o Te Wānanga.
Dr Duncan, a public policy and political science expert, is sought after by media as a commentator on New Zealand political issues, especially around elections, and has also played a significant role within the university as the Academic Staff representative on the Massey University Council between 2009-2015. Recent achievements include Dr Duncan's central role as the lead Massey researcher on the Stuff elections surveys in both 2017 and 2020. This work exemplifies his engaged and topical public policy research and outreach.
Massey University Team Research Medal 2020
The 2020 Team Research Medal was awarded to Professor Brett Gartrell and the Wildbase Research Centre Team at the School of Veterinary Science. Scientists from the Wildbase Research Centre have had a sustained and continuing impact on the management of native wildlife species and provide a scientific basis for community engagement with wildlife in New Zealand and globally.
This has been achieved by an outstanding portfolio of scientific investigations and research communications that have led the way in wildlife management, care and rehabilitation and by building capability within New Zealand at community, industry, national and international levels to support these aims.
​​​​​Professor Byrnes says, "The team award recognises the centre as a world class grouping of researchers with an outstanding portfolio of scientific investigations and research communications that have set the standard for wildlife management, care and rehabilitation." 
"The selection committee was also impressed by the team's focus on building capability within New Zealand and internationally, positioning the centre as a key learning and collaboration hub for wildlife conservation and management best practice."
The Wildbase team includes: Professor Brett Gartrell, Professor B. Louise Chilvers, Professor Wendi Roe, Associate Professor Kerri Morgan, Associate Professor Maurice Alley, Associate Professor Laryssa Howe, Senior Practicing Veterinarian Stuart Hunter, Associate Professor Isabel Castro, Senior Practicing Veterinarian Megan Jolly, Dr Baukje Lenting (Wellington Zoo) and Associate Professor Karen Stockin.
Professor Gartrell says: "The research of the Centre is ably supported by our technical staff who are actively involved. Bridey White has developed a research interest in compassion fatigue in wildlife responders and is currently engaged in her MHSc research. Pauline Nijman leads our team of veterinary technicians in the Wildbase Hospital including Christine Tan, Cailin Murray and Bernadette Monaghan Vowles and rehabilitation staff at the CET Wildbase Recovery Centre including Tracie Poole, Carina Svensson and Martin Steer."
About the Selection Committees
The Teaching Excellence Awards is managed by the Dean Academic and the criteria align with those used to assess the National Tertiary Teaching Excellence Awards.
The Research Medals Selection Committee is a subcommittee of the University Research Committee with each of the five college research directors involved. It is chaired by Provost Professor Giselle Byrnes.