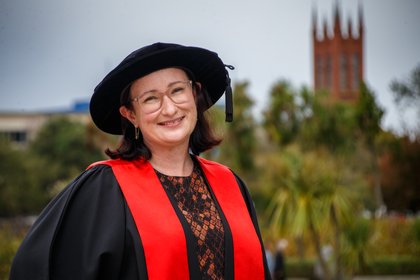 Last updated: Friday 19 May 2023
"I established that focusing on equality, diversity and inclusion has so far only had limited progress. These popularised terms tend to dilute the real problem and not address the core issue, which is the lack of equity," she says.
"Therefore, I proposed that organisations should be focusing on equity and belonging. Equity is ensuring that each person has the individual and organisational support needed in their workplace. However, there also needs to be consideration of people's personal experiences, to ensure that equity initiatives do not end up being symbolic equality. Equity provides the collective initiatives for underrepresented communities, and by pairing equity with a sense of belonging helps ensure equity initiatives are also meaningful at an individual level.
"Belonging is multi-faceted in that it requires an environment where people feel safe to be themselves. Equally important is that a person belongs to themselves with feelings of self-acceptance and therefore can belong wherever they are."
The structure of Dr Shanks' thesis was guided by the whakataukī kia whakatōmuri te haere whakamua - I walk backwards into the future with my eyes fixed on my past.
"First, I looked to the whakapapa of women's involvement in community football organisations, our history. I then looked to the future to determine where it is I want to go, with the development of my framework, Te Poukapa: The belonging and equity matrix. Last, I looked to the present, to understand what is happening now, which informs the actions we need to take to reach our future goals."
Dr Shanks was interested in exploring the history of women's involvement in sports organisations to understand how gender inequity is still an issue.
"I discovered that women's voices are missing from some key events in our sport history. Plus, there are a number of key events that significantly impacted women in sport, such as women being banned from playing football in 1921, which lasted 50 years, and women's sports organisations being dissolved by the men's organisations in the 1990s. I worked in football for six years and had no idea there had been separate women's football organisations. This then led to a series of challenges that culminated with 11 national sports organisations undergoing independent reviews since 2016. These were significant investigations into the environment and culture, with most establishing a distinct lack of gender equity in the organisations."
Te Poukapa, Dr Shanks' matrix, is made up of four aspects that address equity and belonging in an organisation.
"I developed the model based on existing research and refined it from the results of my own research with community football organisations. The four aspects overlap and are interwoven, and include the formal aspects of an organisation like policies and strategy, communication and history/whakapapa, informal practices and rituals and personal relationships and whanaungatanga. When an organisation addresses all four aspects together, they start to address equity and a sense of belonging," she explains.
Dr Shanks conducted a web-based survey with staff, board members and club committee members to get a snapshot of what the demographic makeup of the organisations were, and to understand their experiences and attitudes towards diversity and inclusion.
"I found that women only make up a third of staff in football federations and 36 per cent of women feel they have faced discrimination in their organisation. The experiences of discrimination were complex and covered all four aspects of Te Poukapa."
Dr Shanks worked with one football federation, Central Football, and found that when they used Te Poukapa to address equity and belonging in their organisation, there were positive results within a year.
"When I started my PhD I really wanted to ensure that the outcome was practicable for a sports organisation, or any organisation, to apply, and the outcome was encouraging. Te Poukapa is easy to understand with some really clear steps on how to address each of the four aspects."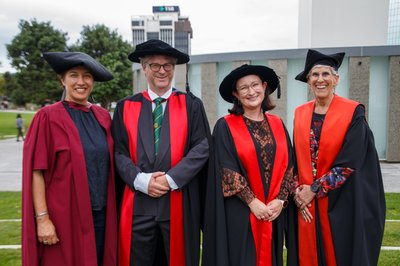 Dr Shanks' background
Dr Shanks has recently moved to Hamilton to start a new role with Waikato Bay Of Plenty Football as Legacy Manager for the FIFA Women's World Cup Australia & New Zealand 2023™ in July this year.
"In this role, I plan to use the findings of my research and Te Poukapa as the framework underpinning the legacy plan."
Additionally, Dr Shanks has received a grant from the Ministry for Culture and Heritage to turn her chapter on the history of women's involvement in football organisations into a book.
She has also started working with some organisations to help write their whakapapa/history, or to use Te Poukapa and apply it within their organisation.
"I'm really excited to work with organisations who are keen to take these steps. It's awesome to be putting my research into practice in so many different ways," she says.
Before Dr Shanks committed to a PhD, she knew the topic would have to be very close to her heart and she needed a good relationship with her supervisors.
"I am exceptionally grateful to my three supervisors. I was fangirling over them to start with, in fact, I still do! Professor Sarah Leberman, Dame Farah Palmer and Associate Professor Geoff Watson have so much mana and knowledge and also have so much aroha. Completing my PhD was one of the hardest journeys in my life, but they made it an amazing journey and I am so grateful that they were on my team."
Dr Shanks says she knew going into a PhD that it can be a lonely journey, so she really valued and cherished her close friends.
"I had a core group of friends who were amazingly supportive and let me talk about my thesis, or anything expect the thesis. They helped keep me grounded, were brilliant listeners, gave me perspective when required and were always there with a shoulder to cry on. It was very special to have them on my team too."
Monday 15 October 2018
Professor Sarah Leberman has been named the winner of the sport category at this year's NEXT Woman of the Year Awards.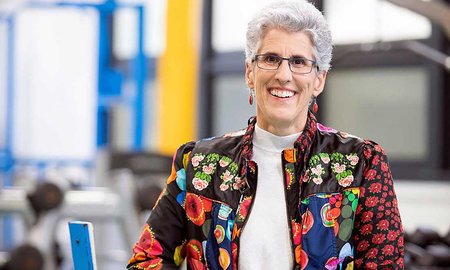 Thursday 14 May 2020
As sport resumes after lockdown, it's time to level the playing field for women and girls by addressing chronic underfunding for women's sports.