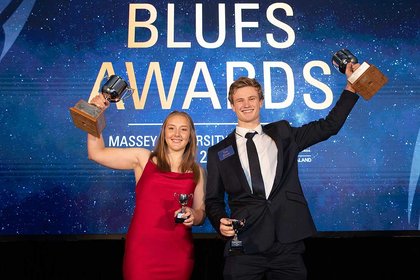 Last updated: Wednesday 4 May 2022
Athletes competing in a range of sports, from canoe polo to judo, have taken out the top prizes at this year's Massey University Blues Awards.
Blues are awarded to students who have excelled in both their studies and sporting codes across all Massey's campuses, as well as those studying via distance. The University presented 170 Blues to students, with eight receiving awards for competing in two sports.
The Auckland ceremony was held on October 10 on Massey's Auckland campus, with former Black Stick Danielle Jones and former Black Cap Jacob Oram as guest speakers.
The combined Manawatū and Wellington ceremony was hosted at the Sport and Rugby Institute at Massey's Manawatū campus last night, with guest speaker sports psychologist Professor Emeritus Gary Hermansson.
Top awards
Bachelor of Science student Zoe Hobbs was named the Massey University Auckland Campus Sportswoman of the Year for her achievements in athletics. She was unable to attend as she was in Europe following the International Association of Athletics Federations World Championships.
Miss Hobbs is the national champion in 100 and 200 metres. She won gold in the 100 metres and silver in the 200 metres at the 2019 Oceania Area Championships. At the World University Games in Italy, Miss Hobbs made the finals in both her individual events, placing seventh in the 200 metres and eighth in the 100 metres. She was also a member of the bronze medal-winning New Zealand 4x100 metre relay team, which finished in a new national record time.
Bachelor of Sport Management student Edward Lau was named the Auckland Campus Sportsman of the Year for his achievements in badminton.
Mr Lau placed first in boys' singles and second in mixed doubles at the New Zealand Oceania Junior Championships. Mr Lau has placings in many national events, including first place at the Under 19 Team Championships, as well as winning the boys' singles, doubles and mixed doubles at the North Island Under 19 Championships. Mr Lau was unable attend as he was in Russia representing New Zealand at the World Junior Teams Championships, the Suhandinata Cup.
In Manawatū, Bachelor of Agricultural Science student Georgia Wheeler was named the Manawatū Campus Sportswoman of the Year for her achievements in canoe polo.
Miss Wheeler was part of the New Zealand Paddle Ferns team that won the Australian Interstate Championships and the Oceania Championships earlier this year. She was selected for the New Zealand Under 21 team that competed at the Junior International Championships in Northern Ireland and the De Paddel event in Belgium in August.
Bachelor of Engineering with Honours student Finn Brown was named the Manawatū Campus Sportsman of the Year.
Mr Brown is a national judo representative who won gold representing New Zealand in the Senior Men Under 73kg category at the 2019 Auckland International. Mr Brown is the top-ranked judoka nationally in the Under 73kg senior division and won a bronze medal at the 2018 National Championships and silver at the 2018 North Island Championships. Earlier this year he spent time training in Japan and has remained undefeated since his return to New Zealand, gaining three gold medals at regional and international-level competition. His successes this year have earnt him two further weeks of funded training in Japan.
In the distance category, Master of Arts student Marcus Daniell won Distance Sportsman of the Year for his achievements in tennis.
Mr Daniell reached the doubles quarter-finals at Wimbledon this year. He was doubles champion at the 2019 Brisbane International and was selected to represent New Zealand in two Davis Cup ties against China and Korea.
Graduate Diploma in Arts student Lisa Carrington was named Distance Sportswoman of the Year for her achievements in canoe sprint.
Miss Carrington is a double world champion, having won gold in the K1 200 and K1 500 metre events at the 2019 International Canoe Federation World Championships. She is the current Oceania Champion and also National Champion in both the K1 200 and K1 500.
Other awards
The awards also recognised service to sport with Rose Fitzmaurice (Basketball), Ben Ravenwood (Futsal), John Atkins (Netball), Kristen Yorker (Volleyball), Natalya Taylor (Volleyball) receiving recognition for their contribution to sport at Massey.
Bachelor of Science student Hannah Hawley was given the Sport Achievement Award for her judge candidate achievements in archery.
The award recognises high achievers in sport who are not athletes but have achieved at the same level as an individual athlete would to receive a Blues Award. Miss Hawley was a judge candidate at the North Island Youth Championships and internationally at the Trans-Tasman Youth Archery Tournament, which was held in July. She is also president of the Massey University Archery Club.
Several teams were acknowledged as part of the night for their achievements.
The Massey University tertiary netball team of 2018 was recognised for winning the University and Tertiary Sport New Zealand (UTSNZ) Netball Championships in September 2018, where they had two players selected into the New Zealand University Netball Team.
The Massey University tertiary women's sevens team was recognised for winning the UTSNZ National Tertiary Championships in March, with three players named in the tournament team.
The Massey University tertiary women's hockey team was recognised for winning the UTSNZ National Tertiary Championship in July.
2019 Massey Blues Awards Recipients:
Aerobic Gymnastics: Hannah Wilton; Artistic Roller Skating: Phoenix Reid; Athletics: Natalie Booth, Olivia Eaton, Georgia Hulls, Alexandra Hyland, Hamish Kerr, Kara Macdermid, Stella Pearless, Nicholas Southgate, Zoe Hobbs; Badminton: Edward Lau, Catelyn Rozario; Basketball: Matthew O'Connell; Beach Volleyball: Brittany Allison-Carnie; Canoe Polo: Liam Bowden, Joshua Gray, Casey Hales, Matthew Oke, Liam Ward, Georgia Wheeler; Canoe Slalom: Finn Butcher, Benjamin Gibb, Casey Hales, Luuka Jones; Canoe Sprint: Lisa Carrington, Aimee Fisher, Alicia Hoskin, Briar McLeely, Danielle Watson; Climbing: Erica Gatland; Cricket Finn Allen, Georgia Atkinson, Ma'ara Ave, Robson Chapman, Lauren Down, Melissa Hansen, Felix Murray, Robbie O'Donnell, William O'Donnell, Hannah Rowe, Michael Bracewall, Cam Fletcher; Cycling: Grace Anderson, Jordan Castle, Matias Fitzwater, Regan Gough, Carne Groube Jessie Hodges, Nicholas Kergozou De La Boessiere, Stella Nightingale, Emily Shearman, Kate Smith, Elizabeth Stannard; Equestrian: Ike Baker; Melody Matheson; Ella Poole-Crowe; Bailey Rutter; Brigitte Smith Football: Catherine Bott, Corina Brown, Jendi Frank, Meikayla Moore; Futsal: Josh Cremen, Sam Perko, Ben Ravenwood, Megan Willis; Golf: Juliana Hung; Hockey: Kelly Carline, Robert Creffier, Saffron Cribb, Anna Crowley, Benji Edwards, Clodagh McCullough, Mitchell Ottow, Kirsten-Leigh Pearce, Ella Poole-Crowe, Amy Robinson, Nicholas Ross, Kelsey Smith, Connor Todd, Louisa Tuilotolava, Charl Ulrich, Mac Wilcox, Lara Williams, Madeleine Williamson, Nicholas Woods, Sam Lane; Ice Figure Skating: Brooke Tamepo; Indoor Cricket: Melissa Hansen; Judo: Finn Brown; Mountain Biking: Samara Sheppard; Netball: Emily Autagavaia, Stephanie Collins, Maia Wilson; Olympic Weightlifting: Samantha Hansen; Para-Swimming: Chris Arbuthnott; Powerlifting: Evie Corrigan; Rowing: Nicola Baker, Sam Bosworth, Brooke Donoghue, Nathan Flannery, Kerri Gowler, Elizabeth Jeurissen, Luca Kirwan, Tom Mackintosh, Zoe McBride, Grace Prendergast, Charlotte Spence, Giacomo Thomas, Phillip Wilson, Angus McFarlane; Rugby: Adam Boult, Benet Kumeroa, Jamie Mackintosh, Rhys Marshall, Brad McNaughten Pia Tapsell, Sydnee Wilkins, Tiana Davison; Rugby League: Kaitlin Bates; Rugby Sevens: Kaitlin Bates, Reece Brosnan, Tiana Davison, Tyla Nathan-Wong, Sydnee Wilkins; Sprint Kayaking: Tim Waller; Surf Life Saving: Olivia Eaton , Zac Reid, Cory Taylor, Andrew Trembath, Jamie Peterson; Swimming: Emma Godwin, Daniel Hunter, Abbie Johnson, Joshua McCormack-Goeth, Vanessa Ouwehand, Callum Prime, Zac Reid, Emma Robinson, George Schroder, Matthew Stanley; Taekwon-Do: Tom Biggs, Jack Francois; Target Shooting: Jessica Burgess-Smith; Tennis: Marcus Daniell, Olly Sadler; Touch: Phoebe Steele; Triathlon: Simone Ackermann, Samuel Bentham, Issy Coombes, Christian Davey, Adam Martin, David Martin, Heather Neill, Kyle Smith, Megan Edwards; Ultimate Disc: Joel Gordon, Bianca Mercer, Tristan Mercer, Emma Taylor; Underwater Hockey: Anastasia Burn, Benjamin Cushman, Fergus Griffin-George; Volleyball: Hugh Hawkey; Water Polo: Brandon Matthews, Anton Sunde; Yachting: George Gautrey, Olivia Mackay Yachting, Courtney Reynolds-Smith.