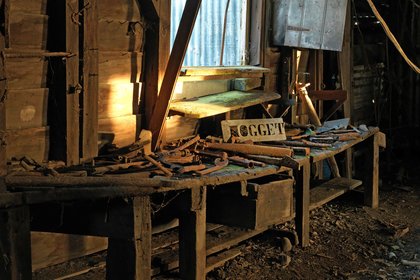 Last updated: Wednesday 16 November 2022
Senior Lecturer Dr Annette O'Sullivan from Massey's School of Design Ngā Pae Māhutonga is collaborating with award-winning photographer Jane Ussher to create the large-format book Woolsheds…the fabric of the nation. But they need help to make it happen.
The book plans to document, in photographic form, the buildings and objects that represent the 180-year-old history of wool. However, it is not just an exploration of the buildings and histories told through the things inside. The book will also highlight the contribution of farm workers to the success of the wool trade through recollections of the places where they worked and lived, and the objects they made and used.
For the project, Dr O'Sullivan is expanding on her doctoral studies of branding histories on historic sheep stations, while Ms Ussher will draw on her experience of photographing sheep stations.
Dr O'Sullivan says there is a sense of urgency to getting the book completed, as so many iconic woolsheds have already been removed as a result of changes in land use and sheep farming.
She believes the book is of national significance as a contribution to New Zealand history.
Dr O'Sullivan came up with the idea for the book and was met with enthusiasm from Ms Ussher and Nicola Legat of Massey University Press. It has also been supported by the Massey University Foundation, who recognised the significance of the work with Massey's long history as an agricultural college with a connection to the wool industry.
The book combines disciplines within the university; agriculture at the Manawatū campus in Palmerston North, and design at the Pukeahu campus in Wellington.
"This project aims to represent sheep stations around the country and document their histories and personal stories. It seeks to secure a comprehensive visual record of Aotearoa New Zealand's most important heritage farm buildings and historic objects," Dr O'Sullivan says.
For the book to progress, funding of $30,000 for photography, materials, travel, accommodation and publication costs is required.
"We're seeking assistance from like-minded individuals and industry bodies, modern-day wool entrepreneurs, industry members working in the agri-business sector and those keen to see this history captured through robust research and stunning photographs taken by one of New Zealand's foremost photographers."
Dr O'Sullivan and Ms Ussher are inviting people to help publish the book through a PledgeMe crowdfunding campaign, which Federated Farmers have assisted them to set up.
The book is scheduled to go on sale in late 2024.
Thursday 10 December 2020
Curiosity about a vintage design stencil spurred senior lecturer Dr Annette O'Sullivan onto seven years of research into New Zealand's wool bale branding.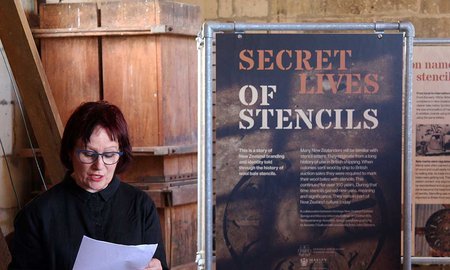 Thursday 5 December 2019
Ten staff were among the record 59 graduates to receive doctoral degrees at the three November graduation ceremonies in Palmerston North last Friday.