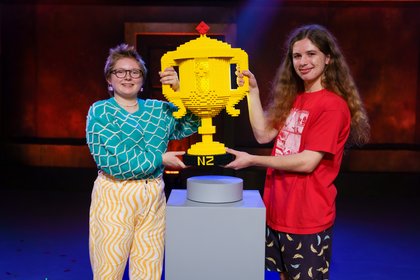 Last updated: Wednesday 24 May 2023
The siblings, who are both part of the Te Kunenga ki Pūrehuroa Massey University whānau, have been obsessed with LEGO building for as long as they can remember.
"Every birthday and Christmas, it's all we wished for. Our LEGO room is ever expansive, and Charlie is constantly negotiating with our parents about what areas of their house can be converted into more LEGO rooms," Oli says.
"I usually just add LEGO bricks throughout the house and hope our parents don't notice," Charlie adds.
Born in Ōtautahi Christchurch, the Mollard siblings lived in India for a few years in their youth before relocating to Palmerston North for high school. It's a full house in their home in the Manawatū, including not just the ever-growing amount of LEGO bricks and their parents, but also a younger sister, a dog, two guinea pigs, two turtles and an axolotl.
The two loved watching game shows growing up and knew they'd found the perfect one when LEGO®Masters Australia began to air.
"We kept up with the Australian version for the past few years and were planning to try our shot at applying for it once Charlie turned 18. But when TVNZ announced they were doing a Kiwi series, we knew it was destined for us," Oli says.
The pair say their respective majors are reflected in their LEGO brick building.
"Oli makes our builds look cool and I'm the mechanics mastermind," Charlie says, who is studying a Bachelor of Mechatronics Engineering.
"It just made sense. I've always loved building robots, so I thought, why not make a career out of it? I'm also part of the Massey University Robotics team. We're currently training for the World Champs held in Dallas, where we'll build two robots that compete against each other. The robots must be able to drive around a field, pick up frisbees and shoot them into a goal for a two-minute game."
Meanwhile 21-year-old Oli is part way through a Bachelor of Design, majoring in visual communication. They're also one of two Residential Life Coordinators in the Wellington Halls on the Pukeahu campus.
"I chose Toi Rauwhārangi College of Creative Arts because I loved seeing how the work of Massey's graduates improved in the time they were studying there. For my first two years, I lived in the halls and loved the community wairua (spirit) and sense of whānau. I was offered the job as resident assistant in 2021 and have stuck around since because I love being part of a space that continues to improve and evolve."
With 700 students living in the Wellington Halls, Oli says there's plenty involved in their role and every day is different.
"My focus is ensuring our tauira are happy, healthy and making the most of every opportunity while they're studying. There are some challenges, including spending long hours on call as there's always someone, somewhere, that needs help with something. You never really know what to expect but it certainly gives you an abundance of life skills."
In the lead-up to the show, Oli says they were most excited about having access to an unlimited number of LEGO bricks in the Brick Pit.
"It's something we've literally dreamed about. We're excited to build massive-scale models like we've never been able to before."
Having very different skill sets, Oli says this is the key to making them a great team and gives them an edge in the competition.
"It's easy for our imaginations to end up in the same place but our building processes are very different, which has its pros and cons. Charlie can make a mechanical marvel and then I come along to make it an art piece. Most of the time, if one of us is struggling with their aspect of the build, we can switch out and take on each other's obstacles."
After close to a hundred hours of creating incredible builds, Oli and Charlie were crowned LEGO® Masters champions for this season, taking out the top prize of $25,000 to spend at The Warehouse, two FIAT Lounges and the iconic LEGO® Masters trophy.
The sibling duo were thrilled to be named the overall winners, with Oli summing it up by saying,
"This is the best thing that has ever happened to us, ever."
You can catch up on the LEGO® Masters NZ series on TVNZ+.
Wednesday 6 March 2019
A Massey student is inching closer to his dream of an official Lego set featuring the endangered kākāpō.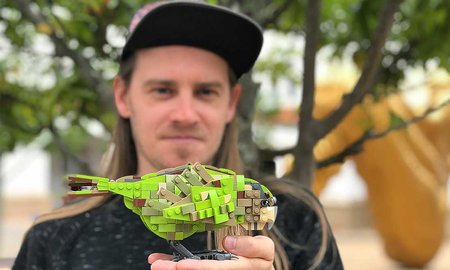 Monday 10 July 2017
Sport science PhD student Yanita McLeay has temporarily given up her student lifestyle in Palmerston North to renovate a house in Auckland, on national television.