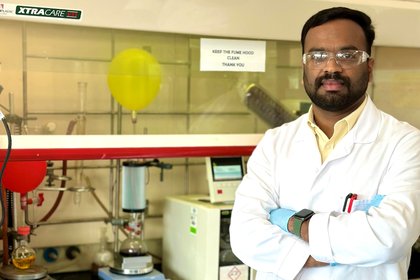 Last updated: Friday 27 January 2023
The Cancer Society of New Zealand has announced a boost for research into endometrial cancer and cancer therapies. It funds three Post-Doctoral Fellowships, which can potentially transform treatment outcomes for cancer patients.
School of Natural Sciences Research Officer Dr Harikrishnan Kurup is one of the Fellowship recipients. Dr Kurup's research will focus on addressing drug resistance in cancer by developing new cancer drugs to make existing cancer drugs more effective.
Drug resistance is a major obstacle for many therapies used to treat cancer. One of the ways cancer cells can resist cancer therapies is by using a set of enzymes in the APOBEC3(A3)-family, known as A3A and A3B. These enzymes are good targets for drug development as inhibiting them is unlikely to produce significant side effects, while at the same time improving outcomes for cancer treatment.
In the next step of the project, the drugs developed by Dr Kurup will be tested on breast cancer cells in combination with existing therapies for breast cancer. The idea is that the new drugs will complement existing cancer treatments, making them effective for longer, and leading to higher remission rates.
Dr Kurup says, "This Fellowship means I can continue our efforts of the past five years in developing DNA-based inhibitors for APOBEC3A/B. It is an important milestone in my research career as it provides an avenue for learning different aspects of translational research to produce a practical result and establishing myself as an independent researcher."
Dr Kurup talks more about his research in this video.
Another of the researchers to receive funding is Dr Anastasiia Artuyants from the University of Auckland. Her research focuses on endometrial cancer, the most common gynaecological cancer type in Aotearoa New Zealand. The incidence of endometrial cancer is rising in New Zealand, particularly in younger people. This rise is linked to an increase in obesity and metabolic diseases and significantly affects Pacific women.
Dr Artuyants' research will focus on biomarker tests that can significantly improve the healthcare of these women by providing a simple way to detect endometrial cancer early.
Dr Kevin Ly of the University of Otago has also received funding for his research into predicting a patient's response to immunotherapy.
Cancer Society Medical Director Dr Kate Gregory says research is the first step towards reducing cancer rates and improving the chance of cure.
"We contribute to addressing this global problem by funding young and talented cancer researchers from across New Zealand who investigate new ways to diagnose and treat cancer. None of this would be possible without the generous support we receive from New Zealanders."
The Cancer Society is one of the largest private funders of cancer research in New Zealand. Over the last 10 years, the Society has invested over $50 million in total into research.
Monday 16 August 2021
Massey researchers are a step closer to developing breakthrough cancer-starving drugs and have received a $30,000 funding injection for the research project.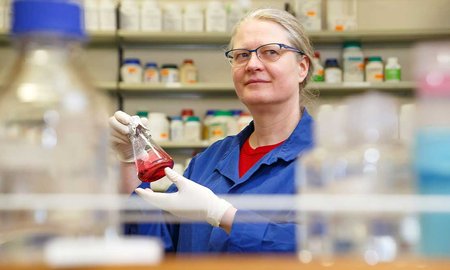 Wednesday 16 August 2017
Research on the "cross-talk" between breast cancer cells and immune cells that could lead to new understandings of and targeted treatment for the disease has won PhD candidate Sherina Holland the top prize in the Massey finals of the 2017 Three-Minute Thesis (3MT).