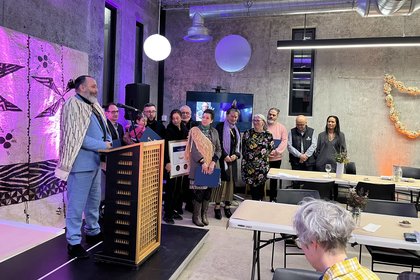 Last updated: Thursday 18 August 2022
The event, which was jointly supported by Toi Rauwhārangi College of Creative Arts (CoCA) and the Office of the Provost, took place in Te Whare Pūkākā on the Pukeahu campus.
Principal Advisor Māori Tākuta (Doc) Ferris opened the ceremony with a mihi on behalf of the Deputy Vice-Chancellor Māori, Professor Meihana Durie. Creative Director Pacific at Toi Rauwhārangi, Herbert Bartley (Herbee), was the master of ceremonies for the event. He commenced with a shout out to Kūki Āirani Language Week, and covered the formalities before introducing Pro Vice-Chancellor of Toi Rauwhārangi, Professor Margaret Petty, to speak about the extraordinary achievements of Te Kāhui Toi.
Professor Petty spoke about the ways that the Marae functions as a vessel containing knowledge. "It's a heart, but also a lot more than that; the power of this place, and the meaning that has been put into it, will go on to support many generations of tauira to come."
Provost Professor Giselle Byrnes, Chairperson for the University Research Awards Selection Committee, spoke about the importance of advocating for research excellence. She was delighted to celebrate and honour the work of Te Kāhui Toi.
"It is clear across the university, and beyond, that Te Kāhui Toi have created a taonga, that it is a powerful contribution to the dissemination of new knowledge and technical innovation. This grounds the university's commitment to mana whenua and Māori, and this is an exemplary example of a collaborative approach to creative practice research."
Professor Byrnes presented the Team Research Medal and certificates to Kaihautu Toi Māori Professor Ngataiharuru Taepa, who accepted the award on behalf of Te Kāhui Toi. Professor Taepa shared the following whakaaro with attendees:
"With the creation of taonga such as marae comes great responsibility. With the receiving of taonga such as a marae also comes great responsibility. Today is a celebration of the work of many, and we would like to acknowledge all involved in creating our marae, both past and present. We would particularly like to acknowledge our tauira. It was always important to our elders that you were at the forefront of our thinking. And so, everything that we did, with the land that we stand upon in mind, was towards creating a wānanga space for you to feel comfortable and safe during your time here on Pukeahu."
A further response followed from alumni and mana whenua member Te Ahu Rei, in a pao that affirms the sanctity of taonga. Following this, a resounding rendition of the patere Waewae Taku Haere filled Te Whare Pūkākā.
Mr Ferris concluded the ceremony by acknowledging Professor Taepa and Associate Dean Māori Kura Puke, who provided the leadership required to achieve the task of bringing alive a house that is there to serve its communities and its people.
"The mauri of the whare is the thing that binds and pulls together the mana of that place; it holds fast the rangatiratanga of that place, and with those things comes expectation of behaviour, of attainment, and achievement, and all the other things that a university hopes to be. I look forward to the future as we move into building the community of Te Rau Karamu Marae."
Ms Puke noted that this is the first year that Toi Rauwhārangi has received a Team Research Medal since the Research Awards were launched in 2004. However, she said it is a celebration for all the colleges, as method, intentions, and effects of the kaupapa and principles of the project can be applied to all research, teaching and systems across Massey University Te Kunenga ki Pūrehuroa being Tiriti-o-Waitangi led.
Guests enjoyed a hāngī prepared by Wainuiomata Rugby League Club, with 40 extra hāngī being donated to the Wellington Night Shelter.
Those involved in the event wish to express their thanks to Wainuiomata Rugby League Club for the delicious kai, which was the perfect way to celebrate all that Te Kāhui Toi had achieved through manaakitanga, whanaungatanga and kotahitanga.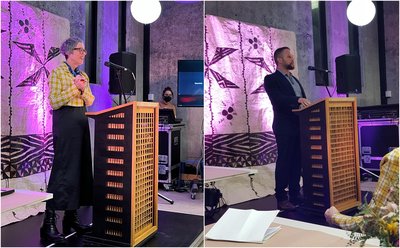 Tuesday 22 February 2022
Te Kāhui Toi, under the leadership of Professor Ngātai Taepa and Associate Professor Kura Puke of Toi Rauwhārangi College of Creative Arts, has been awarded a Purple Pin for the design of Te Rau Karamu Marae on the university's Pukeahu Campus (Wellington) in the Toitanga (Māori design) category.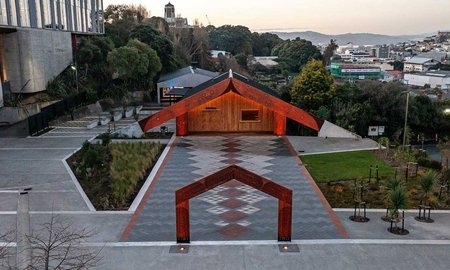 Friday 8 July 2022
Te Kāhui Toi and Athfield Architects, in association with Massey University, have won three awards for Te Rau Karamu Marae at the Te Kāhui Whaihanga New Zealand Institute of Architects (NZIA) Wellington Awards.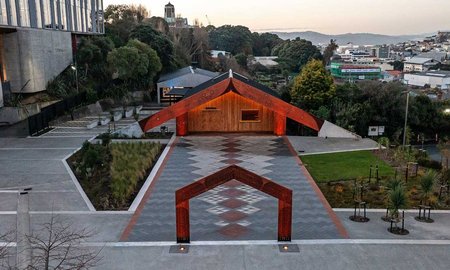 Monday 29 March 2021
The opening of Te Rau Karamu Marae on Pukeahu Campus at Massey University in Wellington is being hailed as a significant step forward for the city central campus and for Massey's commitment to Kaupapa Māori.