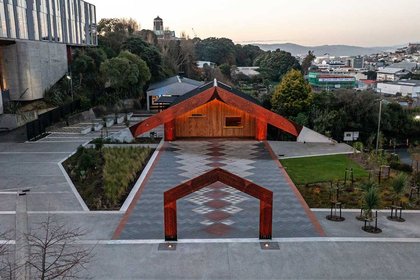 Last updated: Thursday 24 November 2022
Te Kāhui Toi, under the leadership of Professor Ngātai Taepa and Associate Professor Kura Puke of Toi Rauwhārangi College of Creative Arts, has been awarded a Purple Pin for the design of Te Rau Karamu Marae on the university's Pukeahu Campus (Wellington) in the Toitanga (Māori design) category.
A Purple Pin is the highest recognition in the Best Design Awards for work that leads to advancement and programme design in Aotearoa New Zealand. The awards, delivered by the Designers Institute of New Zealand, celebrate excellence in graphic, spatial, product, digital and motion design and include three special awards – Value of Design, Public Good and Toitanga. The best entries in each category are awarded a Gold Pin and the very best project in each discipline is awarded the supreme Purple Pin.
Pro Vice-Chancellor of Toi Rauwhārangi College of the Creative Arts Professor Margaret Maile Petty says being awarded the Purple Pin in Toitanga is deep honour for the entire college.

"This is recognition of the extraordinary mahi of Māori artists working closely with mana whenua to bring this significant and beautiful taonga into being."
The Purple Pin in Toitanga is a first for the university. Te Kāhui Toi also received two Gold Pins, one for the Toitanga category and another for Te Wairere category (lighting design). They were also awarded a Silver Pin in the Lighting Design Category.
Te Kāhui Toi is a team of artist-designers, supported by tohunga and tribal leaders, and guided by experts in their specialist knowledge. The judges acknowledged that the team's mahi on Te Rau Karamu Marae reflects an extraordinary level of artistry, innovation and long periods of work that have gone into creation of a Marae of immense distinction. The judges' comments were that the work was "A truly breathtaking take on what a marae can be. Flawlessly crafted with stunning detail and imagination."
Professor Ngātai Taepa says the recognition and award is humbling.
"The calibre of the other finalists was outstanding and it is humbling to be in the company of such accomplished projects and fellow creatives. It is an honour to receive this award on behalf of Te Rau Karamu Marae, Pukeahu and Te Kunenga ki Pūrehuroa. It is an acknowledgement of tupuna wisdom, Māori creative arts, and the work of the many people involved in the creation of our marae. Nei rā te mihi o Te Kāhui Toi ki te iti, te rahi, te katoa."
Te Rau Karamu has received longstanding guidance and support from Mana Whenua of Pukeahu Campus, Te Ātiawa, and operational support from the Office of the Deputy Vice-Chancellor Māori. 
Deputy Vice-Chancellor Māori Professor Meihana Durie says since its opening in March, Te Rau Karamu Marae continues to receive plaudits from across Te Ao Māori and Te Ao Whānui for the level of artistry and depth of mātauranga that has gone into the project.
"Te Rau Karamu represents a living, breathing expression of kaupapa and mātauranga Māori, and provides a distinctive and uniquely Māori space upon Pukeahu Campus where staff and students can thrive in the processes of ako and wānanga.
"The success of Te Kāhui Toi is also reflective of their approach to undertaking this work, working closely and collaboratively alongside many contributors including Te Ātiawa kaumātua and pakeke.  It has taken an extraordinary level of commitment to achieve this outcome and Te Rau Karamu is testament to the vison that Te Kāhui Toi have carried through their work  "
The detailed design of Te Rau Karamu Marae
The design of the wharenui 'Te Whaioranga o Te Whaiao' relates to a defined area within Te Waonui (the forest) and focused on the roles of atua such as Tāne Whakapiripiri and Hinewaonui in the creation of Te Rakau Tipua - the cosmic tree. This speaks of the connections to all things, which may be experienced by all of those who enter under its canopy and into its embrace, in ceremony guided by the spatial narrative.
The description for the award reads, "In terms of the architectural partnership and relationships with engineers and fabricators, the mutual respect for kaupapa, spatial and material aesthetics resulted in shared intentions, support and drive to pursue a resolved complex that reflects the highest values of mana and manaakitanga. The majestic maihi featuring glue-lamination techniques of native totara and requiring engineering problem-solving is a testament to these relationships."
Here is more information on the Te Rau Karamu Marae description for the Best Design Awards.
Team members who received the award include Professor Ngataiharuru Taepa, Kura Puke, Hemi Macgregor, Saffronn Te Ratana, Stuart Foster, Wi Taepa, Israel Birch, Robert Jahnke, Maihi Potaka, Te Kahui Toi whanau whanui. Contributors include Te Matahiapō, Te Huirangi Waikerepuru, Mereiwa Broughton, Inahaa Waikerepuru, Te Ngaruru Wineera, Kurt Komene, Chaz Doherty, Rangi Mataamua, Kura Moeahu, Athfield Architects.
College of Creative Arts staff and students won a total of 45 Best Awards, one Purple Pin, six Gold Pins, 16 Silver Pins and 22 Bronze Pins.