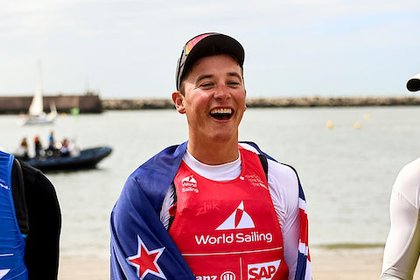 Last updated: Friday 3 November 2023
A move to Wellington from the midlands of England at five years old sparked a fascination with the ocean in George, which he says inspired him to take up sailing at a young age.
"I started out at Muritai Yacht Club in Eastbourne and began to move through the classes where my competitive spirt only grew. As I got older, all the other sports I was interested in fell to the wayside as sailing became more prominent in my life. I was encouraged by my late father to always push my boundaries and to do whatever you want, just do it well."
George's tertiary journey began at a different university studying a Bachelor of Engineering, but as sailing took off, he says he realised a change was needed.
"I began looking into other options as I needed to find a better way to fit study alongside my sailing, which led me to Massey. I also wanted to find a degree I would enjoy and decided on business as being a professional athlete is basically like being the CEO of a slightly dysfunctional company!"
While finding ways to balance both study and sailing was difficult at times, particularly during COVID-19, George says he's proud of overcoming the challenge.
"During the pandemic, I had to remain in New Zealand and study full-time, which wasn't something I had done before, but I enjoyed the challenge and the different lifestyle it brought. I really enjoyed studying at the same time as my peers and having friends who had done a business or commerce degree who could help me along the way. There were some stressful times, like sitting exams in a Dubai airport, but looking back, it added to the experience. I sought advice from various people within my campaign and lecturers on ways to achieve a balance and it helped immensely."
While sailing has taken a more serious role in George's life over the years, he says it still brings him joy, particularly due to the opportunities that arise and the people he gets to meet and sail with.
"Now that it's become more professional, I need to remind myself how fun sailing can be. I'm lucky to part of an awesome team environment at Yachting New Zealand, and alongside the High Performance Sport New Zealand team, I am very well looked after. I get to fly all over the world and sail on some amazing boats alongside my Olympic sailing. Even just this year I have been to over 12 countries!"
"Some of my fondest memories are simple trips done with mates. Last year, my best friend and fellow sailing team member Micah Wilkinson and I drove 24 hours straight through Europe with an absurdly large trailer and van combo. Between blowing a wheel bearing and taking four-hour driving shifts, it was hilariously good fun."
George says the highlight of his career so far has been competing at Olympic level.
"I was second at Youth Worlds in 2016, and the transition to Olympic level was hard but in 2019 I scored two top 10's at World Cup events and finished third at Worlds. I lost the Olympic trials to Sam Meech in 2020, deservedly so, and the pandemic proved a real challenge, so it's taken a good chunk of time to get back to a place where I'm seeing results again. This year, I was second at the first World Cup of the year, fourth at the Olympic test event in Marseille and then third at the Allianz Sailing World Championship in The Hauge."
The 2023 Sailing World Championships was the pinnacle of the year for George, who says all his work had been building towards the event and credits his support team in helping him secure the bronze.
"I can't thank my support team enough. It's amazing to have the support I do, and they have pushed me to be better and held me accountable to what I said I would do, so to bring home a medal for them is awesome. The regatta had a wide variety of conditions, which suited me as I don't tend to be a specialist. Despite a slow start, I managed to bounce back and by setting small goals each day and focusing on adapting to whatever came our way, I was able to keep my head in the game across the eight days."
The 25-year-old says his takeaway from the event is that he's still improving and has room to grow and evolve ahead of next year. After taking some time out last month, George says he plans to be back in the boat and building up towards Worlds next year.
"Hopefully I will be building through to the Games in 2024, if I'm lucky enough to be selected. In terms of study, I was due to start my master's but have given myself some time to see what will work best for me next year. With the amazing support I received through the Prime Minister's Scholarship, it would be silly not to continue my studies in some form or another in the future."
Now based in Takapuna in Tāmaki Makaurau, George is working towards his idea of success but says he believes the key is humility.
"What's important is knowing what you know and knowing what you don't."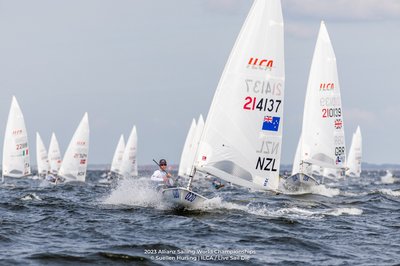 Tuesday 23 August 2022
A renewed study investigating athlete wellbeing is being led by former Olympian and current master's student Sara Winther, in collaboration with Massey University and High Performance Sport New Zealand (HPSNZ).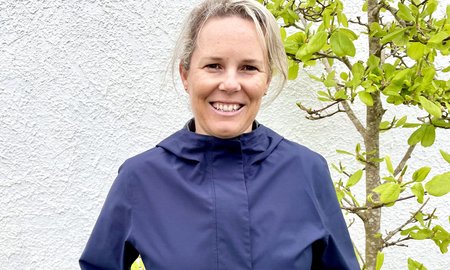 Thursday 2 December 2021
Corporal Aidan Cornwall can now add a Bachelor of Business degree to his list of accomplishments after completing a comprehensive course of study at Massey University.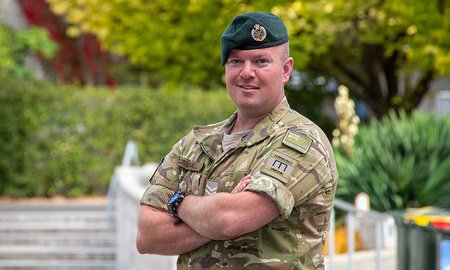 Thursday 22 April 2021
John Granville has been the ultimate lifelong learner - on land and at sea. Now, after 45 years of study he has finally graduated.