Type of qualification
Bachelor's degree
Level of study
Undergraduate study
An undergraduate qualification is usually the first one you study.
NZQF level 7
Our courses follow the New Zealand Qualification Framework (NZQF) levels.
Time to complete
3 years full-time (360 credits)
Up to 8 years part-time
Part-time available
International students
International students are not New Zealand citizens or residents.
Open to international students on campus in New Zealand, or studying on-line outside New Zealand
Study a Bachelor of Business – BBus
Massey University's Bachelor of Business encourages you to explore and master your business knowledge and skills, so you can have a great career.
Our lecturers and professors are actively researching both nationally and internationally, bringing the most relevant developments in business theory and practice into your learning environment.
Massey's Business School also has great links with communities and potential employers.  There are many opportunities to put your learning into practice while engaging with local community organisations and businesses.
You will be someone who:
has a sound base in the business fundamentals of accounting, economics, finance, management, marketing, law and communication
is an independent learner
is an innovative thinker
is an effective communicator
is able to lead or work within a team
can find and use the latest knowledge to grow a business
is effective in multi-cultural and international business environments
is an ethical and culturally sensitive professional
is a specialist in at least one area of business expertise; and well-versed in the business fundamentals.
With eight core courses, the BBus gives you more opportunities to spend more time focusing on your areas of interest. You can work on what you know are your strengths, or fill any gaps in your knowledge and skills.
Insights
The 2021 Student Experience Survey results for this qualification found that 84% believed assessment tasks challenged students to learn, and 85% highlight that the qualification has given them "confidence to learn independently".
The 2020 Graduate Destination Survey results for this qualification found that 80% of graduates are in employment and 29% have continued in further study. Respondents indicated that 53% were earning above the New Zealand median national salary.
Between 2018 and 2021 the average number of students enrolled in the qualification was 3659 (headcount). In the 2020 academic year 77% of students in the first year of this qualification continued their studies and across the whole qualification 85% of courses were successfully completed.
The QS World University Ranking by Subject ranks Massey in the top 251-300 universities worldwide in this subject area. Shanghai Ranking's Global Ranking of Academic Subjects 2022 ranks Massey in the top 300 universities globally and 1st in New Zealand in this subject area.
A BBus is a good fit if you:
want to gain detailed knowledge and insights into business subjects you are curious about
want to learn how to change business for the better
can think things through analytically and creatively.
Entry requirements
Admission to Massey
All students must meet university entrance requirements to be admitted to the University.
Specific requirements
There are no specific entry requirements for this qualification, outside of university admission regulations.
English language requirements
To study this qualification you must meet Massey University's English language standards.
Prior learning, credit and exemptions
Exemptions on the basis of high NCEA Level 3 marks are available in Statistics, Accounting and Economics.
If you have achieved 24 credits at NCEA Level 3 with an Average of Merit and have a high overall achievement, or have a scholarship in the relevant subject(s), you may be eligible to be exempt from taking the following core courses: 115112 Accounting for Business, 115113 Economics of Business. If you think you are in this category, you can apply for an exemption by contacting Academic Advice. Please note that you will need to take another course in place of any exemptions granted and even if eligible, we would not advise applying for more than two exemptions.
For information on prior learning, exemptions and transfer of credit or other questions:
English language skills
If you need help with your English language skills before you start university, see our English for Academic Purposes (EAP) courses.
Recommended prior learning
English and maths are desirable school subjects. A school background in accounting and economics is useful but not essential.
Official regulations
To understand what you need to study and must complete to graduate read the official rules and regulations for this qualification.
You should read these together with all other relevant Statutes and Regulations of the University including the General Regulations for Undergraduate Degrees, Undergraduate Diplomas, Undergraduate Certificates, Graduate Diplomas and Graduate Certificates.
Returning students
For returning students, there may be changes to the majors and minors available and the courses you need to take. Go to the section called 'Transitional Provisions' in the Regulations to find out more.
In some cases the qualification or specialisation you enrolled in may no longer be taking new enrolments, so may not appear on these web pages. To find information on the regulations for these qualifications go to the Massey University Calendar.
Please contact us through the Get advice button on this page if you have any questions.
Structure of the Bachelor of Business
If you study full-time, in your first year, you'll take eight 15-credit courses, making a total of 120 credits.
If you wish to study over two semesters, you should aim for 60 credits per semester. You may be able to take some courses at summer school. Make sure you include courses that are prerequisites for the next level of courses you wish to study.
Core business courses
Core courses 115111, 115112, 115113, 115114, 115115 and 115116 must be completed within the first 120 credits, and 115211 and 115212 within the first 240 credits of study towards the degree.
Core courses are compulsory. These are courses which cover topics across the business spectrum. They are designed to give you the leadership, communication and solid business skills that you will need in your career.
Capstone course
'Capstone' courses are designed to be taken in your last year of study. This relies on you having completed the correct first and second-year courses and ties your learning together.
Year One
You will study six core subjects in your first year – economics, strategic communication, finance, accountancy, management and marketing. No matter which area of business you choose to go into for a career, these are important skills to have and will build a solid foundational understanding of how businesses work.
You will build on these knowledge and skills as you move through the second and third year of the Bachelor of Business.
Year Two
In your second year you choose a major and, if you like, a second major or minor. You will also complete two more core subjects on leadership and teamwork, and business law.
Year Three
In your final year you will progress to advanced studies in your chosen major. You will be able to do an internship course in this year, as well as an advanced course in your major topic. This brings your business knowledge, communication and teamwork, critical thinking skills, and understanding of ethics together in a capstone course.
The BBus provides considerable flexibility, enabling you to take control of your own qualification within the regulations.
Typical pattern for the Bachelor of Business
Core courses These courses are a compulsory part of your qualification.
Major courses Choose from a selection of courses appropriate for your specialisation.
Elective courses Follow your interests. Your qualification may have selection guidelines for elective courses.
Year one
115111 Strategic Workplace Communication
115112 Accounting for Business
115113 Economics of Business
115114 Finance Fundamentals
115115 Management in Context
115116 Introduction to Marketing
Elective
Elective
Year two
115211
115212
200-level major
200-level major
200-level major
200-level major
Elective
Elective
Year three
300-level major
300-level major
300-level major
300-level major capstone course
Elective
Elective
Elective
Elective
Courses are each worth 15 credits
Courses and specialisations
Key terms
Courses

Each qualification has its own specific set of courses. Some universities call these papers. You enrol in courses after you get accepted into Massey.

Course code

Each course is numbered using 6 digits. The fourth number shows the level of the course. For example, in course 219206, the fourth number is a 2, so it is a 200-level course (usually studied in the second year of full-time study).

Credits

Each course is worth a number of credits. You combine courses (credits) to meet the total number of credits needed for your qualification.

Specialisations

Some qualifications let you choose what subject you'd like to specialise in. Your major or endorsement is what you will take the majority of your courses in.
Credit summary
360 credits
Core courses

– 120 credits

Major courses

– 120 credits

Electives

– 120 credits
Ensure that overall, you have:
Not more than 180 credits at 100 level (including no more than 90 credits of 100‑level electives)
At least 75 credits at 300 level (including at least 15 credits of 300‑level electives, if necessary)
You could replace electives with a second BBus major, or some electives with a recognised minor.
Course planning key
Prerequisites

Courses that need to be completed before moving onto a course at the next level. For example, a lot of 200-level courses have 100-level prerequisite courses.

Corequisites

Courses that must be completed at the same time as another course are known as corequisite courses.

Restrictions

Some courses are restricted against each other because their content is similar. This means you can only choose one of the offered courses to study and credit to your qualification.
Schedule B: Specialisations
Majors
Some qualifications let you choose what subject you'd like to specialise in. Your major or endorsement is what you will take the majority of your courses in.
Completing a major is compulsory. A major requires 120 credits including at least 60 credits at 300-level.
Become an accountancy specialist with the skills and knowledge to succeed in the world of business.
Develop your analytical skills and enhance your ability to extract value from data.
The Bachelor of Business (Economics) is a versatile degree where you will learn how the world of business works, and gain the skills to interpret global information and events.
Join Massey University's finance programme to gain superior decision-making skills and a career advantage.
Help people make the best financial decisions for their future. Join a growing industry and study the only university financial planning and advice specialisation in New Zealand.
Develop skills critical to effective communication in a rapidly changing global environment.
The Bachelor of Business (Human Resource Management and Employment Relations) will give you the theoretical, policy and business skills you need to understand, manage and collaborate effectively with people in the workplace.
Gain the knowledge and skills, critical to business success in times of global challenges.
Become a manager or entrepreneur that empowers others and makes a real difference to the future.
Learn how to gain business insights, create loyal customers, and plan strategies and solutions to help companies thrive.
The Bachelor of Business (Organisational Technology Management) will give you an in-depth understanding of the impact of technology, data, and the skills needed to manage these to help businesses succeed.
Studying property at Massey gives you the expertise and confidence to access exciting opportunities in the dynamic and growing property industry.
Minors
Completing a minor is optional. Minors increase the breadth of your degree and give you extra knowledge, attributes and capabilities. A minor must be in a different subject from your major.
If you study towards a BBus, you may choose a minor from any University undergraduate degree that has recognised minors. If the minor is from another degree the regulations of that qualification will apply.
Bachelor of Business minors
All BBus majors are available as minors. The following are also available as minor-only topics. See the BBus regulations for requirements.
Business Law
Gain the skills to act competently and knowledgeably in the legal environment, both generally and in a business context – this is an overview of statutory interpretation and specific areas of relevant business law. 155202, and 45 credits from 155201, 155203, 155210, 155301.
Māori Business
Learn about Māori approaches to management and entrepreneurship and doing business with and within the Māori economy – especially suited to aspiring entrepreneurs, business owners and managers.
Accountancy
Business Analytics
Business Law
Economics
Finance
Financial Planning and Advice
Human Resource Management and Employment Relations
International Business
Management
Māori Business
Marketing
Organisational Technology Management
Property
Fees and scholarships
Fees, student loans and free fees scheme
Your tuition fees may be different depending on the courses you choose. Your exact fees will show once you have chosen your courses.
There will also be some compulsory non-tuition fees and for some courses, there may also be charges for things such as study resources, software, trips and contact workshops.
Already know which courses you're going to choose?
You can view fees for the courses that make up your qualification on the course details pages.
Student loans (StudyLink) and Fees Free scheme
You may be eligible for a student loan to help towards paying your fees.
The New Zealand Government offers fees-free tertiary study for eligible domestic students. Find out more about the scheme and your eligibility on the Fees Free website. To use the site's eligibility checking tool, you will need your National Student Number.
Current and returning Massey students can find their National Student Number in the student portal.
Careers and job opportunities
The Bachelor of Business equips you with flexible and highly portable skills that employers welcome. Your skills will fit across industries, from small business settings to multi-national organisations.
While it depends on what major you choose, some of the career opportunities available are:
management accountant or financial accountant
business, systems or information analyst
public relations, communication manager, or media consultant
economist, economic statistician, business/policy/risk analyst, economic forecaster, financial advisor or consultant
small business manager, new venture initiator or project manager
financial analyst, investment banking analyst, sharebroker or financial consultant
human resource or recruitment manager, or facilitator in employment relations
international market developer, or dealer in exporting, licensing, and importing
market researcher, marketing manager, or advertising and communication specialist
professional sports administrator, sports marketer, or events manager
property manager, property developer, or valuer.
What our students say
"Without my degree, I do not feel as if I would be able to confidently lead the team or make effective yet efficient decisions"

Accreditations and rankings
Useful planning information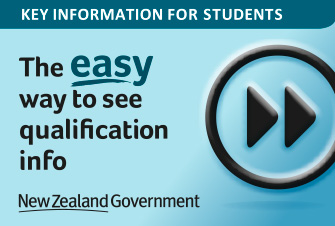 Key information for students
Compare qualifications and academic information across different New Zealand institutions. Learn more on careers.govt.nz