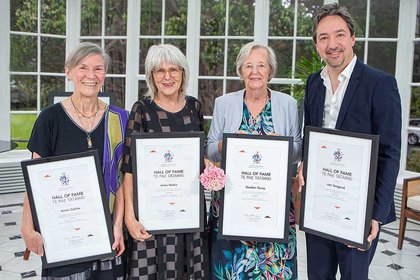 Last updated: Tuesday 5 April 2022
Four distinguished Massey University College of Creative Arts alumni were inducted into the College's Hall of Fame in a ceremony at Government House tonight.
Musician Jon Toogood, photographer Distinguished Professor Anne Noble, film editor Annie Collins and the late educator Gordon Tovey were recognised for their contributions to the worlds of music, art, film and education. Gordon Tovey's daughter, Carol Henderson, collected the award on her father's behalf.
The ceremony marked the 40th induction to the Hall of Fame, which celebrates alumni of the College who have made an outstanding contribution to New Zealand's economy, reputation and national identity.
College of Creative Arts Pro Vice-Chancellor Professor Claire Robinson says the Hall of Fame gives long overdue recognition to the role of art, music, film and design in everyday life and credit to those who create it.
"We are thrilled to welcome these fabulous alumni, who whether quietly or loudly, have contributed to our cultural wellbeing, and helped create a better world," she says.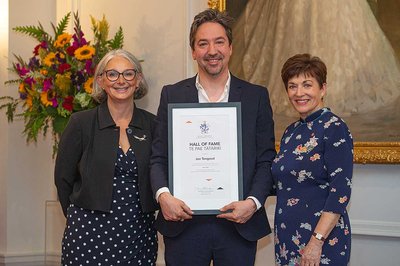 The event included a silent auction of artwork donated by Hall of Fame artists, that raised $16730 to establish a new Residencies Fund for artists.
Professor Robinson says the money raised will go towards enabling the next generation of creatives to flourish.
"The idea behind the Hall of Fame is to highlight the incredible talent that we are lucky to foster at Massey. We're grateful to all the artists who donated incredible artwork to the auction, which will launch this new fund."
The Residencies Fund will support the College's existing artist residencies: Matairangi Mahi Toi for Māori and Pacific artists, hosted by the Governor General within the grounds of Government House; and Te Whare Hera for international artists, partnering with Wellington City Council. The fund will also support a new international design residency; and a music and creative media production residency.
The 2020 Hall of Fame inductees: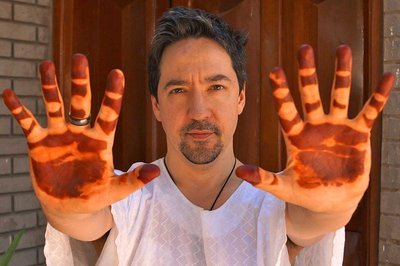 Jon Toogood- Musician
As Shihad's high profile frontman and leader of The Adults rock supergroup, Jon Toogood has spent 30 years at the forefront of Aotearoa's music scene. A true renaissance man of our music industry, he writes, sings, performs, mentors, manages, directs, produces, DJs, programmes, promotes, creates - and he does it all with enormous energy and humanity. To cap this off in 2018, Jon completed his Masters in Fine Art (MFA) with Massey, studying by distance from Melbourne, with his major project being the production of his most recent album 'Haja'.
His MFA explored the cultural significance of Northern Sudanese Music and his album Haja, produced with The Adults and featuring Estere, Aaradhna, Chelsea Jade and JessB, strongly referenced the sounds of female Sudanese musicians. This was an extraordinary undertaking given that few western men had accessed this type of music before, but also because he had never studied at university. The process enabled him to develop a whole new appreciation of his music making, its purpose and meaning, and opened new doors in his extensive musical career.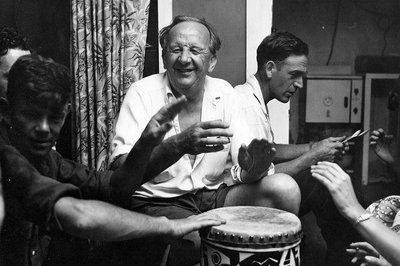 Gordon Tovey - Artist and educator (1901–1974)
Gordon Tovey was one of the most influential people in the history of the NZ education, and lead a revolution in the teaching of art and craft in schools.
His art career began at the Wellington Technical School, in 1921, where he was taught by English artists H. Linley Richardson and befriended fellow student Len Lye. In 1946, he was appointed as the first National Supervisor of Art and Craft, a position he maintained for over twenty transformative years. He established an education programme that put art, artists and in particular Māori art, into the NZ classroom. His aspiration to ensure all students were connected through art, and participating in their bicultural heritage, altered the landscape of education and the culture of a country.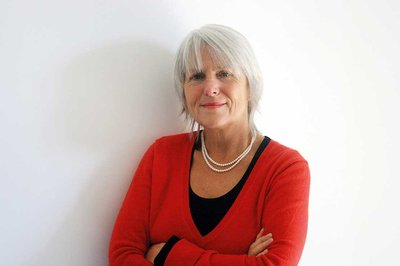 Anne Noble (Laureate) ONZM - Photographer
Distinguished Professor Anne Noble is one of New Zealand's most recognised and respected contemporary photographers, with a stellar career spanning four decades and including landscape, documentary, installations, and moving imagery.
Professor Noble was awarded an Officer of the New Zealand Order of Merit in 2003 for services to photography and became a NZ Arts Foundation Arts Laureate in 2009. In 2015, she won the 31st Higashikawa Overseas Photographer Award in Japan and in 2013 was awarded the title Distinguished Professor by Massey University, where she has taught since 1996, and where she continues to practice, research and inspire a wide range of academics, artists, scientists and students. She has exhibited widely nationally and internationally, and her work is in collections throughout the world.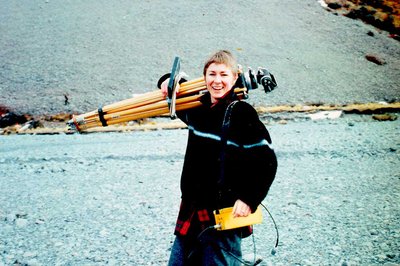 Annie Collins – Film editor
Annie Collins studied at the Wellington School of Design, and went into film editing under the guidance of filmmaker Pat Cox, where she grew over the past four decades into one of New Zealand's most acclaimed film editors.
Her extensive and varied editing experience includes classic New Zealand features that have incited much debate like Patu! and The Neglected Miracle; and iconic films Scarfies, Out of the Blue, and One Thousand Ropes. She's edited on Lord of the Rings, Two Little Boys and The Great Maiden's Blush; and for countless documentaries and short films, commercials, corporate training videos, trailers and promos.
She has won NZ Film and Television awards for her editing collaborations with director Robert Sarkies (Scarfies 1999), Out of the Blue (2008) and Two Little Boys (2012), and with Jess Feast for Gardening with Soul (2013). In 2014 and 2019,shewon Best Editor at the NZ Show Me Shorts Festival and was awarded the Women in Film and Television's Great Southern Film and Television Award for Outstanding Contribution to the New Zealand Screen Industry in 2014.