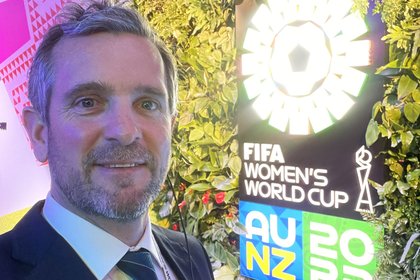 With over 20 years of experience in the sporting events industry, Mr Bourke says it's tricky to pinpoint the top highlights in his career. He's been involved in major events around the world including the 2007 and 2011 Rugby World Cup, the 36th America's Cup, the 2008 FIFA U-17 Women's World Cup and the FIFA U-20 World Cup in 2013 and 2015.
Mr Bourke says while the events industry can be tough, it provides some of the most unique experiences a sports fan or event professional could ever imagine.
"This is no nine-to-five job; you need to be dedicated, nimble and resilient. Spectators are in the stands watching the spectacle but you're on the ground, part of the action – almost like being in a movie. Once you get in, it's hard to get out!"
Four times the charm
Mr Bourke's current role as FIFA Head of Operations New Zealand involves overseeing all stadia related operations and includes general venue management, ensuring infrastructure or overlay requirements meet FIFA standards, the in-stadium infotainment programme, rolling out the dressing and signage programme, food and beverage for spectators and staff and marketing rights delivery.
With the FIFA Women's World Cup Australia & New Zealand 2023™ (FWWC2023) tournament right around the corner, Mr Bourke says it's been a busy time ensuring everything is ready for the delivery of his fourth FIFA event.
"After managing our way through a lockdown, a cyclone and flooding, we have come out the other side well-prepared for the tournament. My role includes oversight of the events and ceremonies aspects, including the delivery of the Official Draw back in October 2022 and the Opening Ceremony which will take place on 20 July at Eden Park in Tāmaki Makaurau Auckland."
Mr Bourke says he's excited for the tournament as it's the biggest women's sporting event in the world and will be an opportunity to witness greatness.
"This tournament will unite communities and cultures all around Aotearoa New Zealand and Australia. With the airtime that the Women's Cricket World Cup received early last year, followed by the Women's Rugby World Cup where the Black Ferns captured the nation, the paradigm of women's sport has shifted to a whole new level. I believe with FWWC2023 we will witness something we haven't seen here before for the women's game. Our mission is to showcase the world's best female players, engage audiences with a world-class event and exceptional storytelling and blaze a trail for women's empowerment."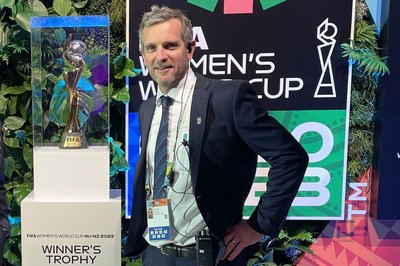 Learning the skills for the trade
From an early age, Mr Bourke knew he wanted to study something in the sport or event industry. His research led him to enrol with Te Kunenga ki Pūrehuroa Massey University, where he completed a Bachelor of Business Studies in Sports Management followed by a Graduate Diploma in Business Studies in Coaching.
He says his time at Massey helped him feel well-equipped to move into his chosen field.
"It's fair to say that the latter years of a degree are the most enjoyable because you're completing papers that help you learn the trade you see your career in. I learned those core lessons in business, had hands-on experience – particularly in the third year Sport Practicum working at Sport Manawatū, and found this really kick-started my career before my studies even ended. I learnt a lot from Professor Andy Martin during that practicum and am grateful for his teaching."
There are certain skills Mr Bourke has learned in his career that he attributes to his success, though he says one is particularly ironic.
"Finance was the subject I loathed to attend lectures for but managing budgets is something I deal with daily and have come to enjoy as it plays such an important role in delivering major events. Stakeholder management is a key skill that develops over time as you deal with venue operators and suppliers and people management is a key focus to develop in this career. Creating and developing a successful culture at work is vitally important and can be challenging in this industry, but it's important to have a cohesive team because we're all working together for the end goal, so we need to gel and have trust in each other."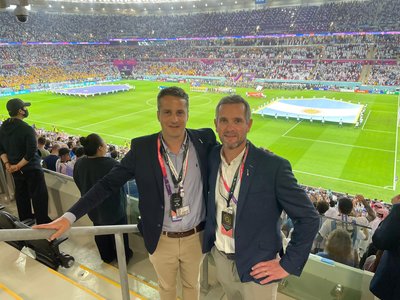 It's all in the experiences
Despite his many incredible career highlights, Mr Bourke says being pitch-side at Eden Park when the final whistle blew at the Rugby World Cup final in 2011 has been difficult to top.
"To have the team you supported your whole life winning in their own backyard is one of those things you only dream of. Even though you're meant to be neutral at times like these, sentiment does come into it, and you can afford a satisfying fist pump. Although in this case, it was pure relief given how tight the match was."
He says given the nature of his job, he goes where the job is and sometimes that can mean working for or representing another club or country.
"It may sound odd to say another ultimate highlight was being on the other side and working for the Challenger of Record at the 36th America's Cup, but it was special. The Italians treated everyone like family, and I became an ardent supporter of Luna Rossa and cheered for their win. While it wasn't meant to be, winning the Prada Cup was a celebration I'll never forget and one I never envisaged I'd be experiencing."
Mr Bourke says he has found that the sports and event industry can be a small world. He says it's important to do a good job, keep connected and have drive so opportunities arise.
"I'm a big believer in volunteering at sports events to get entry into the industry as I've seen it happen time and time again over the years. For anyone wanting to work in a similar field, go out and get any experience you can behind the scenes of events – small or large – as it will give you an insight on what it's like and if it's something that you're passionate about."
Tuesday 11 April 2023
Today marks the 100-day countdown to the world's biggest women's sporting event hitting Aotearoa New Zealand – the FIFA Women's World Cup Australia & New Zealand 2023™ (FWWC2023).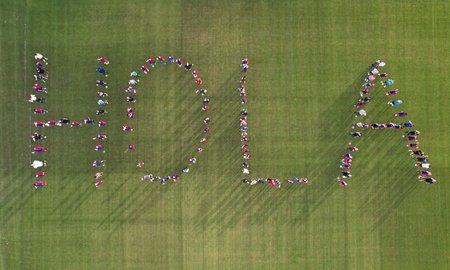 Monday 12 December 2022
The Spanish Women's Football Team, currently ranked sixth in the world, have chosen to base themselves in Palmerston North, using Te Kunenga ki Pūrehuroa Massey University's Sport Institute as their Team Base Camp during next year's FIFA Women's World Cup Australia & New Zealand 2023™ (FWWC2023).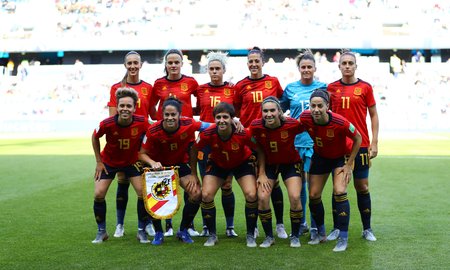 Tuesday 13 August 2019
Just over a year ago Matthew Conger was in Russia refereeing at the 2018 FIFA World Cup finals. Now, with the support of Massey University, he is preparing for his next challenge.