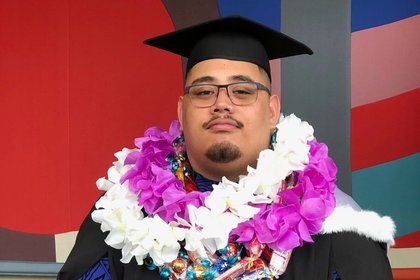 Last updated: Wednesday 30 August 2023
With ash falling in Tonga, there was an urgent need to communicate safety precautions for the Tongan diaspora in Aotearoa New Zealand who were mobilising support for their families, as well as the local Tongan population. Matt, via his supervisor Associate Professor Siautu Alefaio, found himself communicating with volcanologists, disaster managers and Tongan community leaders who were working out how to get information to people on the ground in an accessible manner. Matt's training in graphic design enabled him to come up with an effective infographic for the ashfall advice.
Matt says, "There was so much energy to feed off. It was a good learning process for working in emergency response mode."
He was amazed at what could be done in such a short time. The Tongan ashfall infographic was completed in about 48 hours, a project that would normally take weeks.
From a young age, Matt liked drawing. He took fine arts hoping to become a tattoo artist. He soon found that he was more suited to graphic design. But he never anticipated that his artistic abilities would take him into helping in emergencies.
Following his master's degree in graphic design from Massey University, Matt worked as a designer for NIUPATCH, a Pacific research collective at Massey University's School of Psychology focused on disaster and humanitarian challenges within climates of change.
Matt explains that NIUPATCH is the Pacific partner of the Joint Centre for Disaster Research. So, that's how he got involved with the Tongan eruption.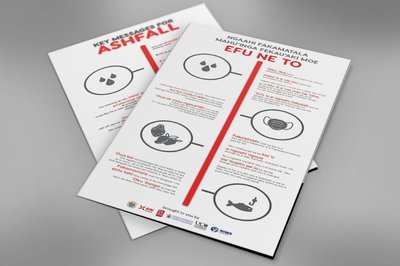 Matt knew nothing about emergency management, but he saw the opportunity, as a Pacific designer, for providing messaging and design infused with Pacific values. He found his niche.
"I want to use design as a bridge to make all the information that's out there on disaster response and emergency management more accessible to Pacific communities.
"There is a lot of information out there in academic language. We need to put it into every day and Pacific languages alongside visuals, so we appeal to visual learners as well. And we need more of our people in this space."
Matt is the first Pacific student to receive a QuakeCoRE scholarship.
For his PhD research, Matt aims to explore a Pacific-centred design system he's developed. He will then apply the framework to various design mediums such as infographics, podcasts, social media, and website design. Matt says he appreciates the open community that QuakeCoRE provides and looks forward to reaching out and showcasing his work.
At the heart of his work is faith and serving his community. Matt was brought up with service as a core value, so he feels very blessed to be able to stay in academia, use his skillset, and help people at the same time.
Story republished from QuakeCore.
Friday 13 January 2023
Three Massey researchers have been investigating what lessons can be learned from the resilience of rural communities and what information and resources they need to prepare for tsunamis.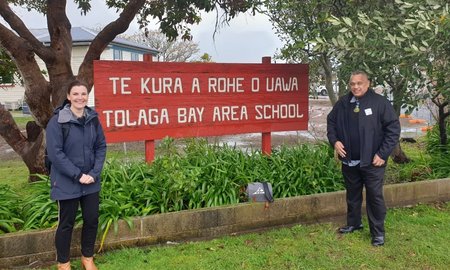 Tuesday 2 November 2021
Many of us know that feeling when an earthquake hits - sometimes our first thoughts are wondering whether it is even an earthquake, which means potential life-saving seconds are lost before we take action.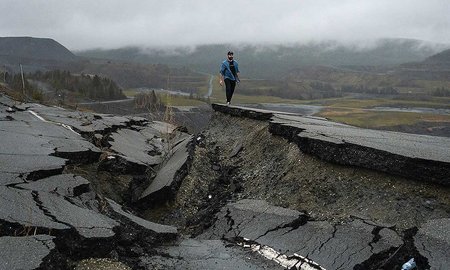 Wednesday 12 April 2017
Earthquakes centred in the South Island were the focus of the annual Disastrous Doctorates 2017 programme for post doctoral emergency management students.