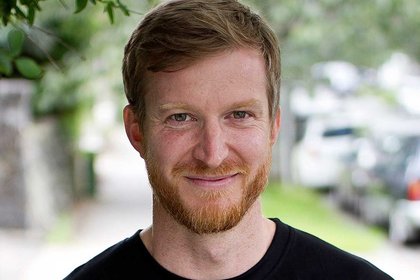 Last updated: Friday 17 June 2022
Thomas Nash is the inaugural Social-Entrepreneur-in-Residence in the College of Humanities and Social Sciences
Disarmament activist Thomas Nash been appointed the first Social Entrepreneur-in-Residence for the College of Humanities and Social Sciences at Massey University.
He was a leading strategist for 2017 Nobel Peace Prize-winning International Campaign to Abolish Nuclear Weapons (ICAN) and led the global campaign to ban cluster bombs, resulting in an international treaty in 2008.
Mr Nash, who grew up in Palmerston North and remembers attending protest marches with his parents in the 1980s as a youngster, will inject entrepreneurial thinking into citizenship core papers in the Bachelor of Arts to encourage students to consider how they can play a role in social change.
His knowledge and insights from experiences brokering a range of global peace initiatives form the backdrop to his role, which will include guest speaking on three BA core papers and as an adjunct politics lecturer.
He hopes to generate rich discussion and ideas among students and staff about creating change through organising and building campaigns and will challenge them to question existing notions of profit, ownership and power structures.
"The campaigns I've helped set up have all been not-for-profit endeavours seeking humanitarian outcomes. So, the central idea of social enterprise – putting social goals before commercial interest –makes sense to me," he says.
"Social enterprise is a contested area though. How does power and privilege influence social enterprise? Can it help deliver the structural changes required to address inequality and climate change? Is it just a market-based alternative to people-power, democracy and responsible government? This role is an opportunity to work with others to think critically about social enterprise."
Mr Nash has 'walked the talk', having coordinated the Cluster Munition Coalition (CMC) where he was based in Canada, Peru and the UK (2004 – 2010), building up and leading a coalition of 300 NGOs. He also co-founded London-based organisation Article 36, which has played a leading role in international work against nuclear weapons, autonomous weapons and protecting civilians from the use of explosive weapons in populated areas.
He is currently working on two start-up projects in New Zealand. The first is as co-founder of New Zealand Alternative, an independent organisation promoting a progressive role for New Zealand in the world. The second is as a director of Shelter, a social enterprise seeking to shape the construction and housing sector with innovative models for construction, development and ownership.
Social change for 'everyday people' 
"When I studied politics, it was about powerful institutions and strong (mostly) men that write themselves into history," he says. "My experience of social and political change was everyday people organising together, building strong relationships and creating the spaces for change to happen. I'm keen to focus on politics as a process of social relationships beyond institutional mandates and monolithic ideologies."
Being a child of Massey University academics who thought critically about power and society set the tone for his work. "Growing up in the 1980s there was a sense of activism and protest in New Zealand. My mum took me to the protest marches against the Springbok Tour [in 1981] when I was a toddler. People were out on the streets fighting for a nuclear-free New Zealand, for Māori sovereignty, for homosexual law reform."
After his maths teacher, Karen Lee from Freyberg High School, gave him a fax sent to all secondary schools inviting students to take part in a delegation of Kiwis travelling to France to protest nuclear testing in the Pacific in 1995, he ended up being the youngest participant. "I raised funds around town for the plane ticket and headed over with Tim Shadbolt, peace activist Maire Leadbeater, Dame Augusta Wallace and others to meet up with French anti-nuclear activists. That was an inspiring trip."
The professional move into disarmament came through his first real job after completing an Honours Degree in Politics from Victoria University, where he worked as an assistant to the New Zealand Ambassador for Disarmament, based in Geneva. 
"That was a crash course in diplomacy, the UN and international treaties and, after a couple years working for the government, I joined the International Campaign to Ban Landmines, through its Canadian wing in Ottawa. From there I ended up running the global cluster bomb campaign, moving to London and, in 2011, setting up Article 36 [a non-profit weapons monitoring organisation]."
Thinking creatively on 21st century issues
Commenting on Mr Nash's appointment, Pro Vice-Chancellor Distinguished Professor Paul Spoonley says that in today's world; "we are all challenged by some disruptive changes – and we need to think creatively and proactively about our options. That should involve social entrepreneurship".
"Thomas will be bringing his considerable international advocacy experience into the BA Core papers as a guest lecturer, as well as contributing to discussions around NGOs, international and national politics, and social activism."
Based in Wellington, Mr Nash will teach at the Manawatū campus during the one-year period of his inaugural role, starting June 1.
His interests include being outdoors, being in the water and "pretty much all sports. I also love discovering new towns and cities and their streetscapes, urban spaces and people". He speaks fluent French and has a keen interest in language and languages.
His interest in disarmament continues, with his concerns about emerging military technology the topic of a recent piece in The Spinoff calling for a ban on autonomous. He has also written recent columns for the Dominion Post on Syria and chemical weapons, the Iran deal and North Korea and nuclear diplomacy.